Searching for Veterans for Renos 
Founded in 20 10 by HGTV host Jim Caruk, and his brother Deryl Renos for Heroes was created to support wounded soldiers, and help them make necessary changes to their homes while minimizing the expense and reducing the stress to do so. 
When the Caruk brothers started Renos for Heroes, it was due to a desire to give back.
"It's our chance to make a difference," said Deryl Caruk, the executive director of the charity.
Caruk explains that after soldiers have endured months or even years of painful rehabilitation, too many of the brave men and women are still having problems trying to live a normal life in their own homes, with their own families. One of the reason is that, in too many cases, their homes have not yet been adequately modified to take into account their decreased mobility.
On Thursday, June 9th, 2019, Renos for Heroes hosted their 10th annual golf tournament, where they raised $20,000. Caruk notes the weather co-operated, and participants were able to enjoy lunch, followed by an afternoon of golf, where they then returned for dinner. The event welcomed many veterans with physical and psychological injuries. 
The tournament was supported by many generous partners, as well.
Thanks to a partnership with Howitzer Whiskey, there was a whiskey tasting for participants to enjoy; and CanStone Countertops had their bus there, serving sandwiches to the golfers. Participants also went home with gifts, including golf balls, Renos for Heroes sweatshirts, hats, and more.
Renos for Heroes has completed 25-30 renovation projects for wounded veterans thus far, and they have five more on the go for this summer. The funds raised are vitally important in helping injured veterans. 
"While the government helps, there's a huge gap between the renovations that they can do and what is needed, and that's where we slip in with Renos for Heroes. We help them complete their home renovations." Deryl Caruk
Regarding this year's event, Caruk said, "the people were fabulous, very receptive to helping the troops, and it was a great day." 
He notes, though, that support does not have to be just in the form of money – materials are equally valuable to the charity, and the time given by the volunteers is vital. 

As such, Caruk gave a special thank you for the tremendous support that Renos for Heroes received from the Carpenter's Union of Ontario.
"We have partnered with the Carpenter's Union of Ontario, and the brothers and sisters from the Union are just unbelievable," he said.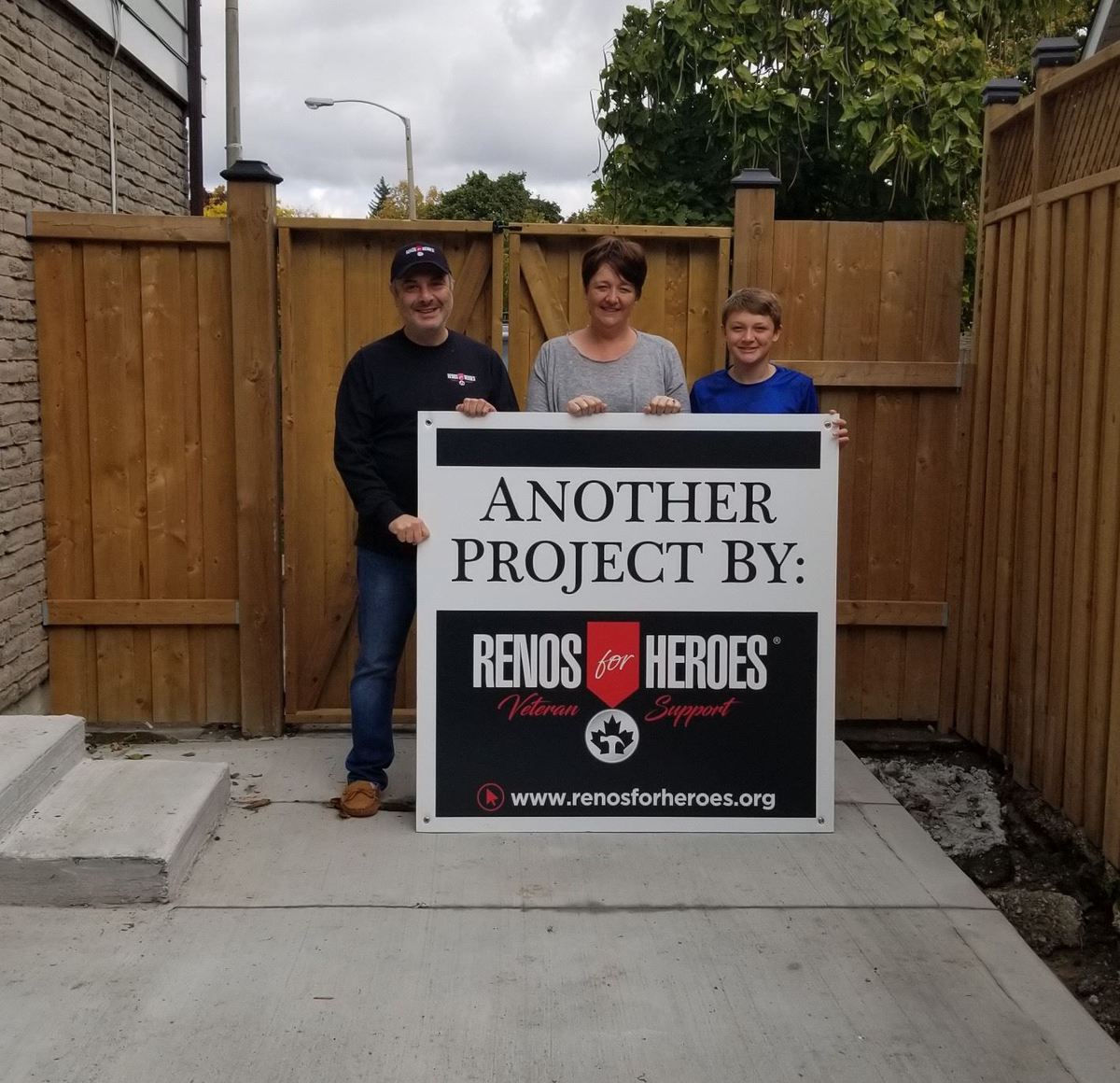 Renos for Heroes has helped soldiers with everything from kitchens and decks to a woodworking shop. The projects have generally focussed on providing some quality of life that the injured veterans would otherwise lack.
 Regarding the impact the renovations have on the veterans Caruk said, "It's huge. You give them their mobility again, their sense of worth again." 
He adds that members who use wheelchairs can get outside or develop hobbies. "Everybody has wants, but we try to help as many as we can with their needs."
Despite this busy schedule, Caruk wishes more veterans would reach out.
"Soldiers are always too proud to ask," he said. "We've done something for pretty much everyone who asks." 
If you want to contribute, Renos for Heroes has some upcoming events, including their Hearts for Gala on February 29th, 2020.
For more information or to become involved, visit their website.