Veteran discovers passion for art in retirement
After serving over 21 years in the Canadian Armed Forces (CAF) veteran, Gilles Boudreault now spends his time creating credible military portraits for serving and retired military personnel. Painting landscapes and still life subjects, he also creates military art for family members or relatives.
CAF Career
Joining the CAF in 1978, Boudreault spent seven and a half years with the Airborne Regiment in Petawawa, ON, and then two and a half years with 2R22R in Valcartier, QC.
He eventually volunteered for an occupation transfer (VOT) to the Mapping and Charting Establishment in Ottawa, ON. As a Topographical Surveyor/GIS Technician where he worked for almost 12 years. He left the CAF in Nov 1999 and relocated to Bedford, NS.
"The fact that I served in CAF provides me with a strong understanding of the subject when creating a military portrait or a military scene. I try to achieve likeness as best as I could. But, the most satisfying about doing a portrait is to try to capture the personality or to create a feeling that others can perceive," he explained.
At a young age, Boudreault had skills working with fine arts. He was born and raised in Mascouche, a small town north of Montreal, QC. He attended elementary schools in Terrebonne, QC, then high school in St-Vincent De Paul, QC.
After Retirement
After he retired, Boudreault started employment with a GIS company in Halifax, NS. In his spare time, he would venture out to do some plein air paintings around the area.
En plein air is a French expression meaning "in the open air" and refers to painting outdoors with the artist's subject in full view. Plein air painting is about leaving the four walls of your studio behind and experiencing painting and drawing in the landscape.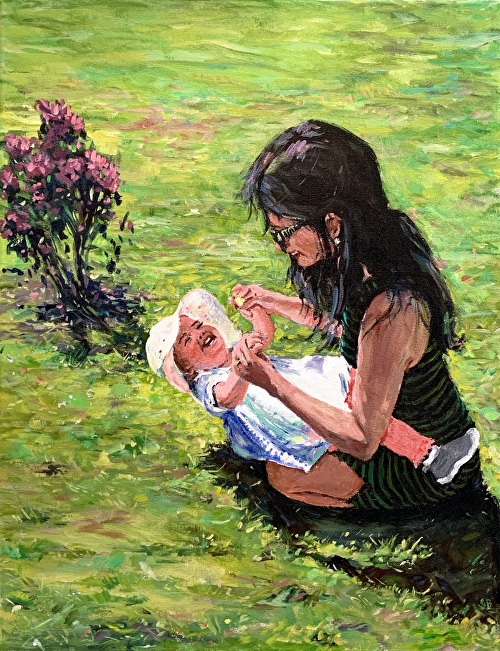 "Painting outdoor is a very pleasant and relaxing activity. It connects you with your surroundings. It also helps develop a sense of colours, especially when the light and colours change rapidly during an outdoor session. By developing your sense of colour, it helps when a painting session is completed indoor, so doing both is extremely beneficial," says Boudreault.
In comparison, he explains, the upside of doing portraits is that it can be done outdoors and indoors where the environment is well controlled.
While Boudreault enjoys painting landscapes and still lifes, he notes Rembrandt was his biggest influence. However, he has always had the desire to grow as a portrait artist. Recently he decided to give it a shot as the Canadian Veteran Marketplace group has given him a wide variety of subjects.
Boudreault notes oil used to be his preferred medium, but lately, he has been using acrylic since painting more portraits.

Oil vs. Acrylic Paint
Acrylic paint tends to dry quicker than oil paint. As a bonus, acrylic paint is ordourless, plus it is easy to clean. With oil paint, it is a slower process, plus more toxic than acrylic paints. Because oil paint takes longer to dry, the turnaround time in getting the finished painting to clients is longer.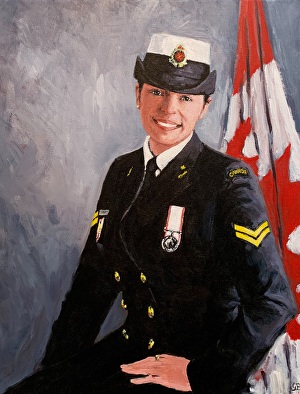 "Many people say that oil paints are more vibrant and richer than acrylic paints, but I am not so sure of that as I basically use acrylic and paint the same way I would if I was using oil," he notes.
Selling His Art
Boudreault sells his art through a Facebook page, and over the past year, his sales have come from clients he has met through the Canadian Veteran Marketplace and by word of mouth.
He accepts commissions through Facebook Messenger, but he says email is better for sustainability. On his website, Gilles Boudreault Fine Art, requests can be submitted directly to his personal email.
I always try to do the next painting better than the previous, notes Boudreault.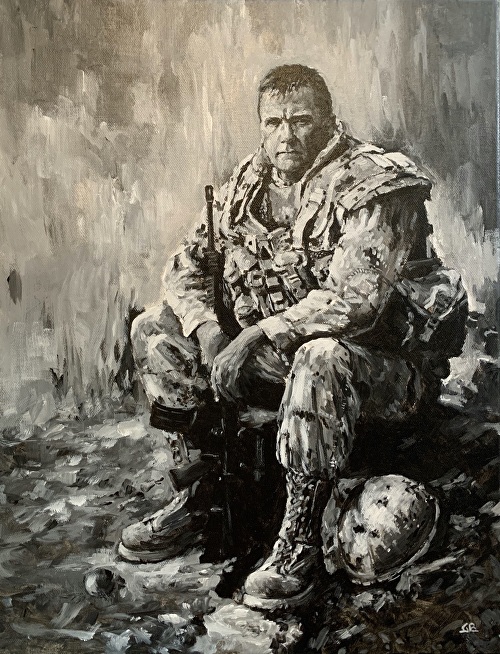 "There is always something new to learn from one portrait to the next. Since most of the portraits are completed using reference photos provided by the client, it provides a great challenge since the quality of photos provided differs a lot. When the photo reference is old and lacking colour, then it is up to the artist to be creative and rely on his/her experience to create a credible piece of art," he explained.
Plus, Boudreault guarantees his work. "If a client does not like the final result, they are not obligated to purchase. However, I do not show the final product unless I am satisfied myself."
To learn more about Gilles' work, visit his website here, email him, and visit his listing in our directory here.