Military Brat Turned Sculptor
In his piece The Homecoming sculptor Nathan Scott captured the special moment when a sailor returns to port, family and community.
The life-size bronze statue was completed in 2010 for the hundredth anniversary of the Royal Canadian Navy. Scott had no idea public reception of his piece, located on the waterfront in Victoria, British Columbia, would be so positive or long-lasting.
"I come from a military family. My father was Princess Patricia's Canadian Light Infantry for 33 years. I know when I do a job I have to do it well and according to schedule," said Scott. "It was an honour to create the piece and to know that even now the bricks around it are being sold to support programs and services for military families."
As an artist, it was important for Scott to create something people from all over the world could relate to and yet still honour the proud tradition of the Canadian Navy. He chose to create a sailor returning home to the loving embrace of his little girl.
Scott's eldest daughter acted as a model. Over 380 pictures were taken of her running, then Scott used 40 of those photos to create the bronze girl. Six sailors were used as models to bring the kneeling bronze sailor to life.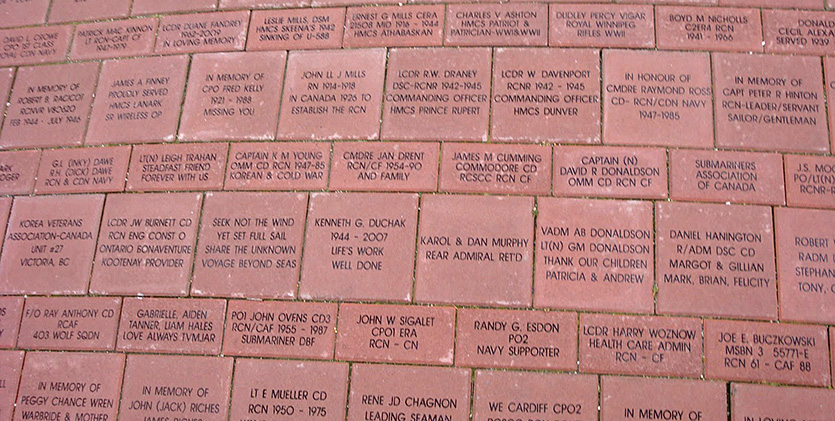 During each step of the process, protocol officers measured placement of medals and authenticated the uniform of the statue.
"The details are correct right down to the sub-mariner badge. It was a pleasure to work so closely with the navy. My dad did seven tours overseas. It was disruptive to all of us, but it was so great to see them come back. I think I was able to capture that moment because even though we were at an airstrip and not at a dock I felt that way. I felt the joy of them returning," said Scott.
Scott grew emotional describing the day in 2010 when the statue was unveiled, and the Canadian Navy celebrated their anniversary in Victoria.
"The city honoured the military that day. It felt like Halifax, where the navy is revered, not  shuffled to the outskirts of the city. Four thousand to 5000 people attended. The military and their families deserve to be recognized."

Surrounding The Homecoming is a brick path. Many of the bricks are engraved with the names of veterans or fallen soldiers, airmen and sailors. Small bricks may be purchased for $200 and large bricks for $300. The proceeds of the sales go to the Esquimalt Military Family Resource Centre.
Most of Scott's sculptures reflect his love for people interacting with their particular situations and surroundings. Through his sculptures, Scott captures simple times and days gone by.
Scott's other prominent pieces include Terry Fox in Victoria BC, and the Bench People in Sidney, BC.
Scott and his family live on a hobby farm in Victoria, BC, minutes away from Butchart Gardens, with his wife and five young children, a multitude of chickens and a family of pigs.
To learn more about the work of Nathan Scott please visit his website. (http://www.sculpturebynathanscott.com)
To learn more about purchasing a dedication brick please visit the Esquimalt MFRC website.