Wes Kennedy: Elite Training Programs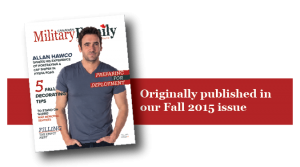 It was time for a change, that is how Wes Kennedy describes his decision in 2013 to move from a career in the Canadian Armed Forces, including five years as a Special Forces Operator, to becoming an online fitness coach.
"I knew I wanted to start my own business, like most people I didn't really know what that meant. I wanted to choose something I was passionate about. I've always been into fitness, and I felt it would be very rewarding to coach other people," explains Wes.
As the field of online fitness coaching grows, Wes chose to focus his company, Elite Training Programs, on a specific group of clientele.
"We provide online fitness coaching for mixed modal fitness (MMF) athletes, mixed martial arts (MMA), strength and power, and adventure athletes. The extreme athletic pursuit groups… most of the people we work with already work out, they're familiar with movement patterns. All they need is intelligent program design, nutrition coaching, and mindset or lifestyle coaching."
Pull out box
Years in Business: 1.5
Training: Multiple Fitness, Nutrition, Coaching Certifications, Forzani Certified Executive Business Coach, Prince's Operation Entrepreneur Boot Camp
Advice: "Start with the end in mind, know what your 3, 5, and 10-year vision is. Surround yourself with people that are going to help you move forward. Do what you do best, and delegate the rest."
For Wes, listening to clients over the past year and fine tuning Elite's services has been key.
"It means everything to me to see our clients succeed. In fact, we guarantee that if our clients do what we tell them to do when we tell them to do it, results are hands down 100 per cent guaranteed. That doesn't mean we'll fill their program full of high-intensity bravado either. We meet every client where they're at despite how lofty their goals may be and give them a program that fits their goals, unique needs and abilities, schedule and equipment availability."
This innovative mode of coaching goes for the staff as well as the athletes. Wes' team includes an MMF coach in Ontario, an MMA coach in Britain and a nutritional coach based in California, with Wes working from British Columbia.
"It works well, it allows us to grow our reach more quickly, and it allows me to find some highly qualified coaches without being confined to the geographical."
Wes says one challenge he's faced in starting his own business is stepping back from the day to day details.
"I'm very good at 'doing,' my challenge has been over time to ensure I always have the bigger picture in mind. To do what I do best and delegate the rest. It was very easy for me to fill every day with work, which I think is necessary for the first year in business, but now I've been able to bring some people on board and have some fun with it."

Outside of Wes' fitness training qualifications he's also pursued business training through the Prince's Operation Entrepreneur program for transitioning military members.
"It gave me a good baseline of knowledge and opened my eyes to other areas of business like social media practices and accounting and it connected me to a great group of people."
This passion for entrepreneurship has led Wes to launch another venture, a business coaching company called Kinetic Results Group.
"I'm starting a daily podcast this summer, half the episodes we'll be talking to retired military members turned entrepreneurs, the other half talking to other business experts, like booking keeping, web design. It's aimed at helping people transitioning out of the military. I really like business and creating companies that deliver value to people, that help fix a problem."
Add to this his 'Making Athletes' podcast for Elite Training Programs and his book for athletes on the selection phases for Special Operations titled 'Ultimate Special Ops Guide' set to be released next year and Wes will be training just to keep up with himself.
You can find Wes at www.elitetrainingprograms.com and www.kineticresultsgroup.com
By: Laura Earle