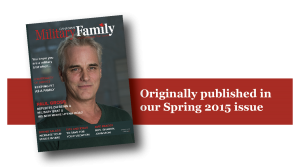 As part of the Canadian Special Operations Regiment, Tracey Dean discovered what would eventually be her new business while serving in Sicily.
"I always liked good food and I always liked olive oil and balsamic…[in Sicily] I was introduced to real olive oil and balsamic; I got addicted to the stuff!"
While Tracey's original plan was to serve 25 years in the Canadian Armed Forces before opening her own gourmet shop, she was just shy of serving 15 years when she decided to take the plunge, and the timing couldn't have been better.
Years in Business: Three months
Training: Various college courses, Prince's Operation Entrepreneur Based in Business Entrepreneurial Boot Camp
Advice: Follow your gut instinct, and you really have to research everything.
"When I decide to jump on this adventure there was the Prince's Operation Entrepreneur, for military members who are transitioning in to becoming business owners. I joined their website and entered a contest about why you wanted to be a business owner, I don't remember what I wrote, I've never won anything. In April 2014 I got a phone call from Futurpreneurs, out of the hundreds of plans submitted, I was the winner."
The Futurpreneur 2014 Live your Dream grand prize included $20-thousand marketing package and mentorship with Elemental Inc., which represent companies like CIBC and the David Suzuki Foundation.
"It was almost like it was meant to be, its something I wasn't expecting to happen. It was a big thing for me to have the help like that behind it."
In addition, Tracey took the POE's Based in Business Entrepreneurial Boot Camp at Memorial University. Then with the help and support of her boyfriend and her daughter, she launched The Urban Gourmet Co. in Pembroke, Ontario on October 22, 2014. Tracey says there have been a few moments of doubt, but she has not looked back since.
"I think the night before we opened it hit me, I thought what am I doing, I quit my career. However, the reaction has been amazing, in the first five weeks open I made back every cent invested into opening. In the first 11 weeks, I made my entire DND yearly pay."
The shop carries over 25 combinations of balsamic vinegar and over 29 different olive oils along with combinations of single varietals, custom bottles, and a tasting bar. For Tracey, it was important that all the other items they sell be Canadian.

"We decided to go with little niche Canadian providers..from across the country. We have sea salt from Vancouver Island, we have chocolate from the Newfoundland Chocolate Company and everything in between. We have a lot of good stuff here in Canada, and that's what we stuck with."
Tracey says taking the chance is hard but trusting your gut and going for it is key to success.
"If you're going to open a bakery, concentrate on being the best baker in the area and keep researching. Every night I'm looking into what's going on in the industry, you have to be that business all the time. You have to be passionate about it. It has to be something that you see yourself doing it until you want to let it go. I love it so much I can't see myself leaving this business."
Part of that reward for Tracey is introducing new customers to her passion.
"Just seeing customers faces when I tell them just drink it, and they do and they say 'wow I can't believe olive oil and balsamic could taste like this'…it's great to see someone change their views, I haven't had one person say no to me when I say 'just drink it' and that's pretty rewarding." For Tracey, the future is nothing but bright.
"We have two restaurants that use our oils in their restaurants, we've got another business that is looking to do a co-venture this summer and I'm already thinking of opening another store."
Find Tracey at www.theurbangourmetco.ca
Photo caption: Photo Courtesy of John Butler Photography