The Down to Earth Astronaut's Wife
Born in Toronto Helene Hadfield met her husband Chris Hadfield, Canada's notorious astronaut while they were attending White Oak High School in Oakville, Ontario, a suburb of Toronto. The year was 1976 and Helene was 15 years old. However, the couple broke up when he graduated and went to off to tour Europe without her. "My mom wouldn't let me go with him, but when he came back from Europe we got back together, and we've been together ever since," says Helene.
She attended Ryerson, taking business and computer courses, as well as a few online courses while Chris was getting settled in the military back in 1978. "There certainly wasn't much available to take online way back then. Now there is so much more by way of distance education for military spouses to take advantage of."
After that,they were posted to Moose Jaw, Saskatchewan. "Unfortunately, there weren't a lot of computers in Moose Jaw at the time," Hadfield laughs. They had their first child, Kyle, and at that point there were some hard facts she had to accept. "There was that pivotal military spouse moment when I had to face that my life was not necessarily what I had thought it was going to be."
Helene coped with typical new mother and military spouse challenges.  "I faced problems, but there were blessings too. I think success really depends on what your expectations are, and how you manage them as a military spouse. If you have an openness and a certain level of trust, you can share and discuss your challenges." Helene encourages spouses to talk about their difficulties and celebrate successes together as much as possible. She thinks her positive attitude also helped her cope.
She and Chris had three children born on three different military postings. Yet she believes, "The Canadian Forces created a good life for us. Military life is such a good life. Face it; there are challenges everywhere – in every job. Overall the military handles things fairly well. I know transferred civilians that have had terrible transfers. I have seen both sides of the coin. Chris was in the military for 25 years, and we had 11 postings in 12 years."
The couple had the opportunity to live across Canada: Moose Jaw, Cold Lake, Bagotville and Kingston to OUTCAN postings stateside: Edwards Air Force Base in Lancaster, California to Naval Air Station Patuxent River in Maryland and Russia.
She's not sure how she handled all those postings with three little kids. "But let me tell you, when you stop being posted, and stop moving, you realize pretty quickly you have to do your spring cleaning! The first time I was like, What the heck? I have to clean this place?" Helene laughs. "Seriously, we moved so much, it was really shocking to me when we were actually in a house long enough to have to spring clean it."
Military Families and Children 
The Hadfield's children are now grown and literally live around the world with Kyle living in China. Evan, their youngest son was living in Germany for quite some time but recently returned home to work with his parents. The Hadfield's daughter Kristin resides in Trinity, Ireland where she attends college.
"One of the biggest advantages I see in military kids is they have a certain confidence, and ability to adapt and deal with change as adults," says Helene. The Hadfields had many OUTCAN experiences. "Our kids have seen over fifty countries because of their father's career choice. That's an advantage. I don't think anyone can cope better overall, when they grow up, than a military kid. They can fit themselves into any situation. When they are faced with something challenging they can be very self-sufficient. Military kids are very adaptable."
They climbed many mountains as a military family even moving right after Evan was born. "We actually moved 11 days after our son was born, and that was quite hard," says Helene. However, one challenge they failed to adequately deal with stands out in Helene's mind. "Honestly, one of the biggest difficulties we faced was not being close to family and not working on those ties. If I had it to do over I think we would've worked harder on those relationships with family – with grandparents. You see, the military became our 'family'. Then one day we got out, and we realized our relationships with our two real families weren't where they could have been, where they should have been," says Helene thoughtfully. In order to overcome the acknowledged problem, with their immediate family scattered all over the world, they accepted the challenge for what it was.
"We've decided to handle the lack of contact and deal with it the best we can. We Skype and Facebook, and we have an open Skype chat; not a video chat, but if a family member is online you can share with them immediately, even though we're in different time zones. The chat is left open and we just make it happen. We worked hard on it so everyone can connect. We can share files, and we share photos, a quick joke, or something that happened at dinner. We are committed to it. We all participate. I think other military families might benefit from what we learned. Just pay closer attention to your relationships with your real family, the ones outside the military."
Chris and Helene have been married for 32 years. "I guess in that time we have probably been apart about 15 years out of 32," says Helene. Her philosophy is simple, "You can be married and have the privilege of seeing each other every single day, and still not be present in your marriage. Or you can be working at being together, even though you're far apart." When problems arose, the Hadfields came together to strategize. "As a couple, our goals for life, for marriage, for parenting were always the same. We made sure if we disagreed we talked about the issue right away."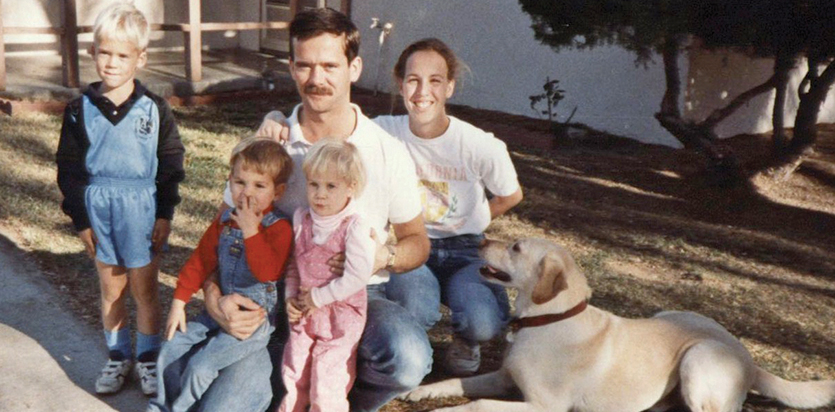 Like any married couple, Helene says she and Chris did have some major challenges, but they evolved and realized that if they just listened to each other they could overcome anything. Military spouses may recognize this scenario: "I supported him when he had career tunnel vision. Always thinking he had to take every trip, and every posting or his career would be in trouble." At one point they had a very frank discussion. Was he all about just his career, or family and a career? "Luckily, he really listened very carefully to what I had to say. He dropped some of the travel. It wasn't perfect, probably went from 90 per cent to 75 per cent of the time away; but basically it changed things. We decided we needed to keep on the same overall life-wavelength."
Over the years Helene made her own way wherever the family was posted. If the opportunity arose she traveled. She was also a chef, went to law school, and took up all kinds of hobbies including working out and horseback riding.
She believes it's very important to have a sense of humor, and to laugh a lot. "Especially when you're apart all the time." She says you have to see the fun in things, while you're working toward a common purpose. "I recommend if you're having problems go to the family resource center, or talk to your friends. Gain some perspective, try to laugh. It's always a comfort to know you're not alone."

Danger Zone
To be perfectly clear, when it comes to facing danger, Helene believes having a husband that's a fighter pilot, a test pilot, or an astronaut is totally different than having a spouse in combat. "I'm not even going to try and address that type of fear. Mine is a totally different situation. Yes, I was scared sometimes when Chris was putting himself in danger flying, but I had to trust Chris. Back in the day I also had to trust the technicians and the crews, and know they were all Canadian Forces. They were all very proud and they were all very well trained. Basically I had to trust the people who put him in the air to keep him in the air."
Chris often places himself in dangerous situations for the sake of his missions. "I'm not willing to make myself crazy worrying, because if I made myself crazy it steals his joy. He loves his work, and by worrying I might even make it more likely an accident will happen. I would drive him crazy too," says Helene.  She notes there is a way to control the worry. Worrying can be mitigated through open communication. "Chris is honest with me; honest enough to tell me what is going on. If there are little problems with a plane or mission he will tell me. This way I never find anything out from someone else he hasn't already told me. I never feel like he is keeping information from me or hiding things from me. I never have to wonder, what else isn't he telling me about his job? And that gives me confidence."
Chris was away a great deal throughout his career in the Canadian Forces and as a member of the Canadian Aerospace Program – the family was OUTCAN often. "When Chris was in space, in some ways, it was just another location. Chris called everyday, and we probably spoke more often than we are used to when he's away. Sometimes, when he is on earth, we just send an email to communicate." Space really was 'just another location' Helene says; until Chris' last space mission when Helene, who carries a deadly bacteria in her system became very ill.
"The most difficult thing I ever really had to deal with was the time I was driving from Houston to California, and I had a staph infection outbreak. I carry it always, but it came on strong and fast. I had to go to an urgent care clinic and the hospital. I was very sick. For the first time I realized Chris couldn't come home. He was in space and I thought I might die. I was in shock just dealing with the idea that he could not come home." Helene recommends military families have a contingency plan, because if the spouse at home gets sick there is always a chance the member will not be able to get home. "You need to have a plan for your family, and I suggest going to the family resource centers (MFRCs) and make sure your 'disaster' plan is up to date and relevant. Work out the mental logistics and the physical logistics of potential things that can go wrong when they are away. Talk to somebody about it, and make sure you know what you would do in those situations."
Celebrity Status
Chris and Helene Hadfield are well known internationally. Chris is a very active participant on social media. They regularly have the opportunity to meet celebrities. "I can tell you that when I met the Queen I was paralyzed with joy, and a kind of 'I-can't-believe-it-ness'. It was really quite an ugly thing, and I guarantee if I meet her again I will not spaz out so much! Usually, I show people how funny it was when I met her.  You really need the full visual to appreciate what I looked like. I do hope I'll have another opportunity to meet her. To make up for the last time," laughs Helene.
Because Helene meets thousands of people each year it would be easy to assume she is hard to impress. "Actually, I went to fitness camp while Chris was in space. There was a guy there who was really out of shape. We were treadmill buddies. He always showed up. He gave it his all. That's the kind of person who impresses me."
Did she ever consider wearing her husband's rank, telling people she was married to an astronaut? "No. I think that's so stupid. My identity is not tied to his. It would not even enter his (Chris') mind to introduce me to anyone by my profession, and I would never do that to him. I have my own identity. That just shows a lack of self-confidence. I think the best way for everyone to deal with the military experience is to just be kind to each other, regardless of rank or career choice, and know that every single person is going through something." Military families all have their own tale to tell about being military. "If everyone just looks after each other and takes care of each other they will all get through it together."
The Strength Behind the Uniform
She is most definite when asked if she believes Chris would have achieved his dream of being an astronaut if he had married another. "No," says Helene emphatically, "Success depends on your family and life goals, and your compromises and your sacrifices. I put my career on hold because he wanted so badly to get where he is today. If both people are after that whole 'rising star thing' it's not going to work, so I put myself on the back burner. However, eventually it was my time and he supported me." It's a give-and-take situation and marriage. So "the answer is definitely 'no he wouldn't be an astronaut if he wasn't married to me.'
Keep in mind I have availed myself to every single service that I could get my hands on as we went through this career adventure together. I used every resource that was available to me. I also saw a therapist regularly. There should be no stigma and no shame in getting help to get you through the military experience. It isn't always easy on spouses and families. To help him I had to be strong."
Her life as a military spouse involved a lot of hard work, determination, and sacrifice; but Helene Hadfield doesn't regret any of it. "We're so privileged. Chris has been able to live his dream. We are grateful; particularly to Canadians and Canada. We lived for 26 years in the United States, and if you had asked anyone there, they could have told you we are Canadian. The first second we could move back we did. It's really good to be home."
Last December the couple, who will celebrate their  anniversary and moved into a home in Toronto where they have decided to settle. Helene is in the process of getting their home base established. The couple now enjoys spending time together, traveling and attending engagements.
**This article was originally published in the Spring 2014 issue**
Get More! Receive six issues of Canadian Military Family Magazine in your mail box for only $17.95! Click here to subscribe NOW!