More Military Dads taking advantage of Parental Leave to care for newborns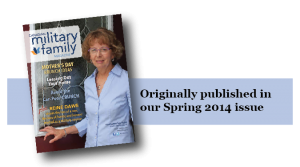 Becoming a dad for the first time was precious to Air Force system aviation technician Yassabi Siwakoti. There was no doubt in his mind when he was offered the opportunity of parental leave; he eagerly took advantage of it and arranged to take the maximum nine months to help look after his newborn son Xavier.
"My wife and I agreed that it's important for both of us to devote our love and attention to the new baby and it would be less stress on both of us if we were both at home to share the responsibility as well as get adjusted to our new life," explained Siwakoti.
Siwakoti is among a growing number of men taking parental leave to spend time with their newborns nationwide.  According to the 2012 Employment Insurance Monitoring and Assessment Report, in 2011 there were over 160,000 women claiming parental benefits compared to just 26,000 men, both civilian and military. Although a higher number of women take parental leave than men, the number of new fathers taking leave has increased significantly in recent years.
In the years leading up to the introduction of parental leave for 35 weeks, there were a total of 71 male military members who took parental leave from 1997 to 2001. Since the introduction, the number jumped to 973 in the first year alone. The number doubled from 1212 in 2003 to over 2400 in just ten years.
In the Canadian Armed Forces, parental leave is allowed for a maximum of 37 weeks for fathers but only 35 weeks are allowed if both spouses are military. The allowance given to fathers is up to 93 percent of their weekly rate of pay combined with Employment Insurance benefits.
Siwakoti's family of three took full advantage of his time off, visiting family and friends to show off the latest addition to the family. They even had the opportunity to take their son on his first camping experience.
"Overall, it allowed us to create memories which would not have been possible if either one of us were working. I don't see any drawback in taking time off to be with your family because your career is not being hindered in any way while you are away, "said Siwakoti.
Maternity Benefits were first introduced in Canada in 1971 for women who left the labor force to give birth. A decade later, in 1984, similar benefits were extended to those families who were adopting.  Parental benefits were first introduced in November 1990, allowing fathers to take off 10 weeks with benefits. Then finally on January 1, 2001 Employment Insurance parental benefits increased from 10 weeks to the current 35 weeks.
In 2010 a special change was made to recognize the unique situations fathers may face as members of the military. The eligibility window to take parental leave for Canadian forces members increased to 104 weeks after the birth or adoption of their child to access their parental leave. This allowed those military members who are forced to return to work while on their parental leave or must return to duty because of an emergency military requirement to still have the opportunity to spend time with their newborns.
Lieutenant John Lemon, a Construction Engineer, also understood the importance of taking off as much time as possible for the birth of his second child, Ethan.
John was only able to spend a total of three weeks with his first-born child because he had to return to St. Jean, Quebec. By the time he was able to return home, his daughter was three months old. It was, therefore, important for John to take off as much time as he could when his second child was born.

"You really need your spouse there [with you]. He was gone for a long time and it was really hard," recalls his wife Becky Lemon.  She appreciated having her husband around, especially in the first six weeks. "Having an extra pair of hands because having a new born is just a lot to do at one time and you're not as lonely that's for sure."
Some military families, however, have faced a more difficult time with their parental leave. Some families were underpaid during their time off while others were overpaid and were forced to pay back the overpaid salaries at short notice. These issues are currently being looked at by the Canadian Forces.
"The pay adjustments actually had nothing to do with under staffing or cutbacks, but were computing errors in the system. Some members were overpaid, and some were underpaid. We're in the works of communicating this issue internally and externally to inform all members and their families of what is being done to rectify this situation," said Linda Coleman Communications Advisor for the National Defense.
Siwakoti and John both recently returned to work and are enjoying an easy transition. Once military members return from parental leave, they are provided with several services to help with the care of their children. These services include: parent or caregiver education and support, emergency child care and emergency respite child care.
"The care and support for our Canadian Armed Forces members, as well as our programs and benefits, are tangible and meaningful services that go well beyond monetary compensation. Ensuring CAF members and their families continue to receive fair compensation and support for their hard work and service remains a priority for the Department of National Defense and the CAF," said Coleman.
The growing trend of fathers staying home for parental leave is reflected nationwide in the civilian sector as well. After the 35 week extension in 2001, the share of men receiving parental benefits jumped from 7.3 percent the previous year to 11.2 percent. Since the extension, the highest number of men receiving parental benefits was in 2005, nearing 15.5 percent. In 2012 that number was at 13.8 percent.
Siwakoti urges new fathers to take the maximum time possible to stay at home after the birth of their children so they don't miss the precious moments of their little ones.
"I have seen so many people regret not taking any time or taking very little time off, in the past, and they wish they would have taken the time when they could because the kids are growing rapidly. And sometimes with work, you miss out on things like baby's first word or the first time they walk."