Making the Move and Embracing CHANGE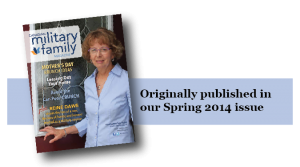 As a military spouse I understand the transient nature of the military lifestyle and how that can be difficult for families to become accustomed to.  You find yourself transitioning to a new community regularly which can bring with it some very negative feelings and expectations.  These feelings are accentuated by the lack of control you experience when a large decision is not your own to make.  Negativity builds very quickly and inhibits us from opening ourselves up to new experiences.  As a Life Coach to military spouses, I help my clients create positive changes, see new possibilities, and help them define the steps to be taken to achieve their goals.  Coaching is based on accountability which is the foundation that creates results.  This article is intended to help you identify and easily navigate the many positive opportunities a move can present to both you and your family.  I encourage you to be open-minded to these possibilities and embrace CHANGE as you dive head on into this new adventure with your family.
Consider your cash flow.  A move can be an opportunity to re-address your family budget.  It is a big lifestyle change, especially if you are moving to a more expensive province or completely outside the country.  This can present financial challenges which affect the relationship between partners.  Do some research and sit down with your partner to review your already existing budget or seize this opportunity to create one.  Being on the same page with your spending can have a really positive affect on your marriage/relationship.
Honour your new house as your home.  Making a move allows you to take a good look at all that you are holding on to and make a conscious choice to de-clutter your physical, as well as, emotional space.  What do you have that you no longer require?  Purge those items to make room for old or new items of real value.  Resurrect those belongings that have strong sentimental value and incorporate them into your new living space.  Splurge on a piece of artwork or furniture that complements your new outlook.  Melding the old with the new will allow you to paint your space with inspiration and prepare you in moving forward toward your future.
Access seasonal activities that your community has to offer.  Research local events using the internet and social media.  Follow groups on Facebook and check for updates of upcoming events in your town.  It is important to feel like you are an involved member of your community, and no one can dispute the benefits outdoor activities have on your physical and mental health.
Name your family`s needs and set goals.  A move is an opportunity to start fresh.  Try to look at your lifestyle as objectively as possible and assess which areas need some attention. Set new goals for yourself and your family, focusing on improving overall health.  It can be difficult to view your lifestyle objectively and be accountable to achieving your goals and, for that reason a Life Coach can be a great professional to partner with.
Experience the gratification of giving back.  One of the biggest stressors of a move is how difficult it is for military spouses to find meaningful work.  However, this is a terrific opportunity to get involved in your community through volunteering.  Find an organization doing something that suits both your passions and interests and that is relevant to your career path.  The benefits to this type of service are endless; you will enhance your resume in a unique way, and get to know other like-minded people in your community.  It is a real win-win situation!
Embrace your local Military Family Resource Centre.  They are your one stop shop for all things military family related.  This includes, but is not limited to, seasonal events, educational and social opportunities for parents and children, as well as information on how to access childcare, healthcare, counselling and intervention services.  They understand and are empathetic to the military lifestyle and want to ease your transition to a new community.
I understand not everyone embraces CHANGE so easily and with such optimism.  You have to make a conscious decision to not fret, dwell, or feel overwhelmed by that over which you have no control over.  It requires courage to take life by the reigns and embrace the opportunities for self-improvement.  Remember, as this chapter comes to a close, know that your new adventure will continue to add to the exciting story that you are creating as a unique military family.
By Rebekah Dixon

**This article was originally published in the March 2014 issue**
Get More! Receive six issues of Canadian Military Family Magazine in your mail box for only $17.95! Click here to subscribe NOW!