Laura Earl-Middleton: Making it Happen
To stay employed through postings, as a military spouse, it is often necessary to think outside of the traditional career box. But as Laura Earl-Middleton puts it, she didn't just think outside of the proverbial box, she stepped outside of it and stood on top of the lid to see a different perspective on her career. By honing her god-given abilities, she was able to create the perfect one-woman show, a show that has proven to adapt through the challenges of military life.
From just outside of Orillia, Ontario, Earl-Middleton earned an honours degree in English from York University. She later went to Seneca College to obtain a degree in Broadcast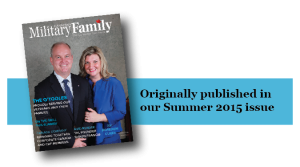 Journalism. With English and Journalism degrees in hand, Earl-Middleton went to work straight out of school at Global Television in Toronto for a special segment on students with unique summer jobs. After that, she experienced various elements of the journalism industry through radio and television as she travelled around the province. She was working in private broadcasting prior to meeting her husband, Chris Middleton, an engineer in the Army. The couple's first official posting was to Moncton, NB where Earl-Middleton's career took a left turn as she received her first taste of what job hunting is like as a military spouse.
Underqualified, because of language requirements, and unemployed, Earl-Middleton spent several months trying to figure out how she would work in her traditional field. As time passed, she decided to take a different approach to her career and started on a journey to pursue her longtime passion for comedy. Before she knew it, Earl-Middleton landed a job at the Hub Cap Comedy Festival in Moncton, both as a performer and contributor to the event's public relations.
She had always been interested in comedy and before her marriage she performed sketch comedy as part of a duo 2ToGo. Ironically, after becoming a military spouse, her big break in her comedic career came in 2007. As a newbie to military life, Laura often sent emails with quirky stories of her life as a military spouse to friends and family. In early 2007, as Gagetown prepared for a large deployment to Afghanistan, the local CBC Radio One affiliate asked Earl-Middleton for something light to air. She pulled from her emails and made a ten-part series that eventually became a special for the station.
"I put my journalism hat on and said how about I interview other military spouses and get their stories, and we can build a radio special interspersing the real life story with my comedy bits. And that's how it was born. I wrote more stories and made it into a full hour and twenty minute long stage show telling these crazy little adventures I had," said Earl-Middleton.
She has performed her show, "I'm an Army Wife, Now What?", nationwide at bases from coast to coast and even in the United States. Being on tour allows Earl-Middleton a chance to interact with the audience and she enjoys giving them a chance to forget their worries for a time.
"It's such an adventure every time. Every audience is different, and they laugh at different spots, which is great because you'll think something's really going to hit and then two sentences later boom it just explodes. It really is like an out-of-body experience," recalls Earl-Middleton.
Currently, she is working on writing a second part to "I'm an Army Wife," which brings the audience up-to-date with her character Lindsey's life as a seasoned military spouse.
"Part two is going to kind of get us caught up to where I am now in the experience. The original show is loosely based on that first year or year and a half of my life as a military spouse. I like to call it the dummy's guide to military wife. And this new show is going to get us caught up with Lindsey and her getting posted again and that experience of moving again. And now that she's got a little bit of experience under her belt, how she learns the ropes," explains Earl-Middleton.
However, "I'm an Army Wife" isn't Earl-Middleton's first and only stage show. In 2003, she performed her first one-woman show "10 times a Bridesmaid" in Ontario and at the Atlantic Fringe Festival in Halifax. She has performed internationally in countries around the world.
Earl-Middleton jokes that as a Gemini she is able to lead two lives by pursuing her passion for comedy while still working in the field of journalism. When the Middletons were posted to Petawawa, ON she was hired as a morning talk show co-host at myFM. Part of a military town, the radio station understood the difficulties attached to life as a military spouse and thus kept Earl-Middleton on as a co-host even after the family was posted to Halifax, NS.
"I really can't talk enough about how lucky I was to find a company that was willing to look past the challenges of me being a military spouse on the move and simply embrace me and encourage me to do the best at my job, wherever that may be," admitted Earl-Middleton.
Earl-Middleton built an in-home studio where she currently co-hosts the morning radio show for myFM. Through the use of technology, she is also able to do her job even when she is on the road with her comedy tour. The morning show is syndicated to fifteen affiliate stations across the province of Ontario.

"Our team at each station puts so much time into talking about events in the community, covering local councils for news, and hosting things like giant pumpkin weigh-offs. I love getting to take part when I'm there and connecting with the folks we talk to every morning," said Earl-Middleton.
Hosting a morning radio show allows Earl-Middleton to spend the rest of the day working on the wide variety of other projects she has undertaken from voiceovers to freelance magazine writing. In 2007, she started her own company, Blue Poodle Entertainment Communications and Consulting that encompasses all of her skills from acting to writing.
As a freelance writer, successful comedian and morning talk show host, Earl-Middleton has a lot on her plate she needs to manage. She attributes her success to time management and her husband's support.
"I run the company myself, but like so many things in life there is a cast of thousands who help me. My husband Chris, being the front line guy. He's done so much from moral support to helping me figure out how to pack all my props, to helping me set up my bookkeeping. He's been such an amazing cheerleader on this journey, including letting me use a lot of stories about our life on stage and on the air, poor guy," explains Earl-Middleton.
Over the years, Earl-Middleton has learned to look at postings and military life as part of her business plan. Postings have provided her with contacts across the country, contacts that have come in handy when planning a comedy tour. For example, she has also received support from military organizations like Military Family Resource Centres, who have hosted her comedy show and recommended it to others.
However, just like any other military wife, Earl-Middleton has experienced her fair share of challenges as a military spouse. Needless to say, a little bit of humour goes a long way, and Earl-Middleton deals with the stress by sharing her experiences on her radio show.
"There are so many challenges that come with military life, I talk in my show about living in the 'Deployment Bermuda Triangle' when my husband is away because it's guaranteed the minute he steps out the door something is going to fall apart, like our roof leaking or our cars' brakes seizing up leaving me stuck!"
She adds, "Putting those stories into the show is how I cope with it. Our last three moves he's been sent away just as we're trying to get the house on the market and sold, and every time something would go wrong because it always does, and I would just tell myself 'It's all material for the show, someone else has gone through this too so you're not alone, put it in the show and they'll relate. Now sometimes my teeth were a little clenched when I said it, like the day after I drove him to the airport for a two month course in the United States and proceeded to throw my back out, my teeth were definitely grinding away when I reminded myself that it will make a great bit for the audience to relate to. If I've been able to give these folks an hour or two of laughter, not worrying about the bills, or the deployment or the piles of laundry at home by poking fun at the crazy life we lead, that helps me cope with it as well… Knowing that I'm not alone in this, that others have experienced the same type of things makes it so much easier when you're in the middle of counting up your damaged belongings post move. Laughter is the best medicine and there were never more true words said."
For those newcomers to the military family still figuring out their career path, Earl-Middleton encourages spouses to be comfortable with having a career that doesn't look the way they expected.
"It may sound clichéd but think about what brings you joy and finding a way to make that work in the lifestyle you lead. Just take that first step towards creating what you want and creating the career you want and be open to seeing it a different way. Create your own box, build your own box because you're going to have every curve ball thrown at you being married to a member of the Armed Forces. So the more catcher's gloves you have in that box, the better," noted Earl-Middleton.
International Women's Day is just around the corner and the theme for this year is one that especially resonates with military spouses: "Make it Happen." Earl-Middleton personifies this theme as a military spouse who has been able to make a lot happen.
"I love this year's theme because for me and so many entrepreneurs, 'make it happen' is every day. When you work for yourself, you are your own boss, your own marketing department, your own project manager so you make it happen every day. I think for women who are military spouses, wow, they make a lot happen. It could be making a career change happen, making a family move happen or simply taking a step out your door into a brand new town and making a friendship with your new neighbour happen. Maybe it means making a break happen, I think that's just as important for all women, knowing when to pull back and find your footing again to ensure that you're not losing yourself or your dreams," said Earl-Middleton.