Jody Mitic: Attitude is everything – Never Quit!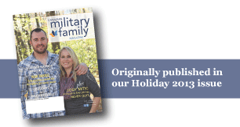 After spending just a short time with Jody Mitic one cannot help but walk away thinking what an amazing individual he is. A winning attitude and the mantra 'never quit' is how this RCR Master Corporal is conquering all the challenges life keeps throwing his way. He believes he can do anything and his "Just watch me" style is inspiring. That positive outlook has served this soldier well—in combat on the battlefield in Afghanistan and in a fight for his very life after stepping on a landmine six years ago.  More recently however, Jody accepted a challenge few 'able' Canadians would—participating in a TV reality show, The Amazing Race Canada. The game show is based on the American TV series, The Amazing Race which features teams of two in a race around Canada.
"I've wanted to get into radio and television since 2009," says Jody. "I actually pitched a show for the Outdoor Life Network back in 2010.  So, my friend called me one day and said 'Hey, do you want to do Amazing Race?'  I had never watched it so I was like, sure why not, never expecting to hear from him again. Then he called back a couple of weeks later to say 'hey they liked us; we have to do an audition tape.'  So I was like, wow!  And then everyone I mentioned it to said it was their favourite show.  So, I thought, well if you want to get on TV and radio maybe it's a good idea to be a part of one of the most popular shows in Canada. I was looking at the challenges involved and I realized it was something I could do to challenge myself with the prosthetics."
As it turned out, Jody's friend was unable to participate in the show because of work commitments so Jody decided to ask his brother Cory who lives and works in Edmonton.  "When I told Cory he said, 'Why didn't you ask me in the first place?', and I was like well it wasn't my idea.  So when I called him to say my friend couldn't make it, Cory already had his bags packed."
The Kitchener native says he and his brother have always been close but this was the first opportunity to do something like this together. "The race made our relationship stronger than ever," says Jody.  "We've never been able to do anything like that before.  We've never run a marathon, never went to summer camp.  But we always thought we should do something together; open a bar, write a book.  We talked about it.  And now we have and we know we can, and we want to do more."
So what started off as a whim for Jody became an important physical and mental challenge.  "I saw what it could do for me on a mental and physical scale.  I like to challenge myself. If you get too comfortable with your own routine then you forget to push yourself."
The race across Canada took 27 days to tape but the show was not aired until later. Jody and Cory had no idea during the race what kind of support they would get. When the show finally aired on July 15, Jody and his family began meeting friends at the Boston Pizza in Ottawa to watch the show.  Every Monday he announced on Twitter and Facebook that he was going there to watch the show and invited fans to join him. "I didn't know what to expect. I mean it's a reality TV show at the end of the day.  I know people love to hate-on reality TV.  But no, Canadians have always been great to me.  I assumed they would be the same this time.  But we certainly didn't expect this amount of love."
Once Team Mitic started winning legs of the race their support grew. "We started to show our personalities a bit more with each episode. Things built with the momentum we were building on the show so the support paralleled it.  And you know it's been awesome."
Jody says he expected support from military friends and maybe other disabled people but the majority of people were fans of his relationship with Cory. "I've had so many people tell me how great Cory and I are and what a great example we set for brothers, siblings across the country."
That brotherly bond is what got Cory and Jody through every challenge.  Without a live audience to cheer them on, the pair leaned on one another for support and encouragement.  "We motivated each other. I go in to most things believing I can do them.  It's up to others to prove me wrong.  And Cory has the same mindset.  We'll do something until we realize it can't be done or we die trying, pretty much."
Cory was also there for Jody when he came home injured from his tour in Afghanistan in 2007.  His recovery, mind and body, has depended on the support of many…the medical community, the military, good friends and comrades, and of course, family.  "There is nothing better than family.  Cory was there.  He came down to the hospital in Toronto when I was recovering.  He was there.  That's the biggest thing someone can do is be there."
Given the extent of his injuries, Jody, at just 29 years old, knew his dream of a career in the military was over.  However, he says he never doubted he would find a way to start over.  "As a soldier I knew we had the medical care and the military support to help me.  And I thought I had the financial support for life. However, the creation of the New Veterans Charter changed all that. It's not a terrible system; it's just not as robust as we thought it was.  So it became my job as a military person to recover from injury.  I mean, you go into a job as a gunfighter you've got to be ready for rehab, and when it happens, it's your duty to get healthy.  And that's how I looked at it.  And that got me to running a 5k within 14 months of being wounded."
Jody's girlfriend Alannah has been another major support in his recovery. As fate would have it, she was the commander of the ambulance that transported him to the evacuation helicopter. They started dating the following fall in Petawawa when they were posted there. "I remember I was there at home with my little pup Charlie and she'd come over with sandwiches and coffee.  Then she brought me over to Thanksgiving dinner with all her friends because a lot of my friends were deployed.  Alannah's support has meant the world to me. She's one of the reasons I've gotten where I have. We've supported each other.  She has PTSD.  And we've tried to figure things out with that. It's not been easy.  We've had our hard times, but were trying to make it work.  We've got two beautiful little girls. She's looking at a career outside the military.  So we've got to support each other in all these things."

Although Jody and Cory did not win the Race, he says he never stopped believing they could.  "Well I never thought I couldn't do it. Once you're in the situation you either figure it out or you don't.  It wasn't a physical challenge that made us come in second in The Amazing Race.  If we had watched The Amazing Race before we went on we probably would've won.  At least it wasn't something I couldn't do physically that made us lose.  We definitely won in a physical way."
Jody says the reality TV experience has given him a chance at a second career. He and Cory have recently pitched an idea for a new TV show. "Participating in The Amazing Race Canada has given me a realistic shot at a show of my own.  Cory and I could very well get our own TV show.  I've been looking for a new career ever since I stepped on that landmine.  I had a career. I was going to be a Canadian Forces Master Sniper until my late 40s.  And I was going to retire and teach people privately."
He says television is the kind of job he enjoys immensely. Enjoying his work is important to his happiness.  "Before I joined the regular army I had a job at a car parts factory and it was awesome money, probably as much as I make now.  But I couldn't do it.  I always say I'd rather be broke and happy but I prefer to be rich and happy.  But frankly, I will need the money in my old age.  The way things are going I don't know what support I'll have from the government.  I have no idea what the social net will be for veterans in 25 or 40 years.  So if I can make a certain amount of money on my own then I will have the ability to take care of myself. I want to earn my own living. With Cory with me I think we have a good shot at a good living. The rewards are great in this business if you can find your niche."
The television show is not the only project the 36 year-old veteran has in the works.  While awaiting his release from the military, Jody is in the midst of writing a book about his life, pre and post injury; and then if that one is a success he says he may write one on Canadian snipers. "I've also been talking with Sirius Satellite radio about maybe working with them.  I'm trying to get a personal business going where I do speaking engagements.  Also, I have my charity the Never Quit Foundation.  My motto when I got wounded became "Never Quit".  When I woke up every morning I'd tell myself "never quit", or if I stumbled with the prosthetics I'd think it to myself. It didn't mean go till you pass out or anything, it's just don't give up, don't quit."
Never Quit Foundation was established in 2011 with goals towards raising awareness for adaptive living and take Canadian heroes injured in the line of duty to special events. The idea for the foundation started when Jody and some friends decided they were going to bring a bunch of guys to an Ultimate Fighting Canada event to boost morale. Never Quit Foundation is a registered charity awaiting charitable status.
"We had 10 other injured soldiers and a kid from Ottawa who had lost his feet. So we got them tickets to go see the UFC, and we brought in the Trailer Park Boys, booked rooms at the Royal York downtown Toronto and we just had a great weekend.  I put a few grand on my credit card to start and my buddy put eight or nine grand on his credit card. That paid for flights to Toronto, hotel rooms, and UFC tickets.
"We were trying to build a peer mentoring opportunity.  And when you're in a group of guys who've all had their legs blown off then you're not the odd man out. You're just a guy in the group.  One of the guys was a young private who'd had his foot blown off and we're all hanging out in shorts.  He had to run upstairs to his room and put on some shorts.  His girlfriend said, 'Oh wow, this is great!'  And we said, why, what's going on?  And she said, 'He hasn't worn shorts since he got his foot blown off!'  So we managed to make this young private feel uncomfortable because he wasn't showing off his prosthetic.  And that was the goal; to just have fun as a group and not feel like the odd man out.  I mean within a hundred blocks from here I am probably the only guy who's had his legs blown off in Afghanistan.  But now you're in a group of peers, and there is nothing like feeling normal…especially at the beginning. So we're just trying to build on some of the things like Soldier On has been doing, just trying to build on the social side of it a little bit more.  I call them positive energy injections.  We've been raising money through fundraisers and a few other charities have been supporting us.  We're not quite there yet, but we have a website now and we're selling t-shirts.  The show has been a real boost to the charity."
You can follow Jody on twitter @JODYMITIC and to learn more about the Never Quit Foundation visit www.neverquitfoundation.ca, join them on Facebook at Never Quit Foundation and follow them on Twitter @NeverQuitCanada.
By Jill Kruse