Husky Squadron Welcomes New Commanding Officer
The Royal Canadian Air Force (RCAF) squadron nicknamed "Husky Squadron" welcomed its new commanding officer in a ceremony at 8 Wing Trenton.
Officer LCol. Dana Sliwinski assumed command of 437 Transport from LCol. Eric Willrich in a ceremony on Aug. 9, 2022. Once recognized as one of the Top 20 Women in Defence, LCol. Sliwinski has also previously served with Husky Squadron.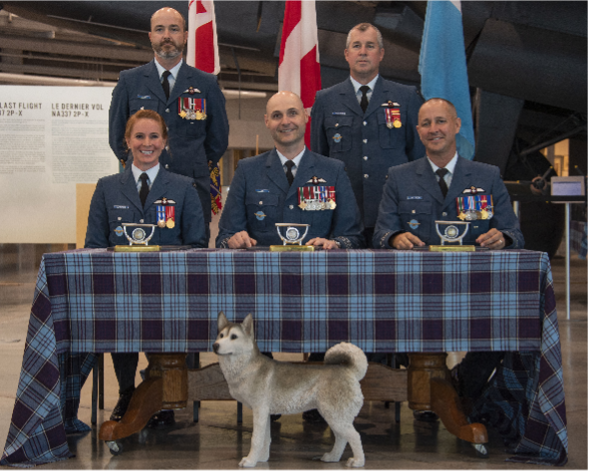 A Lifelong Military Dream
Born in Colorado Springs, U.S., Sliwinski, nee Sponder, grew up in a military family with the childhood dream of becoming a military pilot. In 2007 she took the first step towards achieving that dream when she enrolled as a Direct Entry Officer in the Canadian Armed Forces (CAF).
After earning her wings in 2010, she was posted to 437 (T) Sqn in Trenton, Ontario, to fly the CC-150 Polaris aircraft. In 2013, she upgraded to Aircraft Commander and, shortly thereafter, became a Tanker Commander, Instructor Pilot, and Sim Instructor, according to a press release from the Department of National Defence (DND).
Known as an esteemed Squadron, 437 Transport Squadron of choice to transport members of the Royal Family, the prime minister, the Governor General, and various heads of state..
While serving with 437 Transport Squadron, she had the chance to fly in air-to-air refueling deployments to Sicily in 2011 as part of Operation MOBILE and to Iceland in 2013 as part of Operation IGNITION. She was the Deputy Operations Officer when she left the Squadron, planning and managing VVIP missions for the squadron.
Other accomplishments of LCol. Sliwinski include:
Deputy Flight Commander at the Multi Engine Utility Flight, where she flew the Beechcraft 350 aircraft.
Air Mobility Readiness Staff Officer at 1 Canadian Air Division Fleet Readiness
Air Mobility Division Chief, responsible for generating the airlift plan for all air mobility fleets at the Combined Air Operations Centre.
She returned to 437 Transport Squadron as the Operations Officer and then Deputy Commanding Officer.

"I am delighted and extremely honoured to command the 437 Transport Squadron family. This unit is very close to my heart, having spent many wonderful years of my military career alongside the 437 "Huskies." I have no doubt that our hard working members will continue to live up to the motto of our Squadron: "Omnia Passim" (Anything, Anywhere). I am looking forward to continuing the high standard of professionalism and dedicated service, which Lieutenant-Colonel Willrich set during his time as Commander, whom I wish all the best," said LCol. Sliwinski.
LCol Sliwinski has completed a Bachelor of Science degree in Physiology from McGill University. In addition, she is a recent graduate of the Joint Command and Staff Program at the Canadian Forces College in Toronto, Ontario. She also holds a Master of Defence Studies from the Royal Military College of Canada, according to the DND press release.
About 437 Transport Squadron
The Squadron was stood up on Sept. 14, 1944, just days before it was sent on Operation MARKET-GARDEN in the Second World War.
Currently, the Squadron comprises 82 CAF members and 72 contracted maintenance and support personnel. It is equipped with five CC-150 Polaris aircraft. Its members are responsible for long-range transport of personnel and equipment, air-to-air refueling of fighter aircraft, aeromedical evacuation, and VIP transport.
Nicknamed the Husky Squadron, 437 Transport Squadron adopted as its badge a husky's head. The symbol is derived from its Second World War function of glider towing and the transportation of essential freight.
Known as an esteemed Squadron, 437 Transport Squadron of choice to transport members of the Royal Family, the prime minister, the Governor General, and various heads of state.
Outgoing Commanding Officer
"It has been a tremendous privilege to command 437 Transport Squadron, a group of unique and talented people, who deliver Royal Canadian Air Force air power around the globe with passion. I would like to thank the entire Squadron for their service and their families for their unparalleled support, without which our members could not have overcome the challenges the last two years of unprecedented pandemic presented and accomplish the great things they did. I would like to sincerely congratulate Lieutenant-Colonel Sliwinski as she takes on her new role and wish her nothing but the best," said LCol. Eric Willrich, outgoing Commanding Officer, 437 Transport Squadron