Homes For Heroes Foundation Seeks Next of Kin to Honour Fallen
The Homes For Heroes Foundation's mission is to end the issue of veteran homelessness across Canada by building tiny home villages with full wraparound support services in communities across the country.
A unique and important feature of these homes is a bronze plaque dedicated to a fallen soldier adorning outside the home.
"The term heroes in our name, homes for heroes, actually refer to these plaques," says David Howard, President and CEO of the Homes For Heroes Foundation.
He added, "We name every one of our homes in our villages after one of our fallen. We've done that for a couple of reasons. One is we want to honour those that serve and paid the ultimate sacrifice. The second is the fact that we believe that this is an opportunity."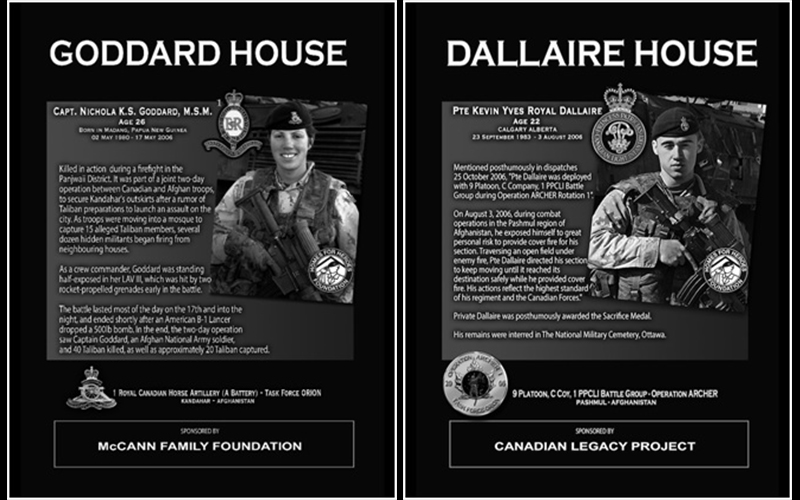 Next of Kin Submits Application
There are 20 homes in every village. Every property will be named by encouraging people to go to the Homes For Heroes' website, put forward their loved one's name, and then the foundation works with them to create a bio for the plaque. https://homesforheroesfoundation.ca/honour-plaques/
It has to be the next of kin who submits the application. When the village opens, the family is invited to be there, and they are given a copy of the plaque.
The biography is professionally written and has to be approved by the next of kin. Rod McLeod, the author of Vigil Canada's Sacrifice in Afghanistan, volunteers to design the plaques. McLeod works on making sure that the bio is there, with correct pictures and information.
Villages are Located Communities
The villages are in communities, and they're very high profile. This presents the opportunity to educate youth. Howard says they host school tours every month at the village. The onsite counsellor takes them through the village, and they go through each plaque and learn about those that served.
Educating Students: Our Future Leaders
Howard expressed his feelings on the importance of education, "Because we're not doing it, it's embarrassing quite frankly. When I went through school, it was limited and focused on maybe World War One and World War Two, but Canada is involved in so many different battles and wars; peacekeeping missions in Afghanistan and our kids do not know of this."
The next leaders, the next generation to run our country, are not aware of the sacrifices that have been made, and they're not aware of the fact that they have so many freedoms that they enjoy because of these sacrifices, says Howard.
"We have the ability to become whoever we want in Canada if we put our mind to it because of these men and women. So to me, we're missing this in society, and I have great most respect for those that have served in World War Two, but the typical person, if you ask, they consider a veteran to be 98 years old and in a nursing home, but we're forgetting about so many other generations. It's different wars, and it's different conflicts. And I don't think people have an understanding, and I think it's important that they do."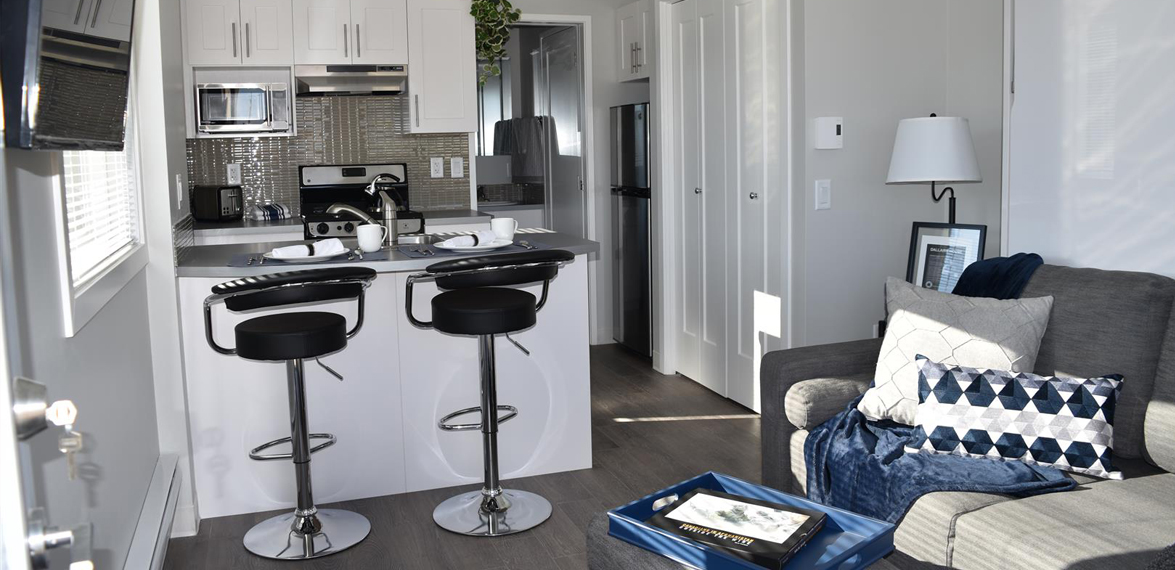 Finding A Solution for Homeless Veterans
When Homes For Heroes' was created, it brought together and meeting with over 200 veterans to kick-start the process.

Howard says, "These veterans were living rough, and we said if we were to build a program, what should it look like? So this program was designed and built by veterans, for veterans."
The villages of tiny homes are built in a Barrack style format. The homes face in towards each other so that everyone was within line of sight. The homes are 300 square feet with all the comforts of a traditional home.
Howard spoke about the motive behind choosing this style of home for the project. After listing a few reasons, Howard stresses when helping someone transition off the street, they often have very few possessions.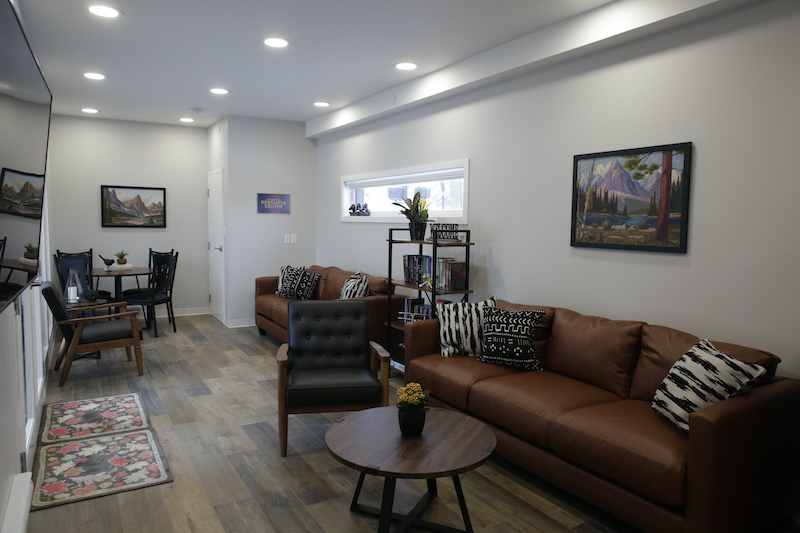 Transition offers Veterans to Focus on Themselves
"If a homeless veteran came into a bigger space, it can be very overwhelming, and that can bring on new problems in regards to hoarding and so forth," he continued to explain, "Another fact is that it's easy to maintain. There's not a lot that they have to worry about maintenance-wise, so they can focus more on their recovery."
One of this project's main goals is to build these communities so veterans having a difficult time transitioning can work on themselves and work on transitioning back into civilian life. Creating the small villages takes away obstacles that could be put in front of veterans when trying to transition off the street.
Veterans Affairs Canada
Veterans Affairs Canada (VAC) offers various services, including financial help to peer-to-peer programming and post-traumatic stress career training.
Howard says VAC has been incredible, and while some veterans are distressed with VAC, they have a great relationship and are able to bridge that gap between veterans and VAC.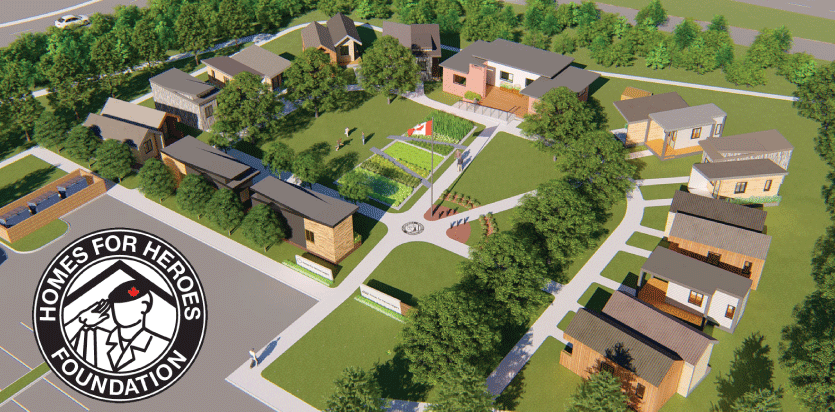 From the Streets to Back on their Feet
Calgary's village is built and has been operating now for just over a year, and Howard notes, they've already had graduates from that program.
"What I mean by graduates is that they've gone through the life skills, planning, and all the programs. Each program is designed individually for the veteran, but basically, when they've graduated, they're back on their feet, and they've transitioned out of the space and are working full time," Howard informed.
The program is available to any veteran who is in need, says Howard. He went on to explain that selecting applicants is a simple process.
It's a matter of identifying those in need. When a veteran enters the program, a needs analysis is done with the onsite counsellors. Once the counselors understand the veteran's needs, they build a program specific to the veteran.
"Some might be on the street because their transition has been difficult in terms of funding, re-education, employment, or post-traumatic stress. There are a number of different issues," said Howard
For more information on the Homes for Heroes, visit here https://homesforheroesfoundation.ca/about-us/. For next of kin to learn more about the Honour Plaque, visit here. https://homesforheroesfoundation.ca/honour-plaques/