Marking the end of Queen Elizabeth II Reign
To honour Queen Elizabeth II and mark Canada's mourning for her loss, Monday, Sept. 19, 2022, was designated a Federal holiday by Prime Minister Justin Trudeau.
The date coincided with the Queen's state funeral, which was held at Westminster Abbey. After the State Funeral, a royal procession took Her Majesty's coffin to Wellington Arch, where her coffin was put into a state hearse and driven to Windsor.
There it joined another funeral procession to take the Queen's coffin to St. George's Chapel at Windsor Castle for the committal service.
After the committal service, a private burial service, attended by the family, took place in the evening. The Queen was laid to rest in George VI memorial chapel in St. George's Chapel, alongside her husband, Prince Philip, and her parents, King George Vi and Queen the Mother, along with her sister Princess Margaret.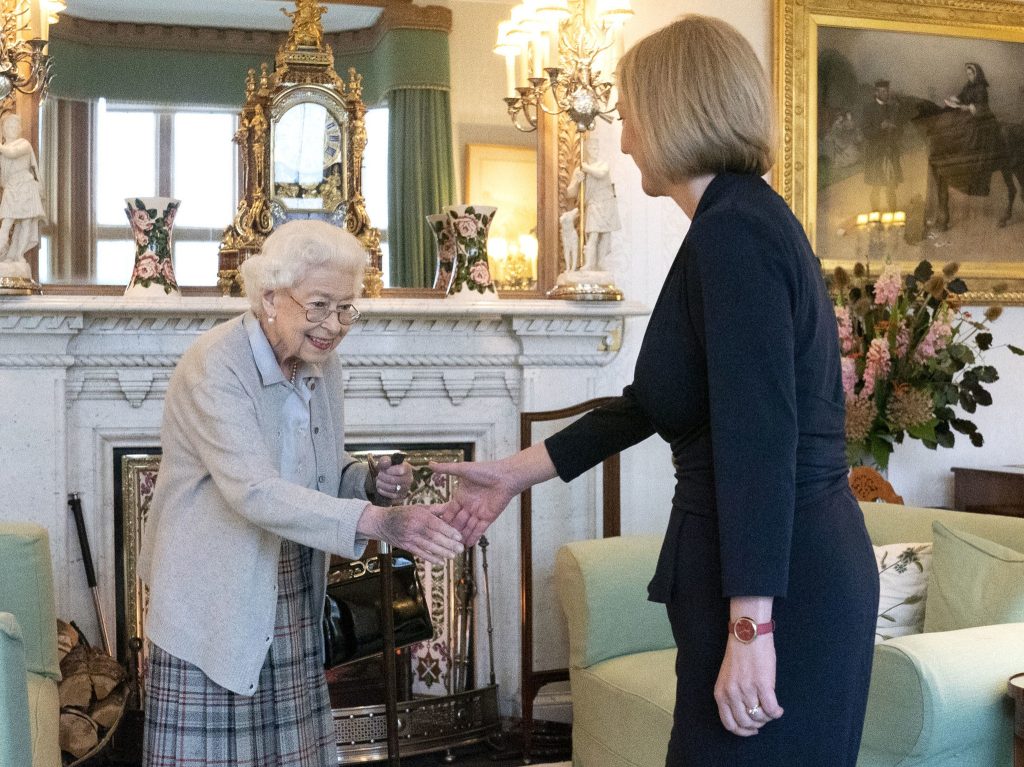 Her Majesty's Funeral
Ahead of her funeral, Her Majesty's coffin made its way slowly to London from her Balmoral Castle. The drive allowed her loyal subjects to pay their respects.
The coffin was at Edinburgh's St. Giles Cathedral for public viewing. Later on Tuesday, Sept. 13, 2022, the coffin made its way to London.
The Queen laid in state for four days at Westminster Hall after arriving in London, with her funeral taking place on Monday, Sept. 19, 2022, at 11 a.m. British Standard Time.
According to Deadline, "the show was broadcast around the world, and estimates have placed the global figure at around 4 billion."
Hundreds of political figures and world leaders were in attendance. Including Prime Minister Justin Trudeau, President Joe Biden and the first lady, G7 country leaders, monarchs from various countries, including Spain, Sweden, Monaco, Japan, and Belgium, and presidents from various other countries around the world attended the Queen's funeral.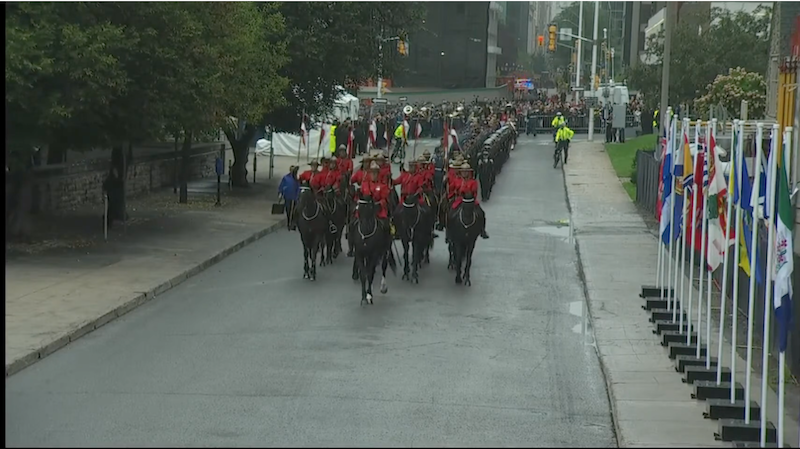 Canada Mourns
Canada was in an official state of mourning following the passing of Queen Elizabeth II on Sept. 8. The period of mourning is officially ten days, with many commemorative events taking place across the country. Flags were also at half-mast during this time.
A national commemorate ceremony was held Monday, Sept. 19, at Christ Church Cathedral in Ottawa. The ceremony began with a memorial parade that included members of the Canadian Armed Forces (CAF) and Royal Canadian Mounted Police.
To mark the National Commemorative Ceremony passing of Her Majesty Queen Elizabeth II, the Canadian Armed Forces performed a 96-gun salute downtown Ottawa.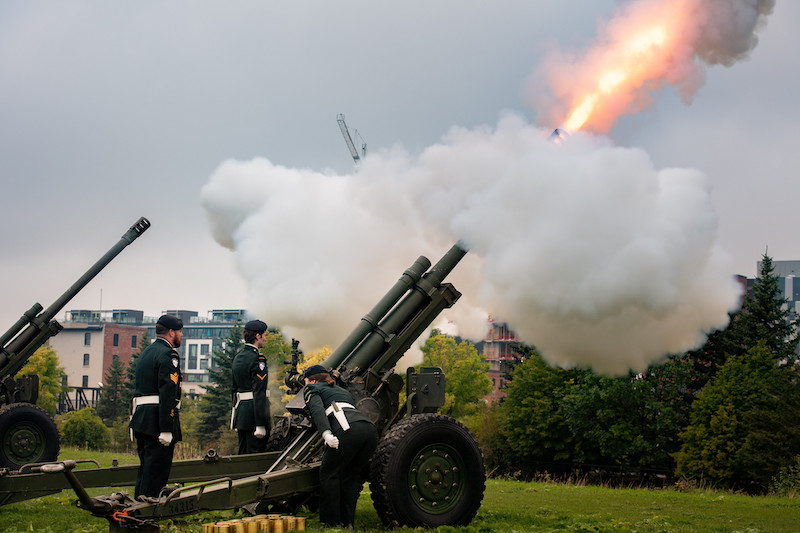 Four Canadian Army C3 Howitzers were positioned at Lebreton Flats near the Canadian War Museum.
The 96-gun salute fired 96 rounds of blank ammunition at 10-second intervals to mark the 96 years of Her Majesty's life. The salute began at approximately 12:25 p.m. on Sept. 19, 2022, and lasted for roughly 16 minutes.
The National Commemorative Ceremony planned to include a Supermarine Spitfire Mk IX and a Hawker Hurricane Mk XII, followed by a North American Harvard 4 from Vintage Wings of Canada flyby over Wellington Street. However, due to the weather, the flyby was cancelled.
Also, four Royal Canadian Air Force CF-18s were scheduled to conduct a flyby over downtown Ottawa in the missing person formation when the commemorative ceremony at Christ Church Cathedral in Ottawa drew to a close. However, that was also cancelled due to the weather.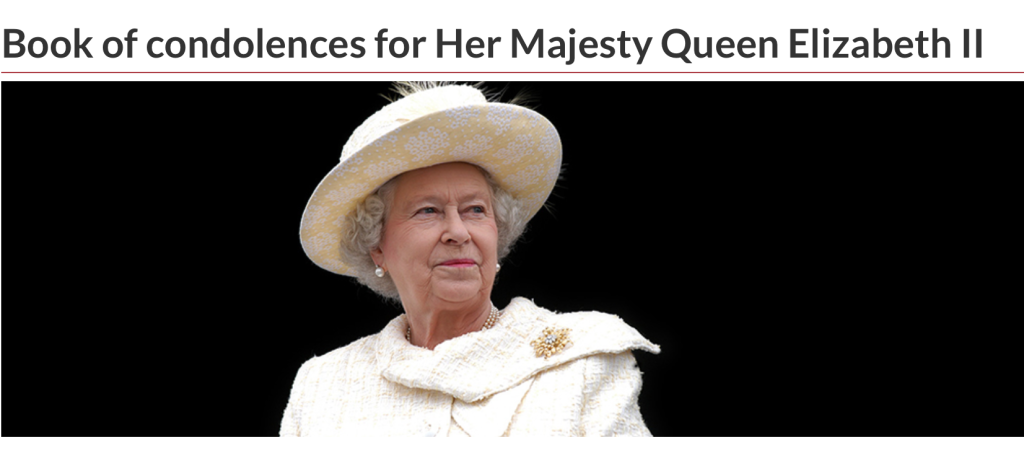 On-Line Book of Condolences
The government has also created an online book of condolences for Canadians to sign and view.
The Crown in Canada Facebook noted, "We thank everyone who has signed the book of condolences. We're up to over 55K signatures! If you haven't signed the online book in memory of Her Majesty #QueenElizabethII yet, you still can here."
Several events were delayed due to the official mourning period. For example, the first in-person Canada Run event since 2019 has been postponed to Sunday, Nov. 6, 2022.
Additionally, Parliament delayed opening its doors by one day due to the funeral.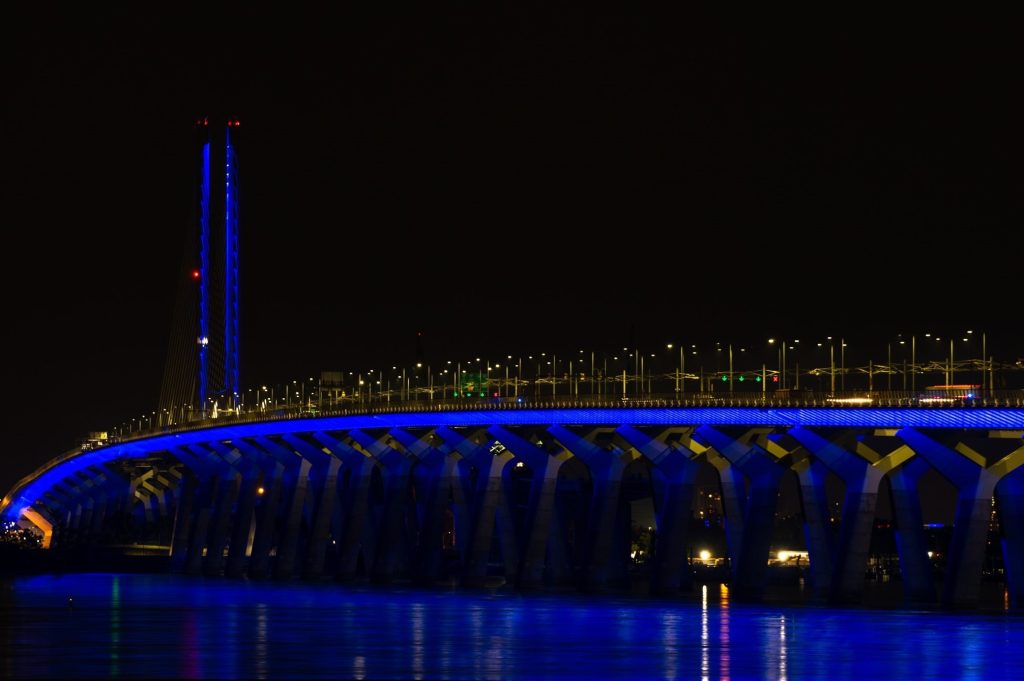 Canada Goes Blue
To highlight Canada's important connection to the Queen, the Department of Canadian Heritage is leading an initiative to illuminate buildings and landmarks across the country.
The landmarks are illuminated blue every night from sunset to midnight during the mourning period. According to the Government of Canada, the blue colour is inspired both by the viceregal flags of Canada and the jewels worn by the Queen in her last official Canadian portrait.
Amongst the prominent landmarks that will be displaying their mourning for the Queen's passing were:
Parliament
Senate
Samuel De Champlain Bridge
Niagara Falls
Several city halls like Victoria City Hall and Peterborough City Hall.
In contrast, the Toronto sign and the CN tower were dimmed Thursday, Sept 15, 2022, evening to honour the Queen.