Hope Reins and The Phoenix Centre for Children & Families in Pembroke are working collaboratively to provide equine therapy within the Petawawa community.
The War Horse project uses the innate abilities of horses to teach people skills to rebuild, repair and enhance their lives and relationships.
"Phoenix Centre is in the first year of working on the War Horse Project with Hope Reins. We want to engage children, youth, and families. The program gives participants a chance to be self-reflective and learn how to regulate their emotions," said Greg Lubimiv, executive director, Phoenix House.
The War Horse Project was designed for Canadian Armed Forces (CAF) members and First Responders suffering from visible or non-visible injuries including, PTSD and other traumas.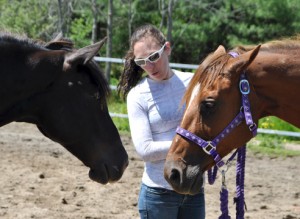 The program contains multiple phases that ables people to address mental health and well-being concerns while engaging in activities of self-discovery and self-regulation in an equine arena. The multiphase approach addresses the entire family's health and support needs.
"With each session are three equine professionals, with a combined skill base of equine program development, natural horsemanship, coaching, and training.  Also present also is a psychotherapist, and a peer supporter," explained spokesperson for Hope Reins Alison Vandergragt.
Phase One addresses issues, injuries and trauma individually with the member.
Phase Two introduces the member's family into sessions, where the organization can deliver an effective program that addresses the entire family's needs with greater results.
The model and methods staff employ are based on the understanding of the psychology of the horse.  Those who interact with the animals make a conscious choice to develop a deep symbiotic relationship with the animal rather than try to master the animal.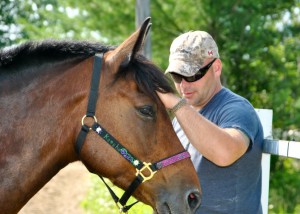 During the phases, the effects of the participant's trauma will become present and are processed with a trained trauma therapist and facilitators present throughout the session.
"We have had 36 participants through the program so far, another 22 starting this week, 11 individuals and five couples. Last session, ending in June, was funded in part by a grant from True Patriot Love, and donations from currently serving forces members, past participants, local businesses and individuals who care deeply  about the well-being of our vets," said Vandergragt

So, why use horses to heal trauma?
Horses' reactions and responses to behaviours are similar to humans. Horses do not immediately offer unconditional love, trust, loyalty or anything until a balanced relationship has been established between them and the person they are interacting with. Horses live in the moment. Therefore, they give immediate and honest feedback.
"The program is initially not about riding. The program is about learning about yourself through activities involving horses," said Lubimiv.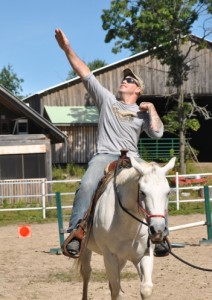 The horse, being a prey animal by nature, assesses its environment and provides immediate feedback to what is happening. Horses response to stressors including fight, flight, or freeze. These responses are similar to the responses of a soldier.
Carefully planned activities give participants the opportunity to explore the reaction the horse offered them in relation to how they approached, interacted with or denied interaction with the horse.
"Horses are emotional barometers. They bring to your level of awareness what emotions you are immune to even when you are not speaking a word. They know if you are scared, tired, angry or tense, and they react to the emotion they perceive," said Lubimiv.
Bonding with a horse and experiencing full acceptance without judgment is a powerful catalyst to reconnect with other people.
Presently, the War Horse Project serves the Petawawa area. As this program becomes well established, Hope Reins would like to extend the model to other communities that could benefit from the unique equine therapy approach.
To learn more about the services of Phoenix Centre please visit their website.
To learn more about Hope Reins please see their website.
Get More! Receive six issues of Canadian Military Family Magazine in your mail box for only $17.95! Click here to subscribe NOW!