Veteran pens book with aim to change care for mental health 
In the mid-'90s, veteran Stephane Grenier was deployed in Rwanda, and it was a deployment that would both forever change his life and shape his future. 
Suffering from post-traumatic stress disorder (PTSD) himself, he realized that as a society, we needed to change our approach when it came to mental illness. 
In 2001 he not only coined the term "Operations Stress Injury" (OSI), but he also helped organize the Operational Stress Injury Social Support (OSISS) Program within the military. He has gone on to act as an innovative consultant, keynote speaker, and, eventually, to even write a book on the topic.
His decision to write a book came out of his public speaking roles. Grenier would often give keynote speeches on his experiences. His goal was to speak in a way that motivated people to change the way they deal with mental health, and he used his experience to do so. 
The people around Stephane Grenier often suggested he write a book, but it wasn't until he was giving a speech at a conference that he finally decided to do so. Conference organizers had asked for copies of his book to sell, and when they expressed their surprise that he didn't have one, he decided that maybe he should write one.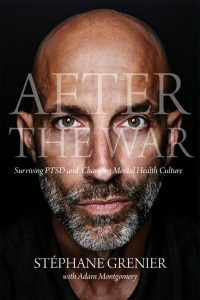 This resulted in him to write After the War, his account of his experiences with PTSD, his recovery, and his suggestions to change the way people deal with mental health issues.
In the first part of Grenier's book it features his story but, according to him, it's the last part of the book, where he advocates for change, that is the most important. 
He explained he used his story to give context and to help people understand his arguments for change. 
Grenier said, "If the book can reach somebody with the power to make a change, allows that person to understand the need to create strong, sustainable social support for people with mental illness outside the medical environment, the book will be worth it."
When asked what it was like raising the topic of mental health with the military, before it was really talked about at all, Grenier said it was "like pushing noodles uphill." 
The only solution at the time was to go see the doctor. Grenier was the first person who was not a doctor to say we need to do something about mental health issues. He received a lot of resistance – people would ask how he was qualified to help.

Grenier believes there needs to be social support structures outside the medical system to help people with mental illness. He points out, people don't kill themselves in the doctor's office. This is part of the reason why he coined the term operational stress injury (OSI) to help de-medicalize the concept of PTSD. 
He compared it to someone spraining an ankle. People wouldn't dismiss or hold it against a person for the injury or seeking medical attention. However, in society, some people seem to judge people if their brain is injured. 
As Grenier points out, sometimes people "sprain" their brain, and that is okay, they still have a future. He wanted to create a program that embraced the human experience. 
With mental health creating a buzz in the news and on social media Grenier noted he has not noticed a change with society's attitude. 
He believes that social media is giving people a false sense of accomplishment. Grenier does not believe that tracking shares and views of a post are a good way of tracking success. 
He said, "It's a ridiculous metric." It makes us feel good, but it is instead doing strategic harm.
In fact, Grenier believes the situation is getting worse. We are creating an impetus to get health care, but we don't have a good system in place to deal with the influx of patients. People are told to come back in 18 months for an appointment. He wondered at the impact this has on people. Grenier points out that we would never do this for something like cancer. 
Grenier has worked hard to change society's views on mental health. For his efforts, he was awarded a Meritorious Service Cross by the Governor General of Canada, and in 2018, he was appointed to the Order of Canada. He was also awarded an honorary Doctor of Law degree by the University of Guelph.
For more information on Grenier click here to visit his website.