Enduring Spouse Pin recognizes military spouses
By Laura Keller
We've all been there.
You've been up most of the night with a sick child. You wake up to realize that the house is 15 degrees because the furnace has conked out. The dog has brought something dead to the back door. You have to be at work for an early meeting. And the car won't start. Oh, and your husband is on the other side of the world, and will be for another two months. You know when you tell your co-workers about your morning, you'll hear the inevitable "you deserve a medal for what you do!"
Cheryl Gallant, Member of Parliament for Renfrew-Nipissing-Pembroke (including CFB Petawawa) couldn't agree more. Influenced by her work with Dianne Collier, a long time military spouse and resource for military spouses, on the invisible ribbon campaign over 10 years ago, and moved by the events following 9/11, Ms. Gallant wanted to see the efforts of military spouses recognized. So in 2000 she started researching ways the government could officially recognize the work and value of military spouses. But she quickly learned that an official medal would be about a 12-year process. So Ms. Gallant decided on a less formal route and the Enduring Spouse Pin was created.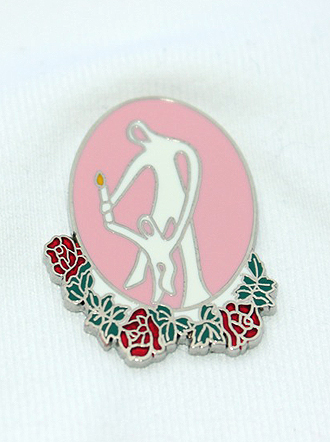 "This riding has long supported military families," states Ms. Gallant, "In fact, Petawawa is the birthplace of the Red Friday campaign."
The Enduring Spouse pin was designed by a local artist and is symbolic of the sacrifices made by military families and the role played by the spouse who keeps "the home fires burning".
When Gallant presents the pin to a military spouse she explains the meaning behind the image.
The teardrop shaped faces represent tears for those who are away. The adult and child hold the symbolic candle, which was used to shine in the family window for a loved one's return during wartime. The one adult's foot resembles the base of a family tree while the other is free standing, ready to move at a moment's notice. The arm of the adult and child blend into one – signifying the bond that parents and children have for each other. Roses, always the original symbol of love, abound at the base of the design.
In an impromptu poll to a few military spouses, many responded with their thoughts about the pin. Their last names have been withheld to protect their privacy.
"It's nice to be recognized for the hard work," comments Theresa, a military spouse who has moved every two years for her entire married life.
Another military spouse Pam adds, "It's coming from a great place. Dare we actually start to feel good about our role in supporting our spouses?"
When asked how the pins are distributed, Ms. Gallant says that it's almost always done informally. She'll be at an event, and will speak to a military spouse. If she feels that the pin will boost a spouse who is struggling, or recognize a spouse who has accomplished a particular achievement, she will simply present one of the pins that she always has with her, and convey thanks on behalf of the riding, her colleagues and the Prime Minister.
"It's really very spontaneous," she insists. And, she points out that several have been given to military husbands!

A lot of military spouses insist that they don't need the recognition. "I keep the home fires burning when my husband is away, not because it's my duty, but because I love my husband and family and I just do what needs to be done," says Linda, whose husband has had a long military career. "I do it because I'm raising a family, just like the oil workers' spouse in Newfoundland who doesn't see her husband for weeks at a time."
Some military spouses mention that although they are pleased with the recognition that the Enduring Spouse pin symbolizes, it's really only a gesture. "Give us easier access to health care when we move every three years. Give us affordable childcare. Give us ease of finding employment when we move," comments Linda.
"It's a nice start, and hopefully will be followed up with more concrete policies to support military spouses," agrees Cynthia. "Everyone wants to appear like they support military families. We'd like to see government policies that actually do."
And then there's the unhealthy competition that exists in some circles of military spouses. Anna calls it "the dirty little secret of military wives".
"I worry that something like this could just feed that beast," she insists.
Many spouses agreed. "The recognition is nice, but sometimes spouses can be pretty terrible to each other," adds Hazel.
Marion, whose husband has deployed many times, counters:
"There is a sense of competitive suffering during some deployments. You know, my husband went outside the wire, while your husband didn't. My husband is a corporal in the infantry, yours is an officer in the dental corps. I have 3 kids and yours have grown and left home. But I think that says a lot more about us as a community, than about efforts like the Enduring Spouse pin. Spouses who constantly need to one-up each other are clearly attention-seeking. Maybe a bit of attention and recognition is what they need to feel better about their lives. Then they won't need to compete so much."
It's safe to say that Cheryl Gallant is an MP who is happy to give that attention and recognition. She is a strong supporter of military members and their families. In fact, her most recent mailer included a tear-away piece, which allowed constituents to send a Valentine greeting to soldiers, sailors and airmen who are currently deployed.
Ms. Gallant insists, "We need to keep recognizing the important role of military spouses within our country.