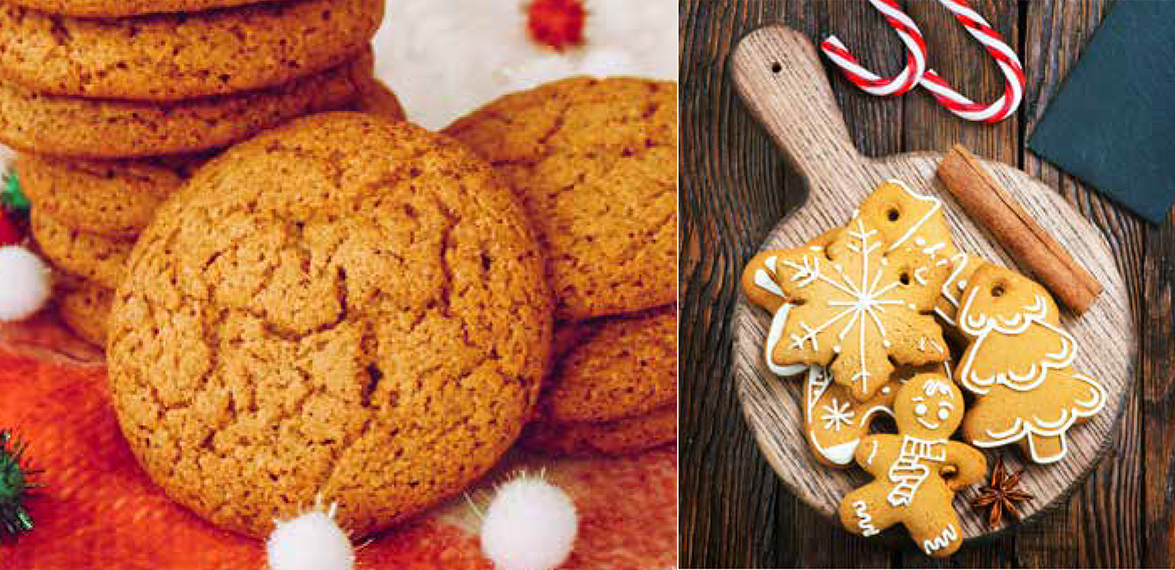 Soft Molasses Cookies
Ingredients:
2 ¼ cup all-purpose flour
1 ½

 

teaspoons baking soda
2 teaspoons ground ginger
1 ¼

 

teaspoons ground cinnamon
1/4 teaspoon ground cloves
1/4 teaspoon nutmeg
1/4 teaspoon salt
3/4 cup unsalted butter, softened to room temperature
3/4 cup packed light or dark brown sugar
1/4 cup dark molasses
1 large egg
2 teaspoons vanilla extract
1/3 cup

 

granulated or coarse sugar, for rolling
Directions:
Whisk the flour, baking soda, ginger, cinnamon, cloves, nutmeg, and salt together until combined. Set aside.
In a large bowl beat the butter and brown sugar together on high speed until creamy and combined, about 2 minutes. Add the molasses and beat until combined. Then add the egg and vanilla extract and beat until combined.

 

At low speed, slowly mix the dry ingredients into the wet ingredients until combined. The cookie dough will be slightly sticky.
Preheat oven to 350°F. Line two large baking sheets with parchment.
Roll cookie dough, 1 tablespoon each, into balls. Roll each in granulated sugar and arrange 3 inches apart on the baking sheets. Bake for 11-12 minutes or until edges appear set and tops are cracking.
Brown Sugar Shortbread
Ingredients:
2 and 1/4 cups all-purpose flour
1/4 teaspoon salt
1 cup unsalted butter, softened

 

1 cup packed light brown Sugar
1/3 cup dark Brown Sugar
1 ½

 

teaspoons pure vanilla extract
Directions:
Whisk the flour and salt together in a medium bowl.
In a large bowl using a handheld mixer or a stand mixer fitted with a paddle attachment, beat the butter, light brown sugar, and dark brown sugar together on medium-high speed until completely smooth and creamy. Add the vanilla and beat until combined.
On low speed, slowly add the dry ingredients. Turn the mixer up to high speed and beat until the dough comes together.
Turn the dough out onto a floured work surface and, with floured hands, divide into two. Shape each half into an 8-inch log. Tightly wrap the logs in plastic wrap and chill in the refrigerator.
Preheat oven to 350°F.
Remove logs from the refrigerator and roll into coarse sugar, if desired. It's added only for a little crunch! Slice each log into 12 equally thick cookies and place cookies on baking sheets about 2 inches apart. Bake the cookies for 12-14 minutes or until brown around the edges.