Her Excellency, Sharon Johnston's Christmas Spiced Beef Recipe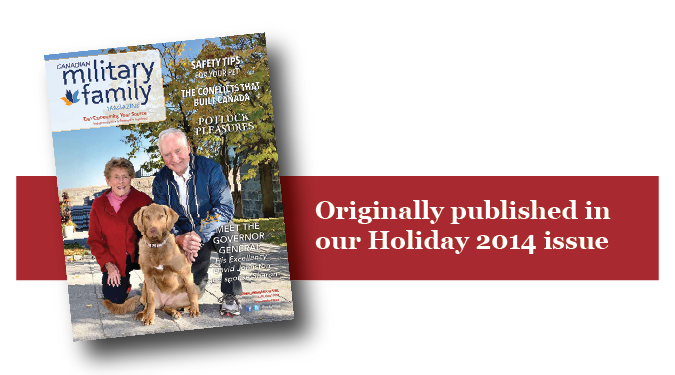 Her Excellency Sharon Johnston would like to share her favourite Christmas recipes with Canadian military families. Spiced beef and cinnamon buns are traditionally shared at their table over the holiday season. The cinnamon bun recipe is the same one Her Excellency used many years ago in Mount Tremblant when she and her daughters sold buns out of the back of their station wagon to help the girls learn and appreciate the French language. She hopes you enjoy these recipes as much as her family does.
Her Excellency's Spiced Beef
These measurements are for one 20-25lb inside (top) round roast.
Part One
Mix the following ingredients:
Salt Peter 3 oz
Brown sugar 5 oz
Ground clove ¾ oz
Ground allspice 1 oz
Ground Nutmeg 1 oz
Coarse salt ¾ cup
Method
1. Place beef in a large pan
2. Rub spice mixture all over the beef making sure to get into all the nooks and crannies.
3. Turn beef everyday pushing spice mix back into nooks and crannies.
4. Continue step 3 until beef is dry (about 3 weeks)
5. Leave beef in fridge on a wire rack for another week to air dry
Part Two
Blend the following ingredients:
Candied ginger in syrup 4 oz
Cayenne pepper 2 tbsp
Method
1. Cut beef into three equal pieces
2. Rub with candied ginger-cayenne mixture
3. Place in sous-vide bags (May be purchased from the butcher at the grocery store.)
4. Cook with a thermal circulator at 138F for 8 hours
5. Chill in ice bath then refrigerate. (Will hold in sous vide bags for three months.)

Part Three
Method
1. Remove from bags
2. Season with salt liberally
3. Thinly slice and serve with sliced Swiss cheese, assorted mustards and rye bread.