Her Excellency, Sharon Johnston's Christmas, Cinnamon Buns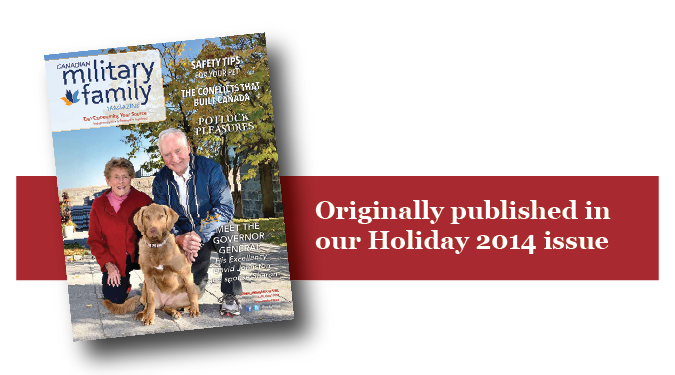 Her Excellency Sharon Johnston would like to share her favourite Christmas recipes with Canadian military families. Spiced beef and cinnamon buns are traditionally shared at their table over the holiday season. The cinnamon bun recipe is the same one Her Excellency used many years ago in Mount Tremblant, when she and her daughters sold buns out of the back of their station wagon to help the girls learn and appreciate the French language. She hopes you enjoy these recipes as much as her family does
Her Excellency's Cinnamon Buns
Yield: Approximately 25-50 (depending on size)
Ingredients:
1 package (1 tbsp.) dry active yeast
1 – 1¼ cup potato water (or milk)
5-6 cups (or more as needed) all-purpose flour
½ cup sugar
2 tsp. salt
2 tbsp. soft butter
1 egg
1 cup mashed potatoes
Note: Also required – parchment paper.
For the potatoes – boil a few potatoes in water until soft. Drain, saving the liquid, and mash the potatoes with a bit of butter.

Filling:
1 lb. soft butter
 5 cups brown sugar
 ground cinnamon
Method:
Dissolve yeast in warm potato water (about 100oF, or body temperature) or warm milk. Whisk until all particles are dissolved. In a mixing bowl, combine yeasty liquid with remaining ingredients (hold back a bit of the flour in case not all is needed). Mix with a dough hook (or by hand) until a soft, elastic dough is formed, adding the extra flour if the dough is too sticky, or some warm water if the dough is too firm. Place dough in an oiled bowl, cover and let rise (at about 100-120oF for fastest rise) until doubled in size. This will take 1-3 hours, depending on room temperature.
To make cinnamon buns:
Turn risen dough out of the container onto a floured work surface. Roll out to about ¼-½ inch thick. Spread on softened butter for a thin coating. Sprinkle brown sugar generously over the surface (for a good coating), then sprinkle with ground cinnamon.
Roll up cinnamon rolls into a cylinder, then cut into portions. Place portions into 9"x13" pans or cookie sheets with rims (lined with parchment paper).
Cover pans with a tea towel and let rise again in a warm place until doubled. Bake at 350oF for about 12-24 minutes (every oven differs!), until buns are golden brown. Remove and brush with butter if desired, or top with an icing sugar glaze. Cool slightly and serve.