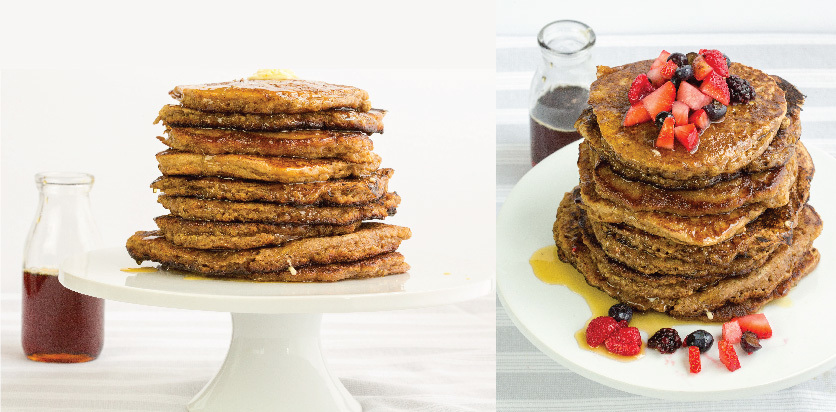 Today, devout Christians will feast on pancakes, fried foods, chocolate or cake one last time before they give up one of these rich comfort foods for Lent.
Known by many names, Fat Tuesday, Shrove Tuesday and Pancake Tuesday, February 25th  will be the customary day of eating gracious amounts of rich foods and celebrating in style, celebrated by many Christians before the 43-day fasting period known as Lent begins.
Mardi Gras is celebrated around the world, most notably in New Orleans' Mardi Gras parade and Brazil's Carnival. Both celebrations are known for intricate masks, beads, parades and of course plenty of food and drink.
No matter how Canadians are celebrating, one thing is for sure: buttermilk pancakes topped with maple syrup, berries, or Nutella, will be a top choice on the menu for Pancake Tuesday.
Lent begins on February 26th and ends on April 8th.
Wellness Soldier's Whole Wheat Oatmeal Pancakes
The greatest thing about a Sunday morning is calling the family around the table for a nice and hearty pancake breakfast. Break out the butter, warm maple syrup, and fresh berries, get the family around the table and create some lasting memories.
When some people make pancakes they turn out flat and dull, that's where the vinegar comes into play. When the vinegar reacts with the baking soda it starts puffing them up. You can alternately use buttermilk in place of the coconut milk and vinegar.
Ingredients;
¾ Cup Whole Wheat Flour
1 Cup Quick Oats
2 Tbsp Coconut Sugar
½ tsp Baking Powder
½ tsp Baking Soda
¼ tsp Cinnamon
¼ tsp Salt
¾ Cup Coconut Milk
2 Tbsp Coconut Oil (plus more for cooking)
1 Large Egg
5 ml White Vinegar
5 ml Vanilla Extract
Directions:
Mix the first 7 ingredients together in a mixing bowl,
In a separate bowl, mix the remaining ingredients until well incorporated;
Add the wet ingredients to the dry ingredients and mix until well incorporated,
Heat a non-stick pan to medium heat, add 5 ml coconut oil,
Spoon about 2-3 Tablespoons of batter into the pan,
Turn pancakes over when the tops are covered in bubbles, (approx. 2-3 minutes)
Serve, Eat well, Be Happy