Boots 4 Pups Citadel Canine Society hosts annual Cpl. Nathan Cirillo Memorial Cup Challenge
To honour a fallen Canadian hero while also raising funds for a noble cause, the Boots 4 Pups Citadel Canine Society annually holds the Cpl. Nathan Cirillo Memorial Cup Challenge in Ottawa.
After the tragic death of Cpl. Nathan Cirillo, in 2014 at the National War Memorial in Ottawa, Boots 4 Pups, wanted to hold an event to honour the fallen soldier, who was known for supporting rescue dogs.
The organization was one of 400 to request the Cirillo family to request Cpl. Nathan Cirillo's namesake. In the spring of 2016, Boots 4 Pups was granted permission and held its first Cpl. Nathan Cirillo Memorial Cup Challenge.
The event has been held annually ever since with the support of the Rideau Canoe Club.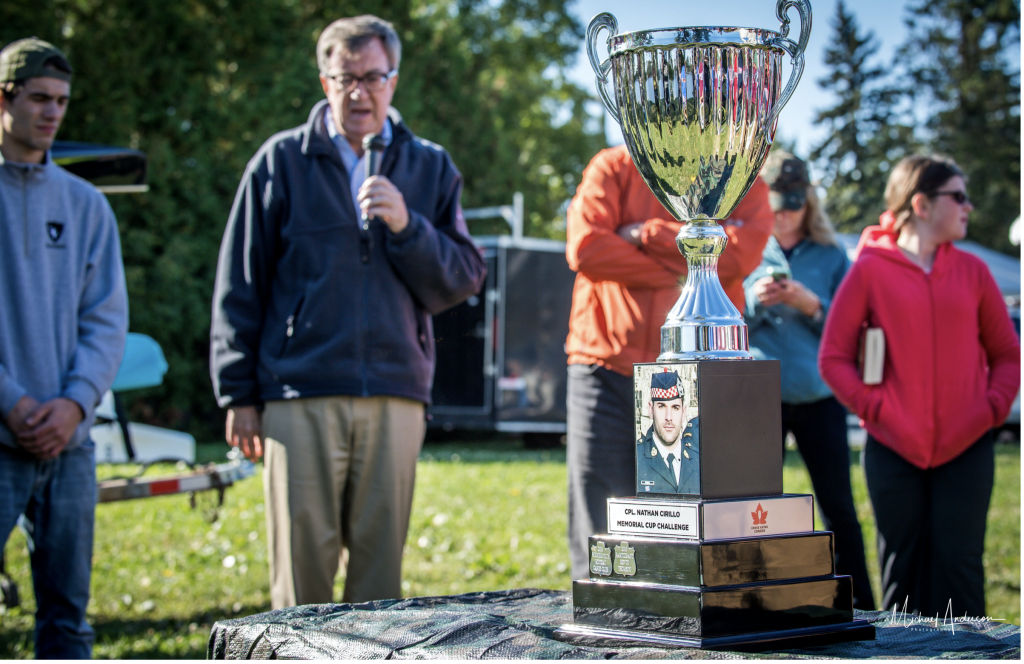 This year's event was held on Sept. 7 at Mooney's Bay Rideau Canoe Club and for the first time, ever featured Dragon Boats. The event brings out various members of the community, from military supporters to avid paddlers to even the youth.
"Everyone is involved in this, and there is just so much good coming from it," said Heather Bracken, an original Boots 4 Pup committee member.
The event is an opportunity for the entire community to get out on the water and get involved while raising money for a good cause. Funds raised from the challenge go towards supporting the Citadel Therapy Canine Society service dog program, primarily run in Ontario and Quebec.

"We strongly believe in giving back, and we strongly believe veterans and first responders go far beyond what one would expect that they do, and the impact of what they do is not necessarily visible," noted Bracken.
The Citadel Canine Society is a national organization whose mission is to train and deliver service dogs to new veterans and first responders that have post-traumatic stress disorder (PTSD) and operational stress injury (OSI).
The Ottawa branch, Boots 4 Pups, was established in 2014 when Maj. Hilaire (Nick) Nicolas, in light of his 70th birthday, wanted to raise funds to pair service dogs with veterans.
For this cause he, and a small group of well-wishers including, hiked the Rideau Trail from Kingston to Ottawa. As a tagline for this record-breaking walk this group completed, the committee settled on Boots 4 Pups, and the name has stuck ever since.
For more information regarding the Cpl. Nathan Cirillo, Memorial Cup Challenge, visit the Boots 4 Pups website.