Lieutenant-General Eyre assumed command of Military Personnel Command
During a ceremony held in Ottawa on June 20th, Lieutenant-General Wayne Eyre assumed command of Military Personnel Command from Lieutenant-General Charles Lamarre.
The ceremony was under the guidance of Vice Chief of Defence Staff Lieutenant-General Paul Wynnyk.
While not in attendance Chief of the Defence Staff General Jonathan Vance stated in a press release, "I want to thank Lieutenant-General Chuck Lamarre and his team at Military Personnel Command for their work over the last two years in implementing policies and programs that enable us to better support our men and women in uniform, and their families. I am looking forward to working with Lieutenant-General Wayne Eyre, who will provide the kind of strong leadership needed to continue the momentum within Military Personnel Command."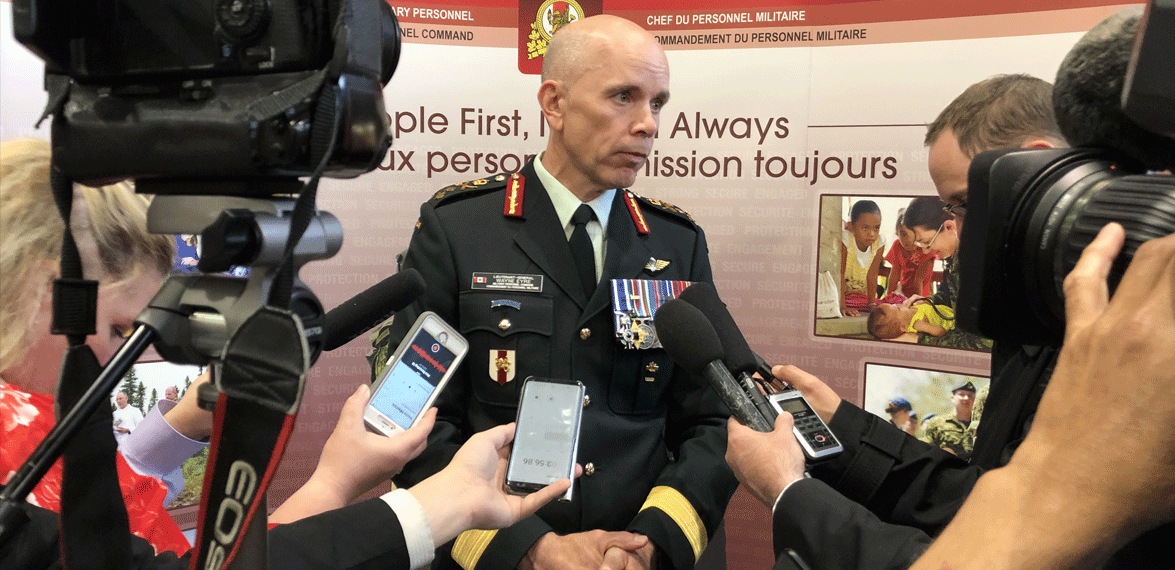 Lieutenant-General Eyre grew up on a small farm near Wadena, Sask, and spent his high school years in Medicine Hat, Alberta. He joined cadets when he was 12 years old. 
After graduating high school, Lieutenant-General Eyer attended both Royal Roads Military College and the Royal Military College. Upon commissioning in 1988, he joined the Second Battalion, Princess Patricia's Canadian Light Infantry where he spent the majority of his career in command or deputy command positions. 
Since July 2018, Lieutenant-General Eyre has served as the first non-U.S. Deputy Commander of United Nations Command Korea in its 69-year history. 
Previously, he served as Deputy Commander of Military Personnel Command for two years.
"I am proud to take over as Commander of Military Personnel Command and to work with this team that has accomplished so much these last few years. People are the military's most important resource, and I will continue to ensure that supporting our people and their families is our top priority. My predecessor, Lieutenant-General Lamarre, has left some big shoes to fill. I learned so much from him over the years, and plan to keep Command on the same trajectory to deliver on our military initiatives Lieutenant-General Wayne Eyre, incoming Commander of Military Personnel Command.
After a military career spanning 38 years, Lieutenant-General Lamarre is retiring. He and his wife Ellen will remain in Ottawa, enjoying their nearby cottage, and spending time with their sons Christopher, Paul, and Thomas. 
Lieutenant-General Lamarre joined the Canadian Armed Forces in 1981 and is a graduate of The Royal Military College of Canada. During his career, he commanded at the platoon, company, battalion and formation levels. He assumed command of Military Personnel Command in 2017. 
"Serving as Commander of Military Personnel Command for the last two years has been a tremendous honour. To contribute to the wellbeing of our military members and their families has been a great privilege. I would like to extend my thanks to the team around me and our partners within the department and government for the work they have done in modernizing how we recruit, support and transition our members. I am confident that the Command will be in good hands under the leadership ofLieutenant-General Eyre," said Lieutenant-General Charles Lamarre, outgoing Commander of Military Personnel Command.
The ceremony also included a change of Command Chief Warrant Officer.
CWO Martin Colbert is leaving his position as current Command Chief Warrant Officer Military Personnel Command and moving to a position in the office of the Vice Chief of Defence Staff. 
Incoming CWO Geoffry, was appointed to the Royal Canadian Medical Service CWO in 2017 and was selected as the Op Impact ROTO 4 and 5 JTF-Irak CWO. Since his return in December 2017, he moved into his current position as the Canadian Forces Health Services Group CWO.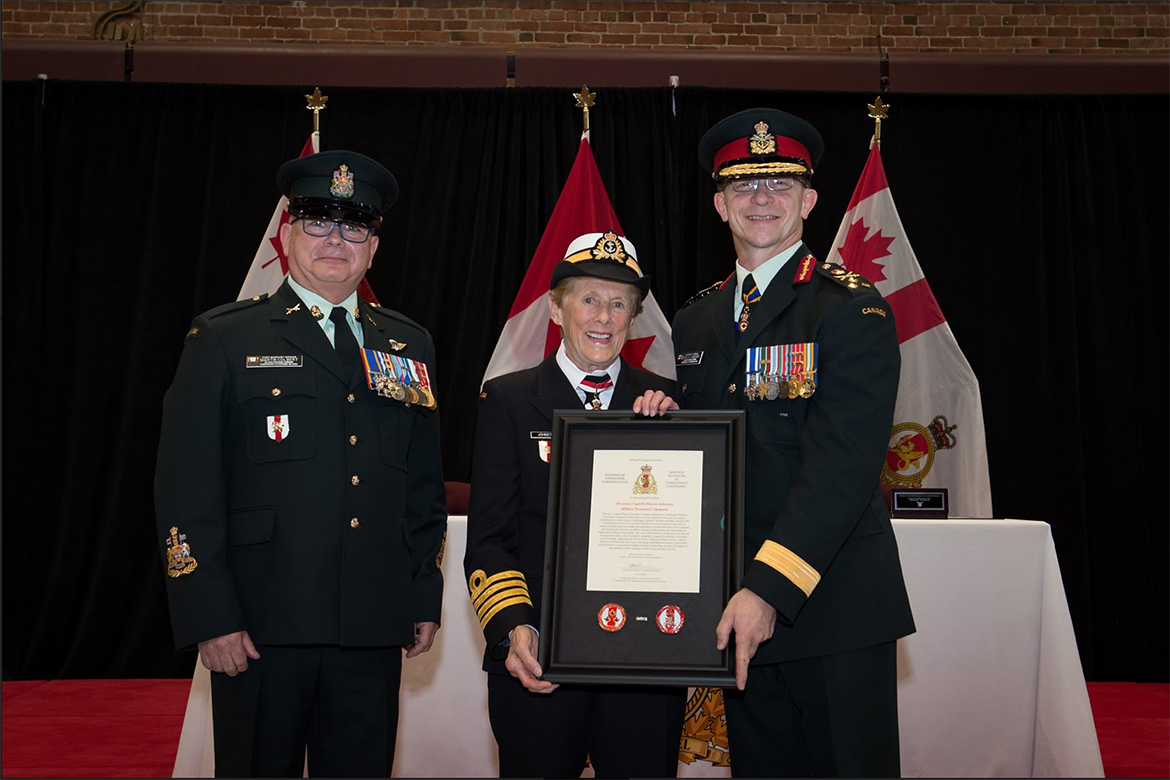 At the ceremony Honorary Captain (N) of Military Personnel Command Sharon Johnston was acknowledged for her work as an honorary captain and awarded a commendation. She assumed the position in a ceremony back in June 2016. 
Her duties included: fostering esprit de corps developing, promoting and sustaining strong community support; establishing and maintaining liaison with unit charities and associations as well as with the commander and other persons with honorary appointments; participating in parades and official functions in which the Command takes part; and advising the commander.
The Commander of Military Personnel oversees approximately 14,000 military and civilian personnel who are responsible for the overall personnel management of the Canadian Armed Forces. It covers a wide spectrum including: 
Recruitment, training and education, benefits,

 

Health services,

 

Stewardship of heritage and history,

 

Morale and welfare services
Chaplaincy / multi-faith network
Compensation and benefits
Career management and administration
Honours and recognition
Conflict and resolution programs
Quick Facts
On behalf of the Chief of the Defence Staff, Military Personnel Command provides functional direction and guidance to the Canadian Armed Forces on all matters pertaining to the management of military personnel. Key tasks include:
·  To recruit, train, and educate, prepare, support, honour, and recognize military personnel and their families for service to Canada.
· To develop and implement strategies, policies, and programs that foster and maintain the profession of arms as an honourable and desirable career.
· To monitor compliance with Canadian Armed Forces personnel management policies and be accountable for the Canadian Armed Forces personnel system.
· To eliminate harmful and inappropriate behaviour in the Canadian Armed Forces.
· To increase diversity by focusing on recruiting and retaining under-represented populations within the Canadian Armed Forces, including women, Indigenous peoples, and members of visible minorities.
· To continue to provide fully engaged, personalized, and guided support to all Canadian Armed Forces members to seamlessly transition to post-military life.
History
According to the Canadian Armed Forces, the Chief of Military Personnel became known as such through a re-designation by the Minister of National Defence in 2006. In the fall of 2016, the Chief of Military Personnel was also appointed Commander of Military Personnel Command. During the re-designation process, the Command was authorized to retain its badge, borne in the current frame, with the motto Personnel.