Four-legged employee brightens lives of military community
The Trenton MFRC has a special four-legged employee brightening the lives of the military community members.
Hercules, a two-year-old Labrador, has been a helping hand to Kelly Briggs, Veteran Family Program Coordinator, who is also his owner, and the rest of the Trenton MFRC staff.
Briggs' role at the MFRC is to work with releasing members, veterans and their families and their transition from military to civilian life.
"Hercules seems to have an intrinsic ability to pick up on this stress and to ground the individual enabling them to communicate more openly about their concerns and challenges around transition," says Briggs. 
Before his role at the MFRC, Hercules was given to Briggs and her family as a foster dog during his training to become a service dog for a Veteran. As a training tool, Tamara Kleinschmidt, the executive director agreed that it would be beneficial for Hercules to practice what he was learning in training.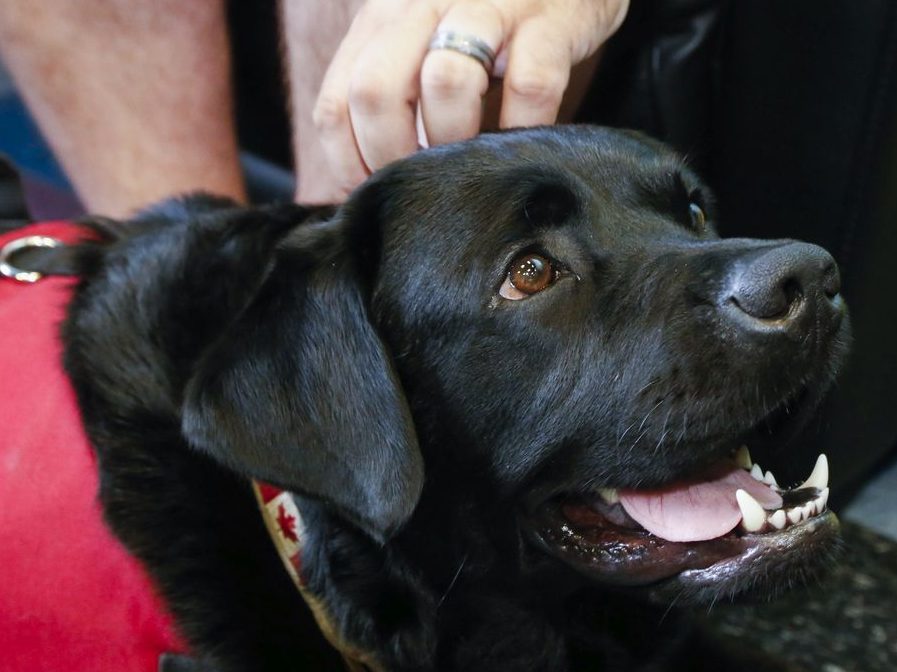 Unfortunately, when Hercules was one, he suffered an unforeseen injury to his right ACL. Briggs says due to potential ongoing medical issues it would be too difficult to place him with a Veteran, who requires him to be at the top of his game at all times. 

Hope was not lost for Hercules. He was placed in Briggs' home as a permanent member of the family in December 2017, and now a regular member of the MFRC as a facility dog. 
"Clients who come to visit my office have reported that having a dog present can be very calming for them. He has been trained to interrupt anxious behaviour, retrieve tissues for those who may be crying, and open wheelchair doors," says Briggs. "We have also utilized his talents for retrieving in the daycare setting as a way to distract children who may be struggling during their day to day activities in the centre."
Hercules is currently recovering from his surgery but is eager to be back helping the military community.