Erik the Red crosses over the Rainbow Bridge
The beloved mascot and hero of not only the CSS Acadai, but the city of Halifax, Erik the Red, a Rodent Control Officer, passed away in early August following a brief illness.
"A fixture on the waterfront since 1997, Erik was the last of the four Rodent Control officers who so proudly served aboard ship and officially retired in 2015," read a statement from the Maritime Museum of the Atlantic, where the CSS Acadai is on permanent display.
Erik the Red was adopted by Steve Read, a member of the CSS Acadia, after the cat followed Read to the ship one night in 1997.
Launched in 1913 the Acadia was a Canadian Scientific Ship that served the Royal Canadian Navy in both world wars. It was retired in 1969 and designated as a national historic site in 1976.
Erik  was adopted as part of this ship's crew to take care of its growing rodent problem, which he is said to have taken care of within weeks.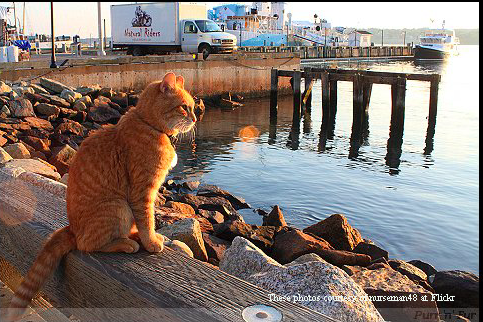 Erik the Red was living with Read in his retirement.

"I count myself among those very lucky folks who have been a part of Erik's "family". As Ship-Keeper aboard Acadia, I had the honour and privilege of serving with Erik in a professional capacity; but, more importantly, as his primary caregiver, I guess you could say I was Erik's erstwhile dad. It's been said that people cannot own cats, and that the reverse is a more accurate description of the feline / human relationship. The rub of truth in that statement was never more appropriately applied than in Erik's case. For, you see, Erik chose us – quite literally," said Read in a heartfelt obituary for the one-time Rodent Control Officer.
The cat was staple of Halifax and was beloved by many of the cities residents and business owners. According to the Maritime Museum of the Atlantic, it would often receive pictures of Erik from various companies in a variety of hats and poses.
Erik the Red was thought to be somewhere between 20 and 22 years of age when he passed away. It is reported the beloved feline received a burial at sea.