There's So Much to Love About Canada Day!
You've decided to skip the Canada Day backyard barbecue this year and take in some of the fabulous festivities in your community, but you're not sure what's happening.
Canadian Military Family Magazine has some suggestions for you. So pack your bags with sunscreen and snacks because there is a lot going on across this big beautiful country on July 1.
Enjoy your time off with your friends and family and take time to appreciate the freedom that we enjoy across our beautiful nation.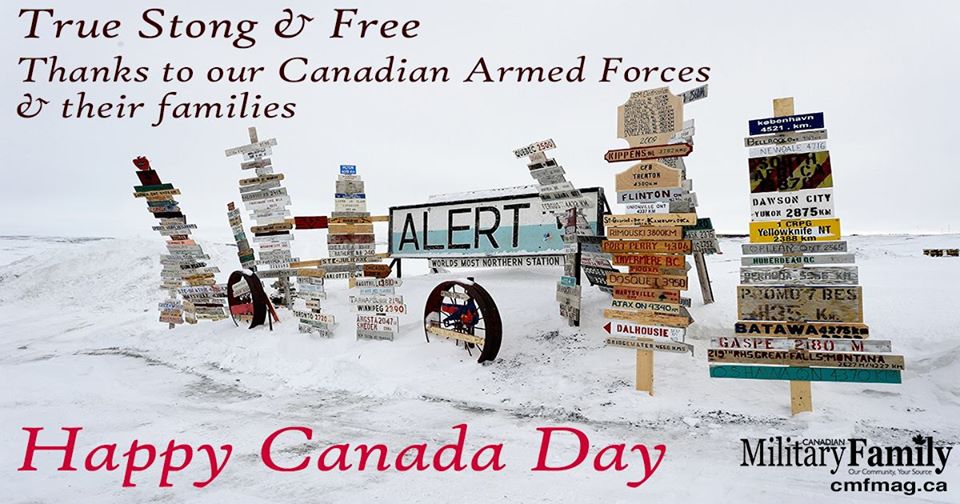 Check Out the Fireworks!
A spectacular fireworks display begins from the shores of Victoria Park in Charlottetown, PEI at 10:00 p.m. Bring your chairs and blankets for seating to enjoy one of the largest fireworks displays in Canada.
Our Nation's Capital, Ottawa will be lit up on July 1 at 10 p.m. as fireworks are launched from the Astrolabe at Nepean Point to paint the skies over the Ottawa River.
As part of the its Canada Day Extravaganza, the Harbourfront Centre in Toronto will light up the sky along the waterfront in a 20-minute, two-barge free show choreographed to music from 10:40 p.m. to 11 p.m.
Hamilton Flats, Moosejaw, Saskatchewan is the place to be if you want to take in the FIREWORKS! Show by Paradise Fireworks. The show starts at 10:30 p.m. so don't be late.
Canada Day at The Forks in Winnipeg, Manitoba is sure to be a great time with a live music show leading up to the fireworks display at 11 p.m.
Fireworks begin over Victoria Harbour, BC at 10:20 p.m. This year the display will be accompanied by music. Just tune in to The Zone @91.3 or 100.3 The Q.
Catch a Parade!
Royal International Tattoo Parade, Halifax NS, 10:30 a.m. to 11:30 a.m. Fun for all ages. Bring the whole family.

Saint John, NB will unite in Canadian pride as the Canada Day People Parade fills the streets. All are welcome. If you would like to join, the walking parade be at the King's Square Band Stand at 11 am.
The ever-growing Canada day parade in Montreal, QC takes place at 11 a.m. on Wednesday until 1:30 p.m. and will head east on Ste-Catherine St. W. from Du Fort St. until Phillips Square.
Check out Granville Island, Vancouver, BC huge Canada Day celebration including a parade, an official Canada Day Ceremony with cake, a Lobster Man Cookout, live jazz, performers, and MELA!, a South Asian cultural fair.
Dance to the Music!
Each July 1, when the sun rises over Signal Hill, the people of St. John's, NFLD become the first in Canada to celebrate this country's birthday. Head to Quidi Vidi Lake at 8:30 p.m. to listen to anthems by Hilary Moores,  and a family concert with Siochana.
Canada Day FREE Concert at Alderney Landing Dartmouth, NS takes place from 5 p.m. to 11 p.m. featuring the Arkells and more.
Fredericton, NB organizers are staying close to their roots this Canada Day by showcasing local talent. The event will start at noon as usual with a performance by Scotty and the Stars.
Head to the Plains of Abraham in Quebec City at 7:30 p.m. to see Annabelle Doucet, La Voix 2015 participant, in a duet with Matt Laurent et Lucky Uke.
Canada Day ceremonies kick off in the early evening and the Riverfront stage, Calgary, Alberta will erupt with some of Canada's most acclaimed performing artists grooving to the sounds of indie, rock, pop and folk.