Painting Honours Corporal Nathan Cirillo
Ottawa artist Katerina Mertikas had no idea her painting, Honouring My Father would become popular nationally.
On the October day, Corporal Nathan Cirillo was killed on the steps of the National War Memorial Mertikas picked up her brush and began to paint an expression of her grief. In front of her, five hours later was a completed painting representing the love of a son for his father, a fallen soldier.
"Social media took care of the rest. A post on Facebook, picked up by the Ottawa Citizen, and here we are. The painting represented the day for me, that moment when I saw what had happened on my television set," said Mertikas.
The painting is a bright and innocent depiction of a young boy saluting a soldier at the foot of the National War Memorial. The artist's interpretation of Cirillo's son Marcus honouring his dad, the Canadian soldier.
In Mertikas opinion, the events of the day Corporal Cirillo was killed awakened the nation. People were reminded to appreciate the military and all that it represents and does to keep Canadians safe and free.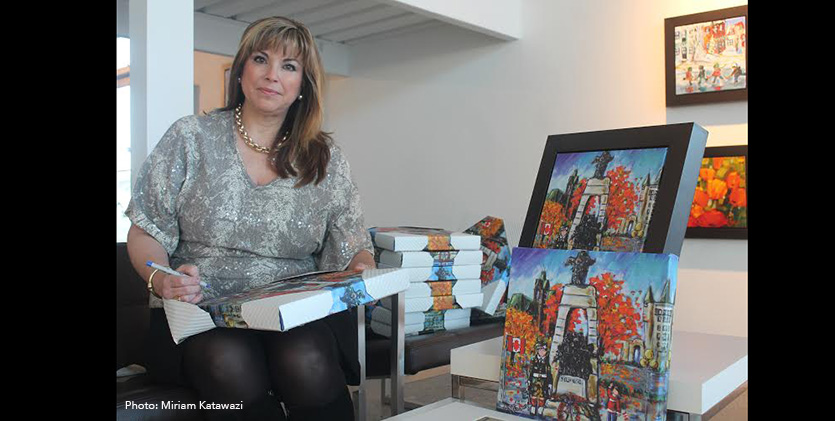 "I just don't want people to forget what happened. The painting was my way of immortalizing the soldier. People from all over Canada and beyond have bought prints," said Mertikas.
The Koyman Gallery of Ottawa is handling the sale of prints of the original painting. At the end of January over $50,000 had been deposited into a trust account for Cirillo's son. Each month Mertikas goes into the gallery and signs the prints before they are shipped out or sold.

The original Honouring My Father painting hangs in the foyer of Ottawa City Hall. Mayor Jim Watson has played a large role in the promotion of the sale of prints.
A replica of the original, painted in a technique Mertikas describes as painting over a print, was given to Marcus Cirillo. It hangs in his home above his bed.
Katerina Mertikas was born in Greece. Her parents emigrated to Canada when she was a little girl. She has been a professional artist since 1991 and cannot remember a time when she did not aspire to paint and create.
Most Mertikas paintings capture the essence of Canadiana, cheerful, colourful landscapes and bright and lively children.
To learn more about the painting Honouring My Father please visit the Koyman Galleries website.