New License Plates Save for Scholarships
Residents of the province of Manitoba now have the opportunity to show their support for the Canadian Armed Forces (CAF) in a unique way.
Support Our Troops Licence plates went on sale across Manitoba on June 8. Military leadership is applauding the initiative.
"The Canadian Armed Forces, in particular, the military members of Manitoba, are grateful to the Province and all Manitobans for their generosity. We are proud to be serving you,'' said Colonel Joël Roy, commander, 17 Wing. "Once again, Manitobans demonstrate they live by their motto, Friendly Manitoba. It's quite heartwarming, actually, to see the support of the population and to see the support of the government for the armed forces."
The objectives of the partnership between the province and the CAF were two-fold on the part of the military community, to encourage retention through education support and to act as a recruitment tool to attract citizens to careers in the Reserve or Regular Force.
The distinctive plates have a camouflage background and are highlighted by the iconic Support Our Troops yellow ribbon.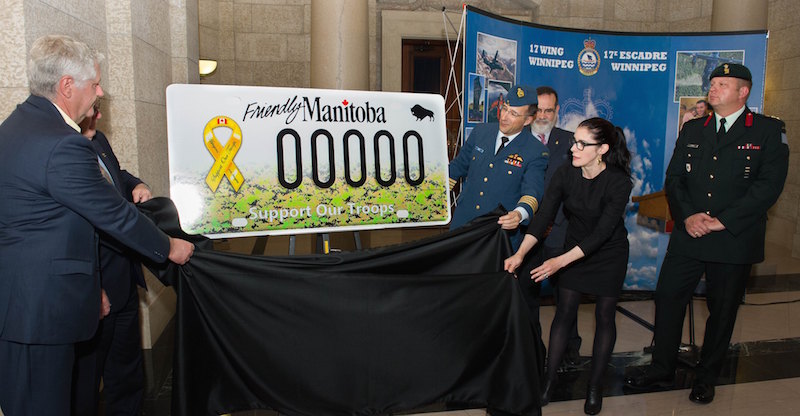 Minister Gord Mackintosh explained, at the launch of the licence plates, the special plates were introduced to honour veterans and Manitobans are proud of the dedication and sacrifices made by members of the military. The government expects this new speciality plate will be well received.
Colonel Ross Ermel, Commander of 38 Canadian Brigade Group said, "It wasn't that long ago where our soldiers walked about and weren't given much notice, as people were not too familiar with our mission. Now, every day strangers come up to our men and thank them for their service to Manitoba and Canada. It's a simple gesture that means so much in such a great way.''
The plates can be purchased at any of the more than 300 Autopac agencies in Manitoba at a cost of $70, of which $30 goes directly into a scholarship fund for children of serving CAF members. Canadian Forces Morale and Welfare Service (CFMWS) will accept applications for the scholarships and administer the program on behalf of the Government of Manitoba. The numbers of scholarships in any given year will be dependent on funds available through the sale of the speciality plates.
Get More! Receive six issues of Canadian Military Family Magazine in your mail box for only $17.95! Click here to subscribe NOW!