Military Wives Choir Sings for Peace in Capital
The Rotunda on Parliament Hill echoed with the sound of Christmas carols on December 4 as the Canadian Military Wives Choir performed for members of parliament and visitors to the nation's capital.
Due to the events over the last month with the Canadian Armed Forces (CAF) losing personnel through attacks and accidents the military spouses were proud to bring the joy of music to Parliament Hill.
"We are a choir, but we are a social networking group for military wives as well. We understand each other because we live the same unique lifestyle. There is a danger to what our spouses do and that is part of our lives," said Allison Houston, choir director, Canadian Military Wives choir.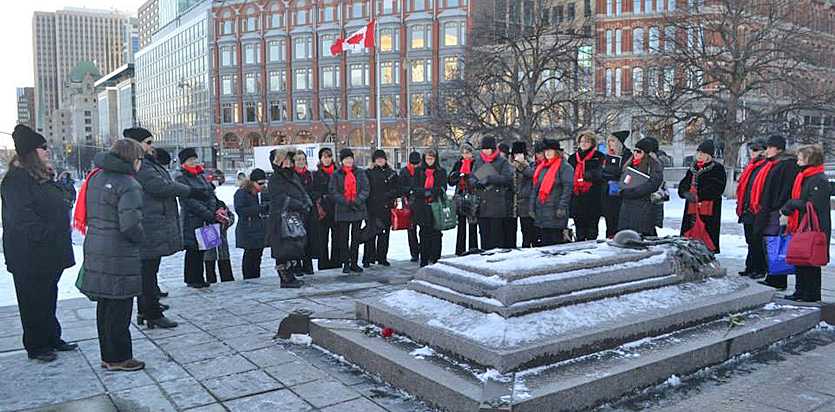 There was an obvious increased security presence on Parliament Hill and inside the Rotunda. As over thirty choir members sang Christmas carols favourites "O Come, All Ye Faithful" and "Silent Night" several fully-armed guards stood close by facing the audience, while others stood at each entry point.
"There was something about military wives gathered together in the Rotunda," said Margaret Peeran, choir member. "It felt like we were cleansing the space with our music after all that happened there."
At the conclusion of the half-hour concert on Parliament Hill the choir members walked to the National War Memorial.
The military spouses, dressed in black, wearing red scarves gathered around Tomb of the Unknown Soldier to pay their respects and stand for a moment of silence.
"It was very moving to be there as a group of military wives. We placed red roses on the snow-covered tomb. It was visually stunning and very moving. The roses touched all of our hearts, making it difficult to sing, but they made the moment much more meaningful," said Houston.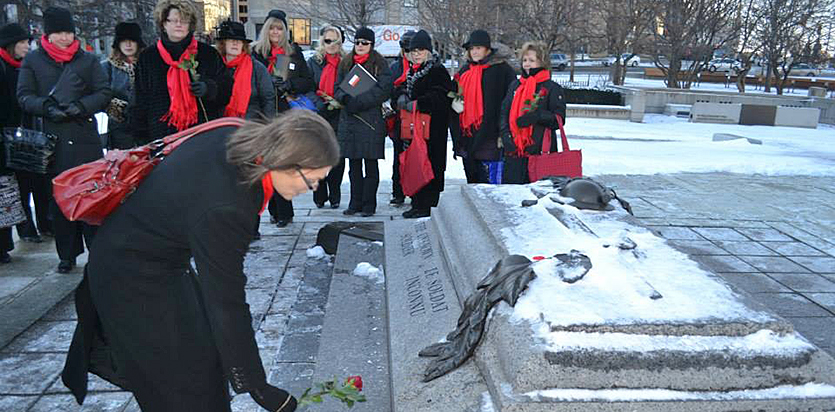 Members then sang "Oh Canada" and "At This Christmas Time," a carol with lyrics encouraging prayers for peace, joy and love. Several tourists stopped to take photos of the choir and ask why they were singing to no audience. Choir members explained they had an audience, Canada's fallen soldiers.
The Canadian Military Wives Choir began in the fall of 2013. The purpose of the choir is to create a support network for women in the military community through singing. The choir is gig based, accepting invitations to sing in a wide variety of venues.
The Rotunda, also known as Confederation Hall is the heart of the Centre Block of the Parliament buildings. It is known as the formal entrance to Centre Block, replete with sculpted symbols of every province and territory, and soaring vaulted ceilings.
There is an inscription in the centre column of the room, presently covered in Christmas greenery, bearing a dedication to those who participated in the First World War. Centre Block was rebuilt while the war raged as a monument to ordinary Canadians doing extraordinary things in extraordinary times.
Here's more…
Canadian Military Wives Choir Grows!
Get More! Receive six issues of Canadian Military Family Magazine in your mail box for only $17.95! Click here to subscribe NOW!