Cold Lake Youth use courage, brains and heart in performance
It took a dash of courage, brains and heart for 30 kids and teens to put on a production of the Wizard of Oz after only one week of prep at the MFRC Youth Theatre Camp of Cold Lake.
Held every year, the MFRC welcomes youth between the ages of ten and seventeen to improve their theatre and public speaking skills. It's also a great opportunity for youth newly posted in the area to make friends before school starts.
"The camp helps to build the character of the youth attending by helping them learn to come together as a team in such a short period of team and face any fears that they may have of public speaking or preforming," believes Cora Carter Youth Programs Coordinator at the MFRC.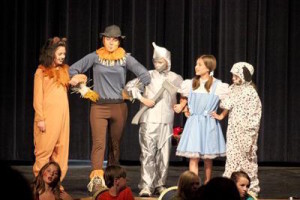 The youth attending the camp started out their journey down the yellow brick road, both literally and metaphorically, through a creative writing exercise. Gradually the theatre novices went from drama exercises like expressions, loud and quiet voices to memorizing their lines for the play.
The Thursday before the play, the attendees got one last chance to review lines and bring the play to life all while in costume at the dress rehearsal.
Finally on Aug 21, the drama enthusiasts put their newly learned skills on display and transported the audience to the world of Oz through two 45 minute productions of the play.

"They really enjoyed performing on a stage and having their parents come out. A lot of people were surprised that they could pull it off and memorize it with only a week to practice," said Carter.
The attendees are looking forward to next year's camp hoping it will be longer than a week according to Carter.
Back for the second year in a row, the theatre camp was coordinated by Megan and Ryan Bailey. This dynamic duo has directed and choreographed many plays for youth in the Cold Lake district. Last year the couple took the MFRC youth camp on a journey to Neverland by putting on a production of Peter Pan.
Get More! Receive six issues of Canadian Military Family Magazine in your mail box for only $17.95! Click here to subscribe NOW!