This past spring the Dawe family donated a library kit to the Murad Khwaja Girls High School in Said Mirkhail village, Afghanistan in remembrance of their son Captain Matthew Dawe.
The kit was compiled by Canadian Women for Women in Afghanistan (CW4WA) and consisted of one wooden bookcase and 500 books.
"Peter and I decided in December that in lieu of gifts to each other we would contribute to one of the CW4WA projects. We chose a library as we feel literacy addresses such an important aspect of the emancipation of a people," said Reine Dawe, mother of fallen soldier, Captain Matthew Dawe.
Kapisa is a province north of Kabul with a majority Tajik, Dari speaking population. CW4WA operates two programs in the province including, Fanoos Teacher Training and an AR! Literacy Program.
In Kapisa, Murad Khwaja Girls High School has recently been upgraded to high school so that students can continue their education up to Grade 12. Prior to the changes students had to leave the school after the completion of Grade 9 and either stay home, or travel to continue their studies in a high school far from their village.
In the new school, 710 students study from Grades 1 through 10. They are taught by a team of 14 teachers, of whom 10 are female.
A woman named Murwarid is in charge of CW4WA in Kabul. Upon the implementation of the Dawe's gift, she sent them a message and photos.
"I must admit, the message brought me to tears. We had suggested a small plaque indicating that the gift was in memory of Matthew, but as you can see in the photos, it is a lot more than that. The fact that something positive can come out of the loss of our beloved Matt is very comforting to us," said Dawe.
Anahita, 16 is in Grade 10 and holds the first position in her class at Murad Khwaja Girls High School. She volunteered to speak on behalf of the students who received the library kit. She offered her thanks to the Dawes on behalf her classmates and other students in her school for giving them a library.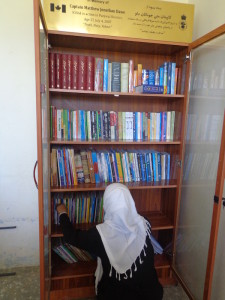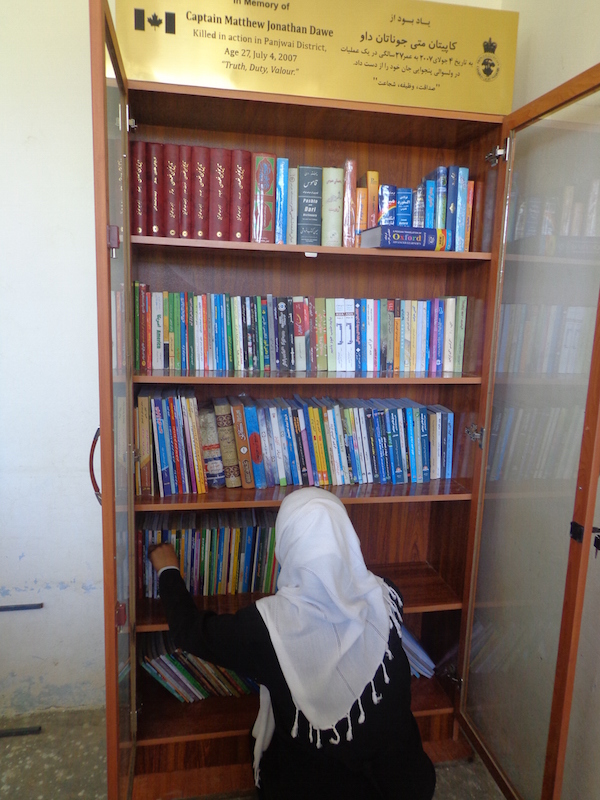 "I love reading and have some books at home, not a library but a small collection of books that my father, mother and brother had bought and we are all reading them. My father is a judge, my mother is a teacher and I and my six other siblings are studying at the school. I am very glad that we now have a library in our school. We never had one before," said Anahita.

She explained she was very excited about using the library and borrowing books to read at home or in her free time at the school.
"I like all kinds of books, in particular, Islamic topics, poetry, general knowledge, history, biology and English books. I want to read as many books as I can and enhance my knowledge. I want to become a judge in the future," said Anahita.
Not only were the students, but the principle and the teachers were excited about the library. Fortunately, the principle has some background in managing a library.
As per the Ministry of Education policy, the schools that receive a library with more than 500 books may request a librarian position. So the Dawe's gift of a library kit also provided the Murad Khwaja Girls High School with a new librarian.
The principle placed the library in a large room so that many students and teachers may use it at a time.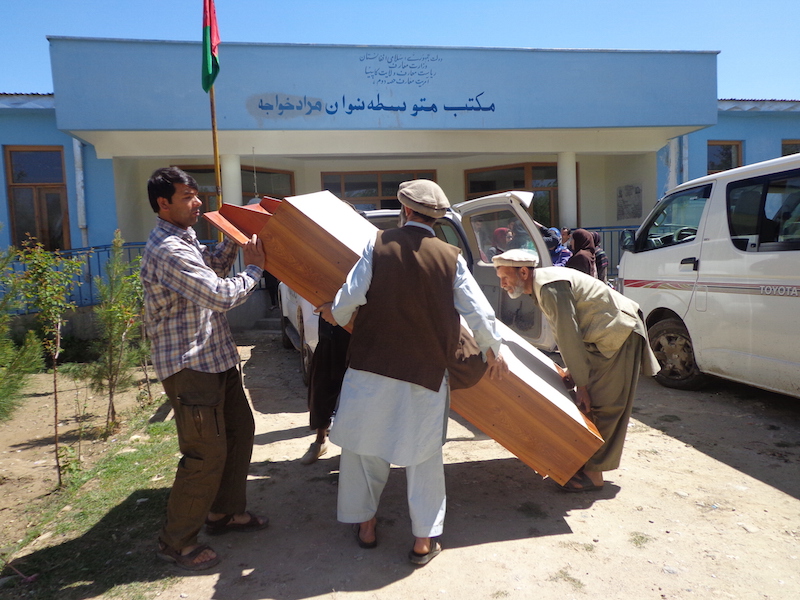 During the presentation of the library kit to the students and the teachers the principal thanked everyone that contributed to the donation and explained to the girls who Captain Matthew Dawe was and that his parents had made the donation in his memory.
"I want to thank the people who donated this library to us. This is the best gift one can give to the students who study in a remote village like ours. Thank you," said Anahita.
Captain Mathew Dawe was died in a roadside blast in Afghanistan in July 2002 along with five other soldiers and an Afghan interpreter. The attack equalled the worst single-day death toll for Canadians in Afghanistan.
To support Canadian Women for Women in Afghanistan please visit their website.
Get More! Receive six issues of Canadian Military Family Magazine in your mail box for only $17.95! Click here to subscribe NOW!