KMFRC community spends evening serving Random Acts of Kindness
Close to 30 members of the military community took on downtown Kingston paying bus fares, cleaning tables at restaurants, handing out flowers and performing other various random acts of kindness on Oct. 22. The event was organized by the Kingston Military Family Resource Centre (KMFRC) to help military families connect with the community.
"It was a success because everybody had so much fun and we reached the goal of being in the community and seeing people being involved…it was a game, but it went further like we wished for it to," said Nancy Maupu, Community Development Worker at the KMFRC, and organizer of the event.
Some of the activities were simple like paying a parking meter or helping someone across the street. Other activities took a bit more courage, like singing to strangers, according to Maupu.
Maupu said they received a mix of reactions from the individuals receiving the acts of kindness.
"Some people said no…I think it takes you out of your comfort zone to see people coming to give you something. But most of the time we had really good reactions. We had people saying 'you're doing a good job," said Maupu.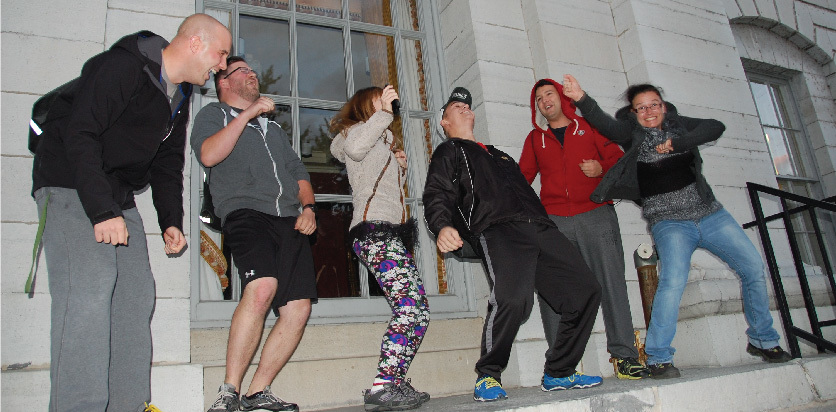 A whole event was planned for the evening. Families first came together at the MFRC for a BBQ before heading out on buses for downtown Kingston. The teams were bilingual to help the French and English speaking members connect. Teams then dispersed around the city to start spreading cheer through random acts of kindness with the help of the "Kindness app."
The activity was planned through the help of Canadian Outback Adventures and Events. The company typically offers "Random Acts of Kindness" as a team building exercise.

'They were really eager to help us get it put together. They've been very good with us," explained Maupu.
The company not only adjusted the price but helped tailor the activity for the KMFRC.
Maupu brought the idea of performing random acts of kindness with her from Quebec where she witnessed similar activities. She is hoping other MFRCs will adopt the idea.
"It gets people very excited. You get the feeling you are doing something for the community and at the same time for yourself," said Maupu.
The KMFRC hoped to show their appreciation for the community through this event.
"We're trying to give back a little bit. The Kingston community is generous to the military and military families. The military is one of the largest employers in Kingston so there are a lot of military families in Kingston. It's super how they Kingston community has embraced the base and the community. We are hoping to have fun out there and let them know it's not just about what can the community do for military families but also what we can do to give back," said Terry Telford Marketing & Public Relations Coordinator for KMFRC.