Can you save my spot for me?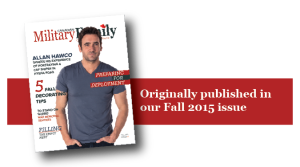 Article by: Chad Phinney
So you find out that your spouse is posted, and you're thinking to yourself, "I really don't want to give up my position in the federal public service.  After all, it has great benefits, pays well and I enjoy it."  These were some of the thoughts that passed through Chantal Dodd's head when she found out that her husband had been posted, and she was moving from Ottawa, ON to Gagetown, NB.  And so, the search for a new job began for Chantal.  After speaking with some colleagues they suggested she look into Interchange Canada, a federal program that facilitates exchanges between the core public administration and other organizations in private, public and not-for-profit sectors in Canada and internationally.
Kendall Hanstead, who has been working as an Interchange Canada Liaison Officer for the Department of National Defence for the last five years, describes Interchange Canada as a long-standing initiative that started in 1971 and, because of its success over the years, still continues to facilitate exchanges today.
Kendall continues to explain that "participants and organizations benefit alike. Employees develop professionally, by acquiring and transferring new skills and competencies to take back to their home organization, while organizations can temporarily acquire new talent, achieve business objectives and build partnerships with other sectors."  Interchange Canada managed a total of 562 active assignments in the fiscal year of 2011-2012 with approximately 28% as new exchanges.
Chantal is a great example of reaping the benefits of this initiative after securing a three-year exchange with the Department of National Defence as a Resource Planning Officer in Gagetown.  Chantal comes to National Defence, who recognizes the added value that she brings to her current position, from a separate agency. "I believe that I have brought some knowledge to the Department of National Defence and the Canadian Armed Forces," says Chantal. "I am now learning more about how the Canadian Armed Forces functions which is really interesting given that I am a military spouse." Should the need arise, Chantal can consider applying for an additional two year extension through Interchange Canada which caps the interchange period at  five years.

As a military spouse, Chantal Dodd has been able to overcome one of the many challenges that relocation can create with the assistance of the Interchange Canada initiative.  "I think this is a great program, although it will not work for everyone.  If you are a military spouse, and both organizations can agree on an interchange, and you know that you will be posted back in a few years, I would definitely recommend the interchange.  It is always good to improve your skills and knowledge, and each department can be very different," explains Chantal.
To find out more about whether an Interchange initiative would be a good fit for you, please visit this website for more information.
Article by: Chad Phinney