Kim Mills, Accidentally Fierce
Military spouse Kim Mills began blogging when asked to submit a few articles to a parenting magazine and news site.  The publisher wanted to attach an on-line link to Mill's stories, so she quickly developed a blog page.
She was blown away by the immediate response her blog received, and she decided to continue writing posts. She accidentally became a voice for the Canadian military community and military spouses.
"In 2012 I realized far more people were a part of my little blog community than I had ever expected and at that point I revamped the page to be a little more professional and changed the name to She is Fierce," said Mills.
The She is Fierce blog takes readers on a humorous romp through Mill's world of parenting, marriage and life, in general, all viewed through the lens of a military spouse.
There are books that explain how to blog, but Mills does not follow that advice. She writes sporadically when she feels she has something to say.
Not following a schedule means Mills can blog at her convenience and around the schedule of her family of five. She really enjoys writing as a pseudo hobby and chooses not to run her blog as a money-making business.
People who follow her blog, message her regularly looking for advice. In reply to such a request she posted a piece February 13, 2015 she called, "For the Canadian Military Spouse on Their First Year."
Mills laughingly says she is the last person who should give advice, but she hopes she was able to provide some useful information.
"Most importantly I suggest to my readers that they find their own community to be a part of, and if they can't find one to join then build friendships and create the type of military community they are looking for. It's not up to anyone else to make the best of your situation, that's all up to you," said Mills.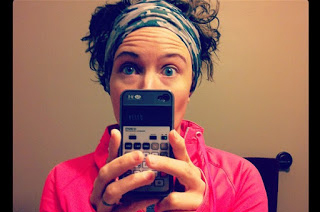 Honest and open with her followers Mills admits she is not perfect. She lets readers know when she makes mistakes or makes a mess of things. In the end, she hopes the voice she lends to military spouses across Canada is an authentic one.
In her blog, she admits, "I married a guy who looks really hot in a uniform, which works out well, cause he wears one every day."
In the post she adds, "That means it's just me in the bed at night more often than I like, but it also means I couldn't be more proud of who he is or what he does.

I went to school to be a Social Worker.  Then I married a soldier.
Instead of finishing university, I had babies.  Surprisingly, I am never asked to speak at Career Day.
I had a plan.
This life is much better than that plan.
I wouldn't trade it for the world.
I have three kids, and that may not seem like a lot to most people, but to me it's really a huge number.  Most days I am just trying as best I can to be a mom while saving for their eventual therapy.
I believe in Grace, and  as the song says, the beauty of grace is that it makes life not fair.  Which is good, or I'd be screwed.  Thankfully, my God is bigger than anything I give Him credit for.  And His mercies are new every morning.
I like to write. So I do. Not about anything meaningful, really, but I write.
I am much funnier and more interesting in blog than in person."
Mills never thought she would be a voice for military spouses, in spite of the humorous tone of her blog she takes her unexpected responsibility seriously. With each post, she uses her voice to build a positive on-line community experience and encourages her readers to make the very best of their military lives.
Please visit the She is Fierce Blog!
Get More! Receive six issues of Canadian Military Family Magazine in your mail box for only $17.95! Click here to subscribe NOW!