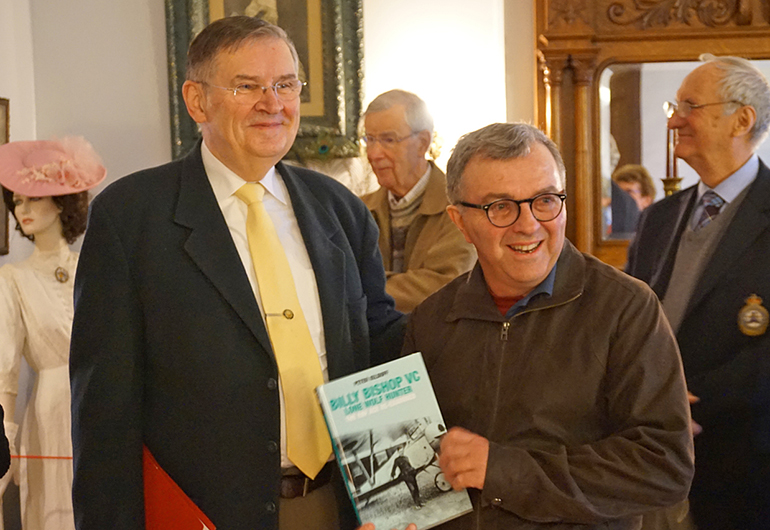 Canadians are fascinated by Billy Bishop, even if they don't believe every tale they read about him. In Billy Bishop VC Lone Wolf Hunter: The RAF Ace Re-examined, Peter Kilduff carefully reviews existing combat reports and private correspondence, as well as accounts by friends and foes to determine if Billy really was a true Canadian hero.
In Kilduff's opinion Billy Bishop has been much maligned over the years. "He was a 23 year-old kid, who won all these medals and was a national hero. After the war the stories about him got a little bigger, and a little bigger," said Kilduff. Eventually, all of the revised stories hurt Billy's reputation and created the controversy around him. Certain there was more to the story than previously documented Kilduff wrote Billy Bishop. "I really wanted to know what the German's had to say about him, had they even heard of Billy? Canadians have a high regard for him, but what about the Germans?" Kilduff set out to compare and contrast the documentation Canadians kept on Billy with the documentation of the Germans. As an American living in New Britton, Connecticut he felt he could remain impartial.
Comparing letters Billy wrote to his then fiancée Margaret to records of downed German aircraft, Kilduff found the dates and descriptions of Billy's conquests matched German reports time after time, indicating Billy really was as good as his reputation. Kilduff found documented evidence the Germans knew who Billy was and they respected him for his talent and skills even as they feared him. "I just kept digging, digging and digging. I found proof of Billy's victories. Billy's combat reports were sparse, but honest. He shot down 72 German planes. More than any other allied target," said Kilduff. There were challenges when researching Billy Bishop. Not all German causalities were reported. He had to study the reporting policy on either side of the water. The author discovered the Germans didn't want to admit they were defeated very early on in the war, so they minimized their casualty numbers for over two years to maintain the support of German citizens.

In Billy Bishop VC Lone Wolf Hunter: The RAF Ace Re-examined Billy emerges as an average kid from Owen Sound, Ontario who found himself in extraordinary circumstances. First he met and fell in love with Margaret Eaton, the granddaughter of the famous Timothy Eaton. Then he went to war, and became very, very good at his job shooting down enemy planes. "Margaret was of a different social status. He had to prove himself to her and her family. He wanted to win her heart and come back safely to her. Through their letters to each other I learned behind every successful soldier is a strong woman."
The aviation history of WWI became Peter Kilduff's passion as a teenager. The knights of the air fascinated him, particularly German flyers. While attending college he worked as a policeman where he learned how to build a case by following the evidence. He readily admits if he had stayed with the profession he would have become a detective. Instead, he became conversant in the German language and became a journalist. Combining a passion for history and his writing skills Kilduff penned several historical books based on WWI German flyers, leading to his latest book Billy Bishop VC Lone Wolf Hunter: The RAF Ace Re-examined.