Ombudsman's Report notes recommendations for OUTCAN Programme
In 2019 Canada launched a systemic investigation to determine if participants of the outside of Canada (OUTCAN) Programme were being treated fairly.
Last December, the Office of the Ombudsman for the Department of Defence and Canadian Armed Forces (DND/CAF Ombudsman) published the report, Engaged in the World, A systemic investigation into the administration of posting, assignments, and employments of the Defence Team personnel outside of Canada.
The report notes 13 recommendations to the Minister of National Defence, 16 findings, and 22 observations.
Their investigation looked at the experience of Canadian Armed Forces (CAF) members, Department of National Defence (DND) employees, staff of the Non-Public Funds (NPF), as well as family members posted outside of Canada (OUTCAN).
The report notes 13 recommendations to the Minister of National Defence, 16 findings, and 22 observations.
If implemented, the recommendations will ultimately improve the OUTCAN experience for all participants. Add the COVID-19 pandemic that began during this investigation, which increased existing challenges associated with the OUTCAN processes and highlighted the importance of effective program oversight.
"There is a strong focus on families in Engaged in the World, given the impact an OUTCAN posting has on them. This is only the second time my office has done a report looking at military families and the first time looking at families of civilians and staff of the Non-Public Funds. This is important because, for the families of our constituents, we are the only official recourse mechanism," stated Gregory Lick, DND/CAF Ombudsman.
Canada's participation in OUTCAN postings is essential to help Canada meet international commitments and obligations in organizations: North Atlantic Treaty Organization and North American Aerospace Defense Command.
Received 61 Complaints
In the past five years, the OUTCAN office received 61 complaints regarding OUTCAN postings. The complaints focused primarily on the administration of the Programme and perceived unfairness in the OUTCAN posting selection process.
"On a personal note, this is the first systemic report published since I became Ombudsman. This was an extremely complex and involved investigation, and I'm very proud of my team for making this happen, in particular as we dealt with the challenges posed by Covid-19," noted Lick.
The first general observation made in the 2020 report was that the governance structure of the OUTCAN Programme for the Defence Team is well defined; responsible authorities and their accountabilities are identified. The Defence Team governance structure is clear and well documented.
There are over 125 individual policy documents associated with all phases of the OUTCAN Programme owned by the Treasury Board, Canadian Armed Forces (CAF) stakeholders, Associate Deputy Minister (Human Resources – Civilian), and Non-Public Funds.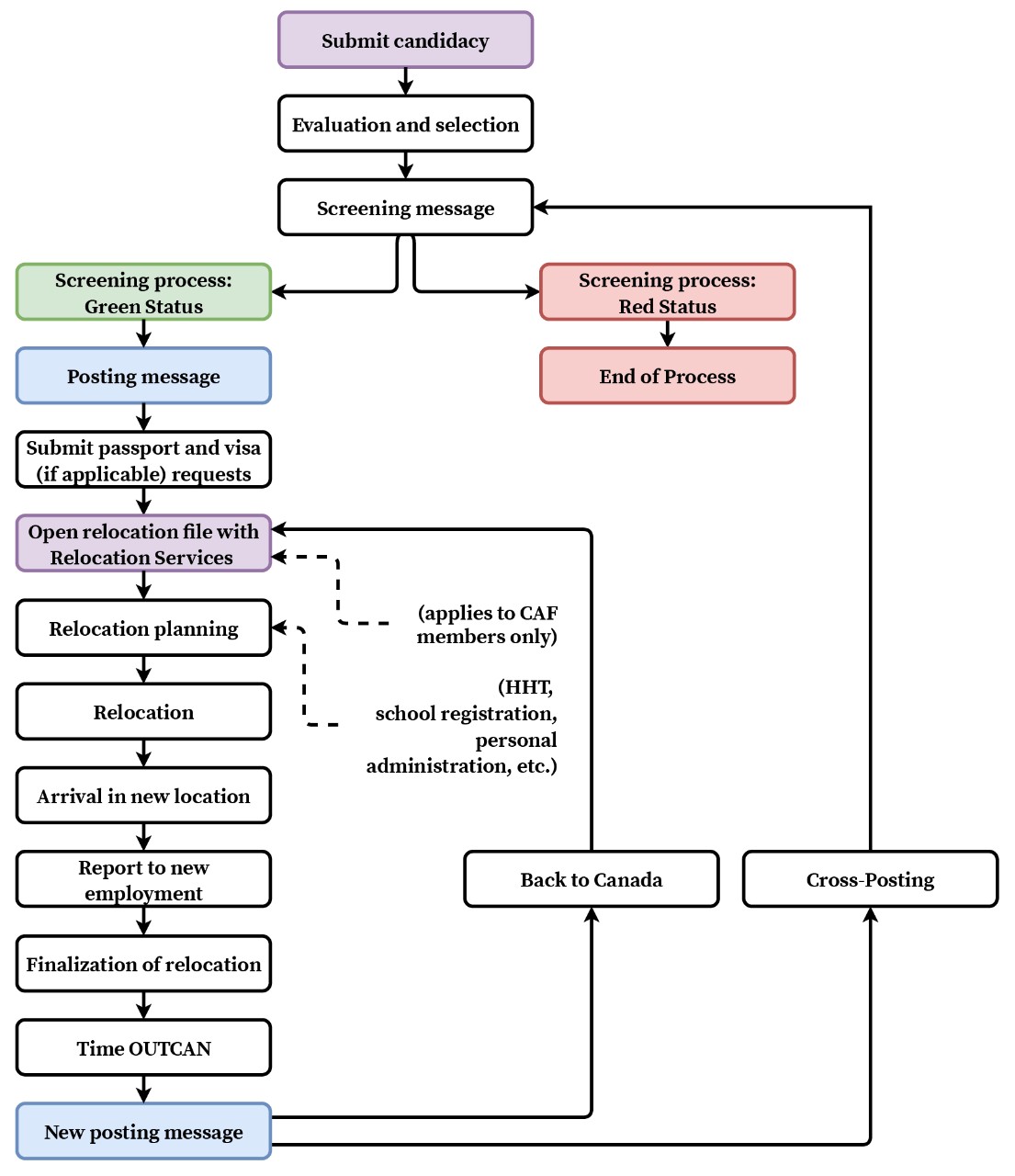 The next general finding was that there are resourcing shortages in support of the administration of the OUTCAN Programme, and there are gaps in the training provided to support personnel. Numerous issues were found related to shortages in resourcing and overall support for this Programme.
Resourcing Shortages
According to the report, the following areas rank among the most important:
• OUTCAN support elements are understaffed;
• priority management, and workload challenges exist for support teams;
• some administrators are undertrained; and
• in some OUTCAN locations, the workload is not divided equitably or efficiently amongst all support staff.
The Vice Chief of the Defence Staff (VCDS) is mandated to ensure appropriate resources are available to support the OUTCAN Programme.
Over the past five years, there has been significant growth of about 200 OUTCAN positions, including CAF and Department of National Defence positions.
In November 2018, the Deputy VCDS ordered a review of the OUTCAN support structure. This study was to be completed by spring 2019. Currently, it is still ongoing.
While all OUTCAN positions are staffed as a top priority (Category A), some key military support positions, such as those at the VCDS OUTCAN organization, are a lower priority (Category C).
The difference between categories is felt at the staffing level, where there is more priority given to filling Category A positions during the posting planning process. Therefore, there are even fewer support personnel available to assist those posted OUTCAN than what actually exists in the CAF.

For example, there are currently vacancies within the VCDS OUTCAN organization, resulting in a decreased capacity to fully support the Programme. They are currently operating at 75 percent of their effective strength.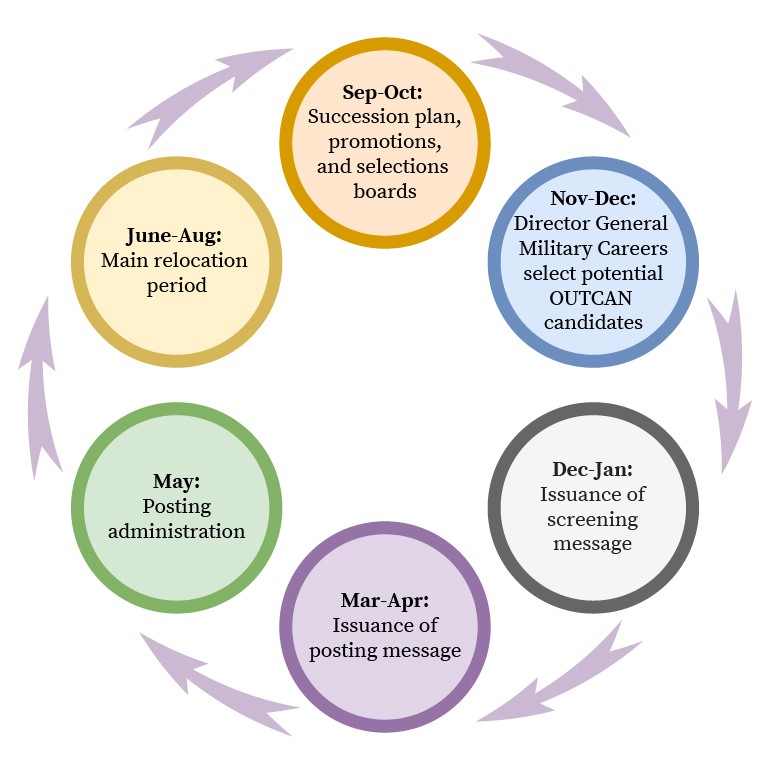 Children's Education Management
The Children's Education Management group and the medical support staff who are directly involved in personnel pre-posting screenings raised similar concerns.
For example, between December and April each year, a team of two education counsellors screen an average of 545 student files; this represents a significant amount of work within a very narrow timeframe.
Most of the personnel providing support to the OUTCAN Programme are CAF members, who are typically posted to a new position approximately every two years. The majority of support personnel this office spoke to reported that they did not receive sufficient training before assuming their role. They indicated that they had little awareness of the OUTCAN Programme prior to their posting.
While generic information sessions are held prior to the posting season for administrators, these individuals reported that the overall level of training is insufficient to make them feel confident and adequately prepared to assume their job functions.
In addition, there is no specific training provided for the losing unit administrators or for staff in the Director Compensation and Benefits Administration, even though they all play an important support role in the administration of the OUTCAN Programme.
Communication Challenges
Another general finding was that there are communication challenges at all stages, and personnel do not feel adequately prepared for their OUTCAN posting. Constituents frequently felt that they were insufficiently prepared to undertake the OUTCAN posting process in its entirety, from submitting their candidacy to moving and working in a foreign country, because of minimal or incomplete information. They felt that information was not provided unless they specifically asked for it.
This was expressed by nearly all first-time participants selected for the OUTCAN Programme, with many interviewees stating a variation of the following phrase: "You don't know what you don't know." Many senior officers confirmed that the level of information received varied according to rank, status, and position in the organization. They admitted having to invoke rank or status to obtain clarification and assistance.
Given the lack of formal communication tools, OUTCAN candidates often rely on informal networks to get answers to their OUTCAN experience questions, such as:
• social media (e.g., Facebook groups, some of which are official, but most are unofficial groups led by spouses or partners);
• welcome packages provided by support units or Military Family Services;
• assigned sponsors;
• friends and colleagues; and
• previous incumbents.
"In particular, Defence Team members and their families felt that there were gaps and inconsistencies in the information they were provided while preparing for their OUTCAN posting.
"Some felt that they were responsible to know what information they needed and that it wasn't readily provided unless requested. For example, it was reported that general financial and cultural information provided earlier in the process would be beneficial to those undertaking an OUTCAN posting, especially for those who are going for the first time," says Lick.
To address this gap, some Canadian support units and functional advisors developed informal tools to assist CAF members considering an OUTCAN position.
For example, at Canadian Forces Base Kingston, a high-level presentation provides some guidance on the application process and key responsibilities. This presentation is available through the internal network. However, there is no standardization of such initiatives throughout the support units in Canada.
The last general observation was that there are several recourse mechanisms available to personnel OUTCAN, and they are well defined.
There are several complaint mechanisms and avenues for recourse available to CAF members, Department of National Defence civilian employees, and Staff of the Non-Public Funds. These mechanisms and avenues are well defined.
View the full report here.