Military Personnel Arrive as Military Families Evacuate Yellowknife
Fires continue to engulf the Northwest Territories (NWT) Wednesday, especially in Fort Smith, as emergency crews are forced to fight fires and face "extreme fire behaviour."
The Fort Smith community declared a State of Local Emergency and is under evacuation order. An evacuation order continues to remain in Yellowknife, NWT, the region's capital.
On Tuesday, Aug. 15, 2023, the NWT Government called a full state of emergency, the next day, Wednesday, Aug. 16, the City of Yellowknife called an evacuation order after more than 200 fires were burning. Some 20,000 residents were forced to abandon their homes for safer areas.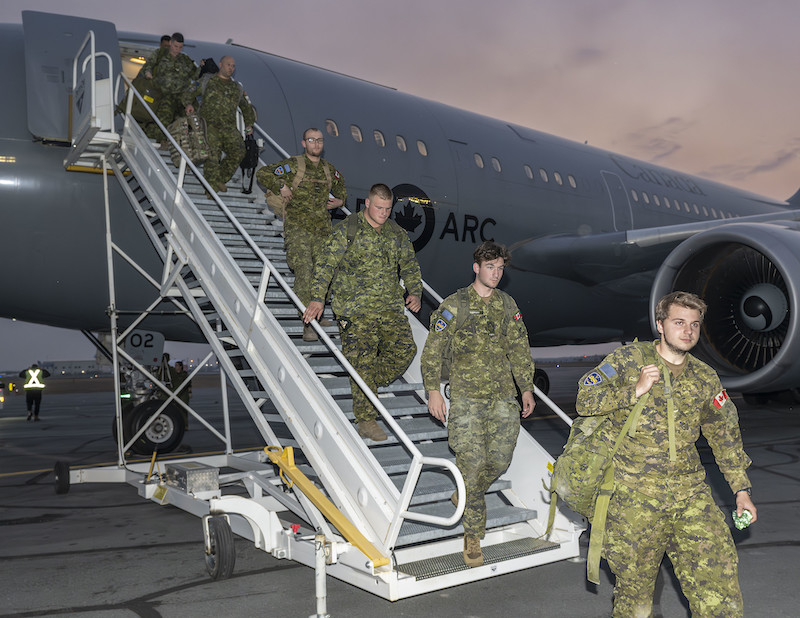 CAF Personnel Arrive
Amongst those 20,000 residents are some 400 Canadian Armed Forces (CAF) members stationed at Canadian Forces Northern Area Headquarters Yellowknife. The member's families have also been forced to leave their homes under the current evacuation orders.
The CAF personnel living in Yellowknife are contributing to firefighting efforts under Operation LENTUS.
"#DYK that there are #CAF personnel who live right here in #Yellowknife directly contributing to #OpLENTUS, augmenting the roughly 200 members deployed here from down south. #TeamNorth," stated a Joint Task Force North Facebook page.
Under Operation LENTUS, the CAF deployed several military personnel and equipment to the region in the last few days to assist with the evacuation and firefighting efforts.
According to the Media Liason Office (MLO), "On August 12, 2023, the Minister of Emergency Preparedness approved a Request for Assistance (RFA) from The Northwest Territories (NWT) and requested the Department of National Defence (DND) and the Canadian Armed Forces (CAF) provide support to the territory as it manages its wildfire situation. The RFA will be granted for the two-week period of August 15 to August 29, 2023, with the possibility of a one-week extension."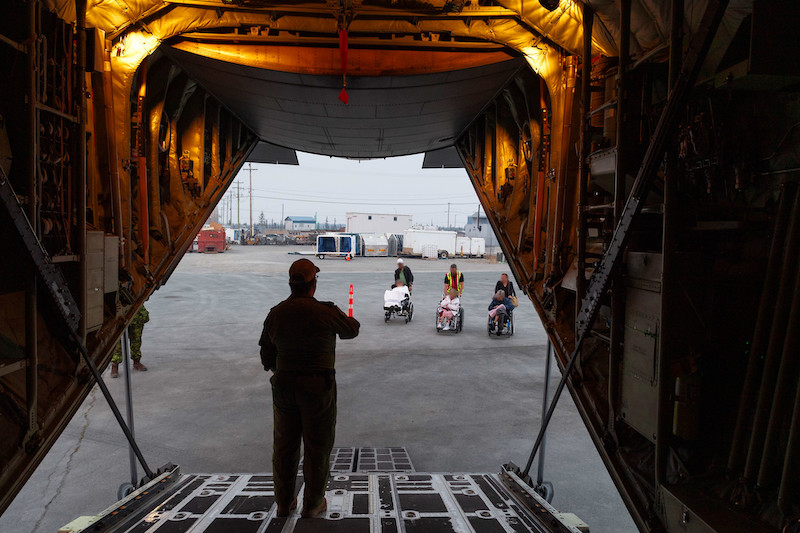 Military Assisting in Evacuations
"We'll continue to focus on helping the most vulnerable and will be there for as long as it takes," said Defense Minister Bill Blair during a press conference on Saturday.
The Royal Canadian Air Force (RCAF) deployed planes and helicopters to the Territories, including a CC-130 J Hercules. The Hercules evacuated 79 residents of a long-term care facility.
As of Monday, approximately 400 CAF members were deployed to the region to assist. A contingent of CAF members is deployed to Hay River, while others are in Yellowknife
According to the MLO, the CAF is providing the following assistance:
Personnel and resources to aid in Type III firefighting roles (fire turnover, mop up, and hotspot dowsing);
Planning and coordination support, including; Logistics and planning personnel able to support the GNWT's Wildfire Service's Incident Management Team as well as the Territorial Emergency Management Organization;
Airlift to support the movement of personnel and equipment to assist in wildfire fighting efforts.
‌Also, the Canadian Armed Forces has planners and liaison officers who continue to work with the Government of the Northwest Territories and other federal departments to help monitor and assess the situation and assist with ongoing planning efforts.
‌"As of August 21, there are currently approximately 350 deployed members supporting OP LENTUS in NWT. As CAF support is not currently required for air evacuations out of Yellowknife, some of the air task force has been re-tasked," stated the MLO.
‌There are also an additional 80-100 local JTFN members who are supporting with logistics and planning.
‌"We also have two CH-146 Griffon Helicopters, from 408 Squadron in Edmonton, as well as one CC-138 Twin Otter, from 440 Squadron in Yellowknife, that continue to be based in the vicinity of Yellowknife, continuing to support mobility and logistic tasks," noted the MLO.
‌Two CC-130J Hercules aircraft from CFB Trenton remain based out of Edmonton in support of sustainment tasks.

‌Canadian Rangers are also supporting by providing local knowledge to the external personnel, helping with RECCE's, and coordinating contact with the local communities.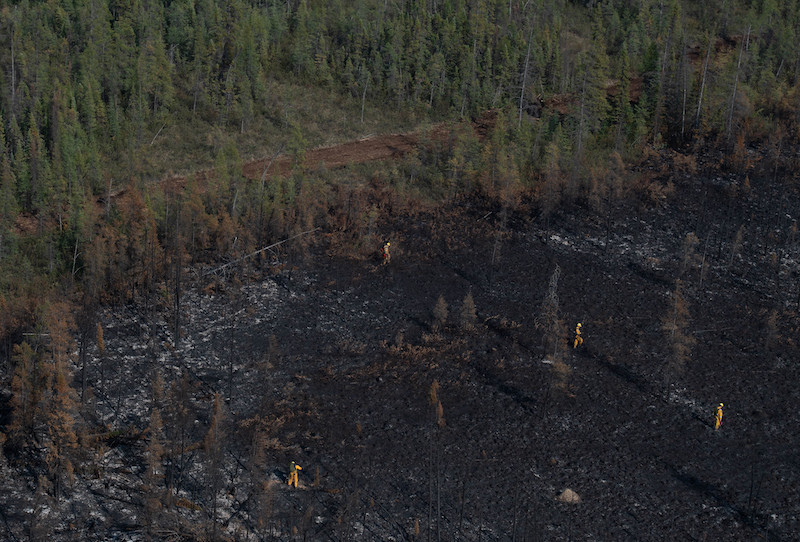 Military families relocating to Edmonton and Calgary
Special arrangements were made for military personnel, families and DND civilian employees to evacuate from the area. The families were flown into Medicine Hat, Redcliff and CFB Suffield.
And the 3rd Canadian Division Support Group is still accepting families escaping the wildfires.
According to the Canadian Armed Forces Media Liaison Office, "CFB Edmonton is currently housing 108 people (42 families)."
CFB Edmonton welcomed families fleeing the fires and provided accommodations and food. They came out in full swing to support their comrades. A makeshift reception centre was created at the Edmonton Garrison Fitness Centre.
To make families feel more welcome during this challenging time, they were allowed to access the mess for meals, provide hygiene kits, find hotels and make sure the chaplain is available for support.
Currently, there are no evacuees being housed at CFB Suffield.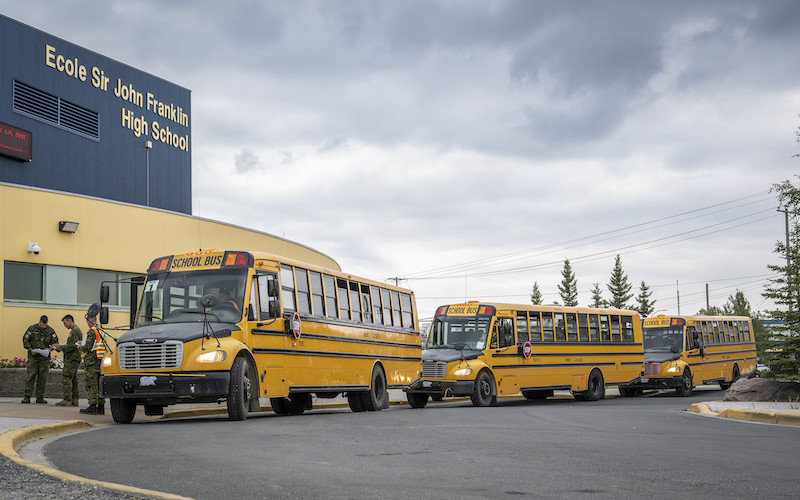 Accommodations for those affected
Accommodations are flexible with hotel-style lodgings, flexible configuration, and welcome pets. Meal plans are available at no cost.
Additionally, PSP Edmonton is offering free gym and pool access, and there are discounted passes to Edmonton attractions available.
Similar accommodations were also made in Calgary.
"At this time, Team North will be going to hotels provide by the City of Calgary. CFB Suffield is also prepared to accept Team North. Initial plan will be to have families lodged in the base gym (cots), with long term accommodation in military housing units," stated the Joint Task Force North Facebook page.
Once families have arrived at their new safe location, they can contact the Suffield MFRC. For support, they can do so by contacting the MFRC here or 403-544-5567.
For those in Edmonton, families can contact the Edmonton MFRC at 780-973-4011 ext 6300 for childcare needs. For continued updates, visit here.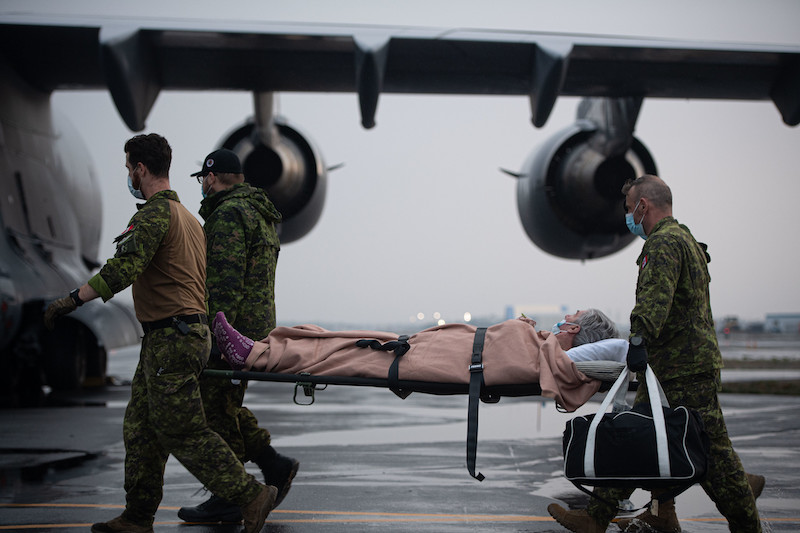 CAF Assistance to Date
According to the Media Lisaon Office, "land forces are primarily from CFB Valcartier, with an additional augmentation of personnel from CFB Edmonton. These CAF members are conducting Type III firefighting, as well as planning and coordination activities, in support of the Government of the Northwest Territories' wildfire response."
 Timeline
 August 12: An advance unit of approximately 10 CAF members arrived in Yellowknife, and arranged logistical details for the arrival of the main support element.
August 13-14: Planning and collaboration with the Government of the North West Territories (GNWT), and Public Safety Canada to determine where and how the CAF can best assist with response operations.
August 14: Approximately 120 CAF members arrived from 2 Canadian Division based in Valcartier, Quebec. These members are designated to do Type III firefighting duties, including "mop up", soaking hot spots, etc., under the direction of the Government of Northwest Territories Wildfire Management. The remainder will work either in a planning and coordination function with Territorial officials or supporting efforts of their personnel.
 August 15-16: Reconnaissance activities near Fort Smith and Hay River, and constructing firebreaks in and around Yellowknife and Dettah.
August 17-20: Crews continued to focus on firefighting support tasks, namely the continued building of firebreaks around Hay River and Yellowknife.
 August 20: Another company of approximately 230 soldiers from the Canadian Army deployed to Hay River.
In regards to the air component, along with personnel, there are multiple Royal Canadian Air Force (RCAF) aircraft to support mobility, logistical, and evacuation tasks as required. As the situation is continually evolving, aircraft assigned to assist this mission and their locations will be adjusted as needed to ensure that we continue to complement and enhance local, territorial, and other federal agencies, as they respond to the ongoing wildfire situation.
On August 14, the Government of The Northwest Territories requested evacuation support for the towns of Fort Smith and Hay River.

A CC-130H Hercules flew 25 persons from Hay River, Northwest Territories, to Fort McMurray, Alberta
A CC-130H Hercules flew 75 persons from Fort Smith, Northwest Territories, to Fort McMurray, Alberta

From August 17 to August 18, the CAF assisted the Government of the Northwest Territories with the evacuation of Yellowknife, and approximately 160  people were evacuated.
On August 17, a CC-130J Hercules transported 79 long-term care residents to Edmonton, Alberta
On August 18, a C-17 evacuated 36 passengers (plus some medical staff from Yellowknife) to Vancouver, with 3 more passengers dropped off in Edmonton with the remainder of Yellowknife medical staff
On August 18, a CC-130J evacuated 40 passengers, with 25 that were dropped off in Edmonton and 15 in Calgary.
Last updated 2:44 p.m. August 25, 2023.