Garrison Petawawa Cleaners mark one month on picket line
It's been one month today since 83 cleaners employed at Garrison Petawawa first went on strike.
The cleaners are demanding that their employer, GDI, delivers on promises made during previous negotiations that would have seen a pay increase for the employees on Jan. 1 and May 1 of this year. These increases would have totalled for an additional $2.25 per hour.
Additionally, according to the Public Service Alliances of Canada, the worker's union, GDI is also set to make considerable cutbacks to provisions such as health benefits, paid vacation, health and safety provisions, among a few.
"As you can imagine that is detrimental to our members," said Sharon DeSousa, the regional executive vice president for Ontario.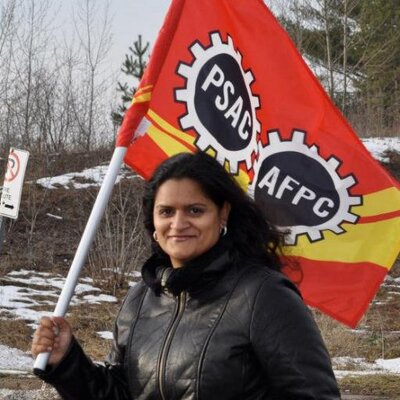 On Tuesday the Petawawa base cleaners took to the nation's capital to rally outside of GDI headquarters. They were joined by other union and members of the PSA.
A few hours ahead of the Petawawa base cleaners rally on Tuesday, Commissionaires employees primarily at CFB Kingston also took to the capitol to voice their concerns outside of Commissionaires offices.
The Kingston Commissionaires are in their ninth week of the strike. Many of these employees are veterans.
"We have yet to see the employer make any type of effort to come back to the table and discuss the issues," noted DeSousa.
Their concerns are around sick leave, food allowance and, what DeSousa, says is fighting against a workplace culture of fear and intimidation against workers who file grievances of incidents in the workplace.
According to DeSousa, Tuesday's rally was successful.

"We will not be ignored, and we do want to get back to the table and have meaningful negotiations, and I believe our voices were heard," commented DeSousa.
The strike has made its mark on the Petawawa community, which is a tight-knit community, and the wages earned by these employers are funnelled back into supporting other local businesses.
The impact can also be seen on the base where, despite GDI's efforts, replacement workers have not yet come in.
"A lot of military personnel and their families really depend on the quality of services our members provide. They've been very supportive on the line with us. It's a shame they're not getting that same level of service," noted DeSousa.
The Kingston Commissionaires and Petawawa cleaners are both looking to meet their employers at the table to negotiate a fair contract, says DeSousa. And, at the very least, they are looking for transparency about the contracts. According to PSA, even though the contracts are public, there is little information that can be found on them.
Until these demands are met, both parties are looking to continue voicing their concerns.
"Both the striking workers, the Petawawa cleaners and Commissionaires in Kingston, they're walking the line, and they're proud to walk the line because they really believe in what they're standing up to these employers for. And rightly so," said DeSousa.
The next round of negotiations between GDI and the Petawawa cleaners are set to take place next Thursday, Aug. 29.