Team Canada departs for Invictus Games in The Hague
After two years of anticipation, perseverance, and plenty of ups and downs, Team Canada finally departed Wednesday, April 13, 2022, for the 2020 Invictus Games in The Hague, Netherlands.
"With your courage, strength, and incredible resilience, you truly represent the best of the CAF. The very best of Canada. And we wish you nothing but success as you once again set forth to represent our country in the world," said Chief of the Defence Staff, Gen. Wayne Eyre, during a formal send-off ceremony held in Ottawa at the Canada Reception Centre.
The Wait is Over
The internationally renowned Invictus Games, held since 2007, have been on a two-year hiatus due to the global COVID-19 pandemic.
Because of these unusual circumstances, the team has faced many challenges, including cancelled training camps and changing teammates.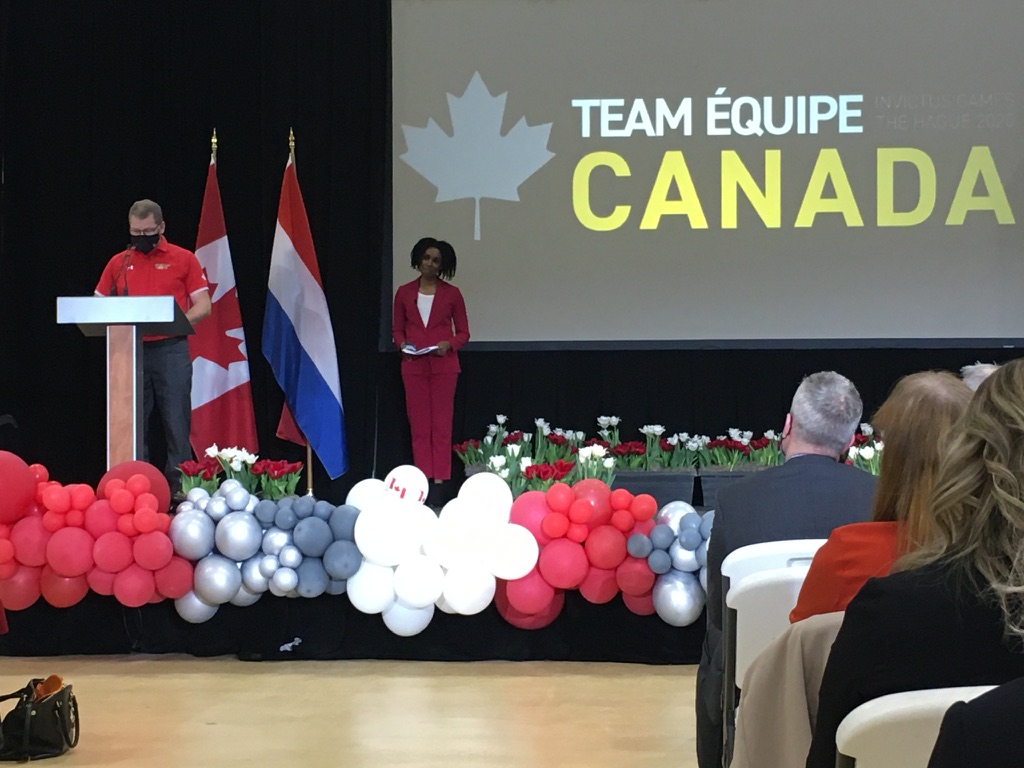 The team's departure was a surreal event for many of the members.
"The last two and half years have been hard, and I couldn't be more proud of you guys. Your resiliency, your perseverance of pushing through and helping one another. Know that we could not be more ready to get on that plane today. And I hope that you all keep your goals squarely in your mind," said Team Canada Captain CWO (ret'd) Rock Ferland.
The 2020 Invictus Games
The 2020 Invictus Games are being held from April 16-22, 2022, in the Netherlands. Team Canada will be joining more than 500 competitors from 16 other nations competing in nine adaptive sports.
Team Canada's 28-person contingent includes 12 serving members and 16 Veterans of the Canadian Armed Forces (CAF) who acquired an illness or a physical or mental health injury while serving Canada.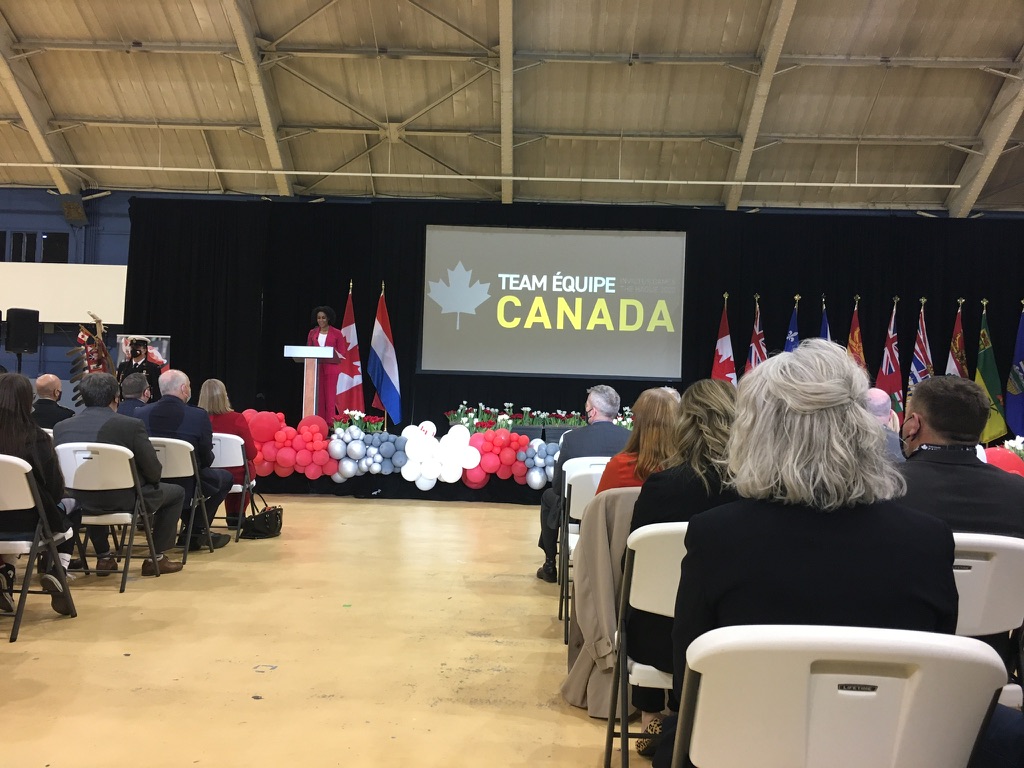 Participants from Team Canada will take part in all nine sports featured at the Invictus Games The Hague 2020:
archery,
track and field,
cycling,
indoor rowing,
powerlifting,
sitting volleyball,
swimming,
wheelchair basketball and
wheelchair rugby.
In addition, Team Canada will participate in the Jaguar Land Rover Driving Challenge.
Other countries participating in this year's games include: Australia, Belgium, Denmark, Estonia, France, Germany, Georgia, Iraq, Italy, Jordan, the Netherlands, Poland, Romania, the Republic of Korea, the United Kingdom, and the United States.
Power of Invictus Games
The Invictus Games were founded by Prince Henry, The Duke of Sussex, for ill and injured active-duty members or veterans.
The mission of the Games is to honour the service members who have come face-to-face with the reality of sacrificing for their country, using the power of rehabilitative sports to help them on their journey of recovery.

"Many of us likely don't even consider the possibility of injury. We do our best to protect ourselves and our team members, but our business is unpredictable, and no one is invincible. Events like today highlight to better support the recovery of our ill and injured members and veterans while honouring their service and sacrifice," said Gen. Eyre on Wednesday.
The games have been known to help rehabilitate members.
"I can tell you from this team the difference in them from two days ago to today to what it's going to be at the end of the Invictus Games on the 22 and later, in the following days when they come home, is going to be an incredible one. It's made possible through the generosity of people, but it's the perseverance, the energy, and the desire of these members on their journey of recovery to find a way to be able to get to that next level in their recovery," said BGen. Dryald Cross, CAF Transition Group head.
Realizing the difference it has made in their own lives, members of Team Canada encouraged other CAF members and veterans to take the step to recovery through Soldier On and Invictus.
"I would also challenge all ill and injured CAF members and veterans that will hear about us to take the next step and reach out to Soldier On for help. Don't be afraid you have no idea how incredible this simple action of reaching out may change your life. It will change you forever. I know it has for me, and it certainly has for most of our team here," said the Team Canada captain.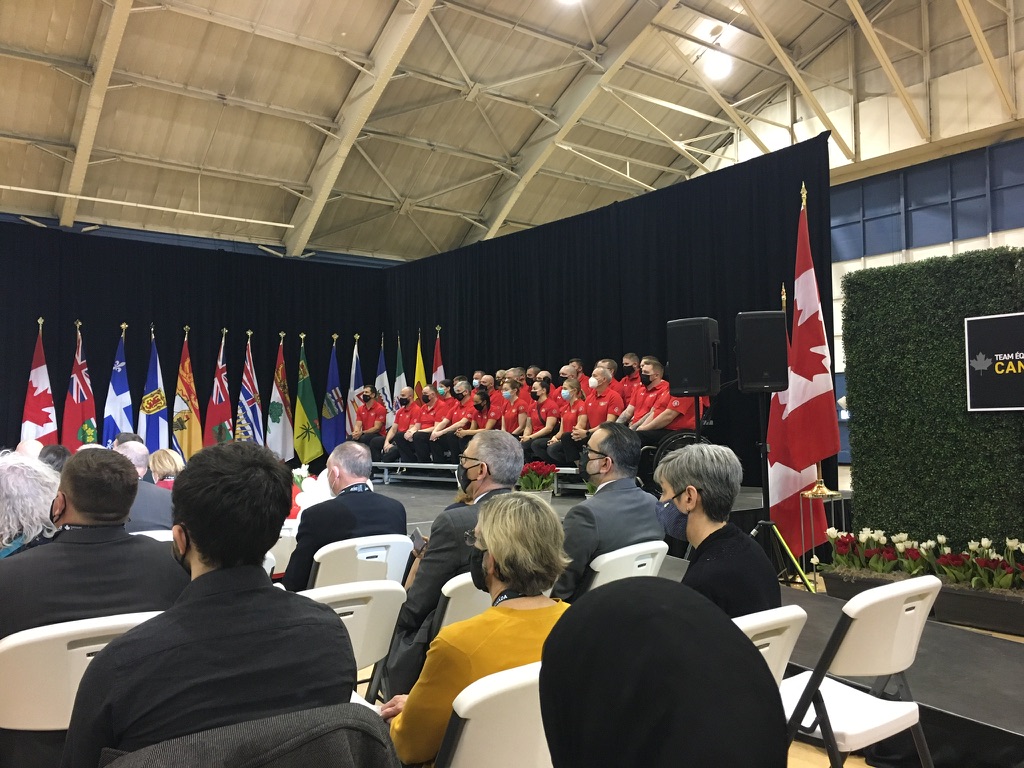 Hearing From the Team
The excitement on their departure was palpable on Wednesday.
"I'm looking forward to taking it all in and meeting people from all over the world, discovering what the games are like and what they feel like," said Joseph Savoie, who will be competing in archery and wheelchair rugby.
The excitement was not just for their departure but for the new family they've made and the personal progress they've achieved.
"It's humbling. I have amazing teammates. We all have our own story. We all have our own illness, injuries, and reasons for being part of the team. It's become a big family. We all look after each other," said Colleen Kelly-Wardle, who served in the Canadian Armed Forces for more than two decades, retiring as a captain.
"It's been a really good experience for me accepting my illness and my limitations and finding new sports, new friends. It's been a healing journey," continued Kelly-Wardle, who will participate in indoor rowing, swimming, and seated volleyball in the 2020 Invictus Games.