Royal Canadian Legion Announces 2022 Silver Cross Mother
As a Licensed Practical Nurse for more than 30 years, Candy Greff knows the value of selflessness and friendliness, qualities she shared with her son MCpl. Byron Greff.
"He would talk to anyone, and I'm the same way," she shared. Adding, "In our world, we need to be kind to each other."
On Oct. 29, 2011, MCpl. Greff laid down his life in service to his country while deployed on tour in Afghanistan.
Candy is the Royal Canadian Legion's 2022 National Silver Cross Mother. As the Silver Cross Mother, she honors Canada's fallen and represents all the mothers of fallen military personnel.
The Last Goodbye
October 2011 was the last time Candy would see her son alive. He was home on a short visit to see the birth of his daughter, according to the Canadian Press, and Candy remembers saying goodbye and that she'd see him at Christmas.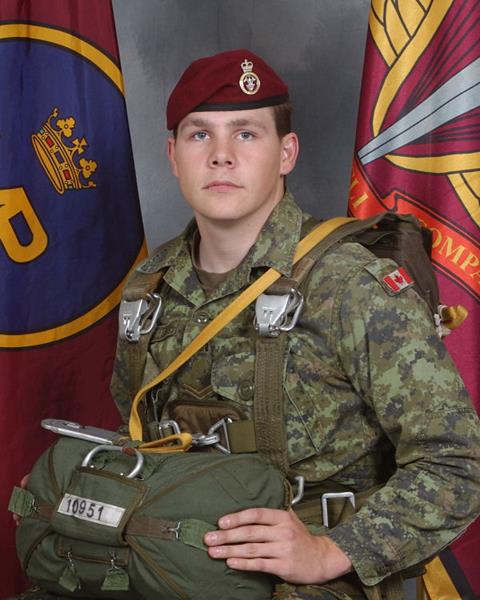 As a member of the Third Battalion of the Princess Patricia's Canadian Light Infantry (PPCLI), Byron was a highly trained soldier, equipped both as a paratrooper and a member of the reconnaissance platoon. At the time of his death, he served as an advisor to Afghan military personnel.
During his second tour of duty in Afghanistan, Byron was killed while riding inside an armoured NATO bus that was attacked by a suicide bomber.
Byron was the last Canadian soldier to lose his life in Afghanistan. He left behind his grieving mother, Candy, his wife, Lindsay, and their two children: Kellar and Brielle.
Looking back at her son's life, Candy remembered he wanted to do good for others, and serving in Afghanistan helped him achieve that. Candy remembered reading an article a few years later about kites flying in the country.
"That warmed my heart because if children felt safe enough to go out and fly kites again in Afghanistan, the job everyone was doing there was helping, at that point," she told the Legion.
She also remembers him as a loving and friendly person.
"There are a lot of people who met him and loved him. He was fun-loving but hard-working at the same time," said the Silver Cross Mom.
Pride in Her Role
According to the Legion, Candy is very proud and honoured to be chosen as this year's Silver Cross Mother.

"I am honoured to represent those who know what it feels like to lose a child, the pain, the daily struggle, but you do it for your child," she said.
Since her son's passing, Candy and her community found ways to honour Byron's memory.
Lacombe Composite High School in Alberta placed a memorial bench to honour him in their outdoor classroom. As well, the Lacombe Royal Canadian Legion Branch #79 named their upper hall the "Byron Greff Memorial Hall" in his memory. And a lake in northeastern Saskatchewan was named after him by the province.
In her role as National Silver Cross Mother, Candy hopes to inspire an entire nation, including the children.
"I hope that more kids will come to realize the meaning of the ultimate sacrifice."
The National Silver Cross Mother
The Legion chooses the National Silver Cross mother every year from nominations submitted by Legion Provincial Commands and individuals.
During her time as the National Silver Cross Mother, which starts on Nov. 1 and will go to Oct. 31, 2023, Greff will represent mothers of fallen soldiers and perform various duties to honour these soldiers.
On Remembrance Day, she will place a wreath at the National War Memorial on behalf of all Canadian mothers who have lost a son or daughter in service to Canada.
Silver Cross Mother History
According to Veterans Affairs Canada, the term Silver Cross comes from the National Memorial Cross, a memento of personnel loss and sacrifice.
The Memorial Cross, the gift of Canada, is awarded to mothers and widows (next of kin) of Canadian military personnel who have died while serving on active duty or whose death is attributed to duty.
In 1936 Mrs. Charlotte Susan Wood from Winnipeg, Man, was chosen as Canada's first Silver Cross Mother.