National Poppy Campaign Kicks Off with Canada's Commander-in-Chief
The Legion's National Poppy campaign kicked off with the Governor General and Commander-in-Chief of Canada being presented the first poppy of the year.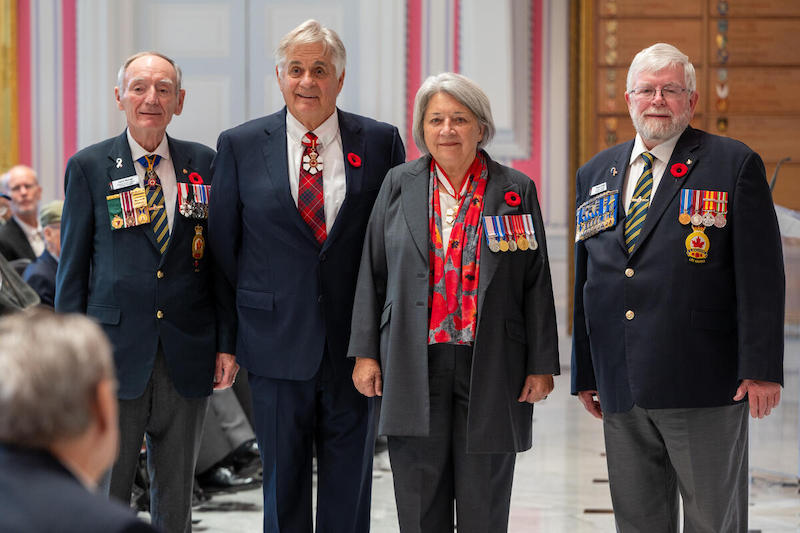 First Poppy of 2023
"I'm honoured to receive the first poppy. I'm honoured to present poppies today to veterans. And I'm honoured to have with us young people who we are entrusting with these stories," said Simon as she addressed guests. "I encourage Canadians, not just today but every day, to remember and to honour and support our veterans."
The event took place At Rideau Hall on Oct. 27, 2023, when Governor-General Mary Simon received her poppy from Dominion President of the Royal Canadian Legion Bruce Julian.
She further noted, "We know that the cost of war is enormous. So many lives over time have been lost to fighting. Canadians have been killed in two World Wars, the Korean War, Afghanistan, and in countries around the world. It is a terrible thought, said Simon during the ceremony, continuing, "It is important that all Canadians, especially young Canadians, learn the stories of our veterans. When we listen to our history, we learn lessons from the past—we learn about the path that led us to war and conflict. And in learning from history, we can avoid those same steps…we can foster peace."
The Governor General noted the Remembrance period offers Canadians many ways to remember and to give thanks.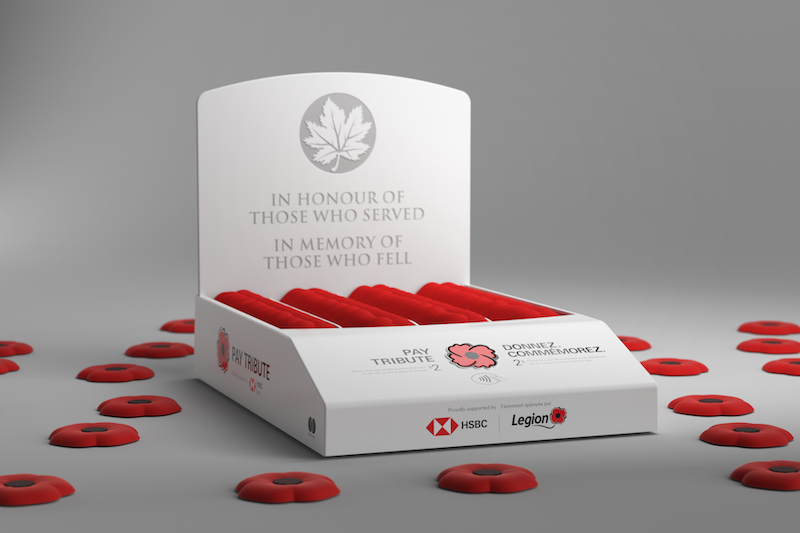 Many Ways to Donate
There are now thousands of donation boxes across Canada with biodegradable poppies. While traditional poppy boxes are available with lapel poppies, people can donate through "Pay Tribute.
With 1,000 "Pay Tribute" tap-enabled donation boxes nationwide, Canadians can quickly donate to the Legion. The boxes can be found at assorted Legion branches, HSBC branches, and select retail locations.
"There are $2, $5, and $10 options, and donors can also receive a lapel poppy from these electronic boxes," noted the Legion press release.
Additionally, donors can choose to give online via here.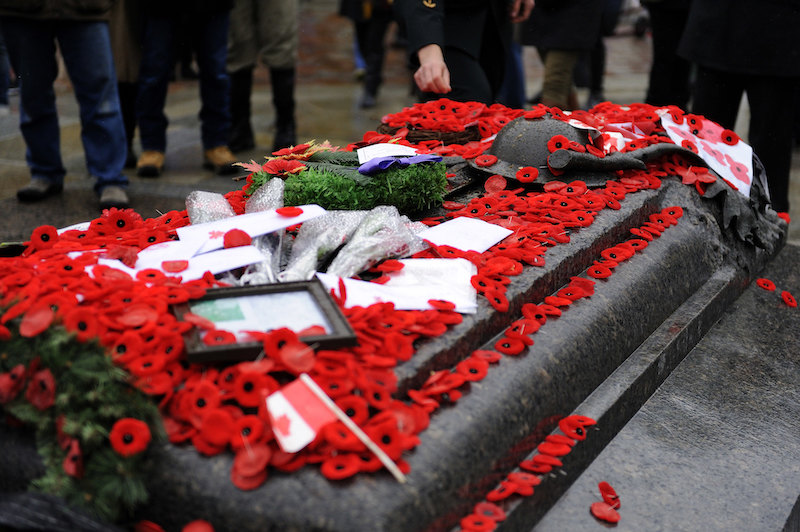 Where to Remember
People looking for a ceremony to attend can now use the Legion Ceremony Locater. The locater locates Legion-sponsored Remembrance Day Ceremonies in their area. The locater is available on the Legion website.
Find a ceremony here.
If you are staying home this year, the Legion will be broadcasting the National ceremony on their Facebook page. The press release noted, "National broadcasters will cover the ceremony as in the past."
Watch the service on the Legion's Facebook page here.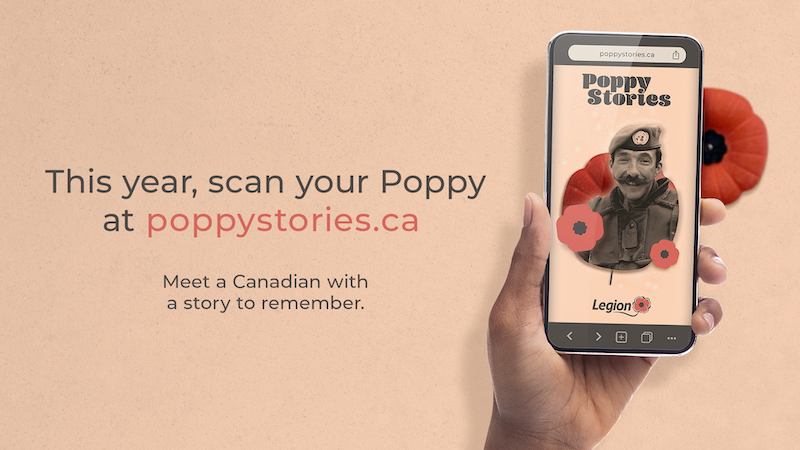 Poppy Stories
As part of the National Poppy Campaign, the Legion's Poppy Stories initiative allows Canadians to learn the life story of a fallen veteran by scanning a lapel poppy with their smartphone.
"With every scan, you'll be introduced to a fallen soldier with a story to remember," stated the press release.
Once scanned, the story expands on where and how a soldier grew up in Canada, their family history, pre-war careers and some, their interests.
"This year, which marks the 75th anniversary of the first United Nations peacekeeping mission, the focus will be on an additional 50 new Poppy Stories, highlighting the lives of Veterans who took part in peacekeeping assignments."
For more information on the National Poppy Program and Poppy Stories, visit here.

Poppy Drop
Beginning on Oct. 27, 117,000 poppies will cascade virtually upon the Peace Tower at Parliament Hill and on the Senate building. The poppies represent fallen Canadian Veterans since the First World War. The Poppy Drop takes place until Nov. 11 from 6:30 p.m. ET to 9:30 p.m. ET.
On Nov. 5, 10 and 11, the display will extend till midnight. Virtual poppies will also drop down the National Arts Centre's Kipnes Lantern on Nov. 11 from 7 a.m. ET to midnight ET.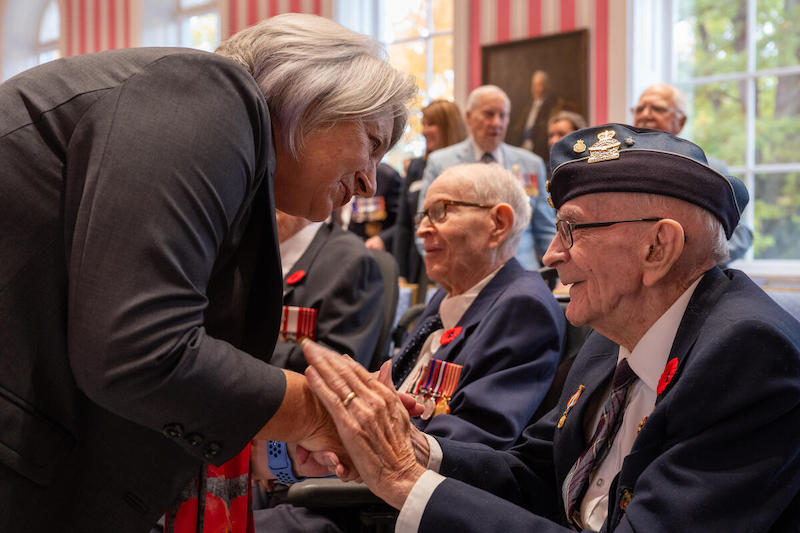 Poppy Trust Fund
Funds raised during the National Poppy Campaign support Veterans and their families in various ways, noted the Legion website.
"Close to 20 million dollars is generously donated each year," noted the press release.
The funds raised through the poppy campaign go towards The Poppy Trust Fund.
What Poppy Funds may be used for:
Grants for food, heating costs, clothing, prescription medication, medical appliances and equipment, essential home repairs and emergency shelter or assistance for Veterans and their families in need
Housing accommodation and care facilities for Veterans
Funding for Veteran Transition Programs that are directly related to the training, education and support needs of Veterans and their families
Comforts for Veterans and their surviving spouses who are hospitalized and in need
Veterans visits, transportation and day trips
Accessibility modifications to assist Veterans with disabilities
Educational bursaries for children, grandchildren and great-grandchildren of Veterans
Support of cadet units
Veteran drop-in centres and services in communities where Veterans would benefit
Community medical appliances, medical training and medical research which will assist in the care of Veterans in the community
Support the work of Legion Command and Branch Service Officers across Canada in assisting and representing Veterans
Donations for relief of disasters declared by federal or provincial governments which impact Veterans in those communities
Promotion and administering of Remembrance activities to ensure Canadians never forget the sacrifices of Canada's Veterans
About the National Poppy Campaign
Every year, the Royal Canadian Legion conducts the Poppy campaign, with the assistance of thousands of volunteers, to raise funds that support veterans and their families.