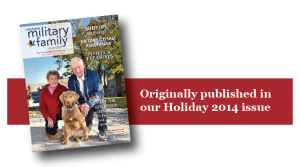 Imagine how it feels to learn someone you love experienced terrible fear and tragedy yet never shared those memories for fear of burdening you. That's how Rosaline Anderson felt in 2000 when she read the story of her father's life during The Second World War in a newspaper. She was shocked by what he'd seen and in awe of the man he became in spite of what he'd been through.
"Our father never did speak about the war unless it was in a lighthearted way. He told the journalist things his family had never heard. To this day I have no idea how he found the strength to protect us from his memories. After reading it I just wanted to tell my dad that I was sorry. I wanted to hug him and tell him I was so sorry he had to go through all that. He was such a warm and loving person. He kept the horrific details to himself. We'll never know all of it, and that's probably for the best," shared Anderson, whose father Walter Zdep passed away in 2005.
As the story goes, Zdep enlisted for active duty the day after Pearl Harbour was bombed, December 8, 1941. He was 22 years old, newly married to Betty Ruzak, and they were expecting their first child. His motivation to join was pure. He wanted to protect his country.
In January Zdep kissed his wife and newborn son goodbye and boarded a train destined for Red Deer, Alberta to finish his training with the Royal Canadian Army. In April of that same year the troops boarded a train bound for Halifax, Nova Scotia. The train was delayed for four hours because a soldier on board suffered an appendicitis attack. Walter found out they would be travelling through Watcomb, Ontario where his dad lived and worked as a foreman on the railroad. He knew this would be his last chance to connect with his family. He scribbled a note that read, "I think I am going overseas. Don't tell anyone. No one is supposed to know. Tell Betty I am all right." He tied the note to a piece of railroad spike. When the train passed by his father's house he saw his father walking to the outhouse. "Dad. Dad," Zdep shouted, and threw the note out the window of the train.
"When I read that my father had written that note I wasn't surprised. It was just like him to do something like that. He always put his family first. He must have been so scared. He knew he wasn't supposed to let anyone know where he was going, but he knew how worried they would be. It's so hard to think about," said Anderson.
When the troops arrived in Halifax they were loaded onto a cattle ship called the Banafora. Nine days later they docked in Liverpool, England. As a corporal, driving for the Service Corps Zdep spent the next year in Britain.
After God, his family was everything to Zdep. During the war he visited distant in-laws, the Morrisons, in Aberdeen, Scotland four times. "He stood on the train for 12 hours to visit Jim, Dolly and their two daughters Jean and Joanne. The girls had no brother and my father filled that role. He teased them and fit right in like he had known them all his life. I'm so glad he had that time with them, with family in the middle of it all."
Eventually, the Service Corps moved to France.

After the beaches of Normandy were stormed the troops were using pup tents for cover. There was shrapnel flying everywhere and the bombs were dropping from the sky. In the distance Zdep could hear a donkey braying and then there was silence because it had been hit by a bomb. He put his helmet on and clung to an apple tree for dear life. When Anderson read what her father described as his worst war experience she was devastated and shocked. To his family it was like the war didn't exist. "The war must have been terrible, but its effects were never felt by us. He compartmentalized his life. He stayed very focused on the reality of supporting his children at home. He worked two jobs in a mill and drove a taxi at night. He was a jokester at work and at home."
She notes her dad played the harmonica, the guitar, and sang. He was able to put the war aside and live in the moment by not letting his memories rob him of his life and time with his family.
"I get very emotional when I think about how he handled his war experiences. I just want to hug him, and protect him from those memories. I know he didn't forget a detail. Until the day he died he could recite his service number off by heart. He was blessed with a memory, but he used his memory only for good things. War destroys people. My father didn't let that happen to him."
Zdep left Appledorn on Christmas Day 1945 and arrived home on New Year's Eve. Life was not easy when he returned. His first home with Betty and his young son had a dirt floor. Shortly after the war ended Zdep developed diabetes. He eventually lost his sight, but he made his own white cane and continued on. He was known to be creative, musical and generous. He was grateful man who worked hard and saved every penny for his kids.
On Sundays, Zdep and his wife opened the doors of their home to immediate and extended family, sharing meals and playing cards. The walls of his house seemed to expand as more and more people filled the rooms with love and laughter. He was the type of man who called every family member on their birthday and played Happy Birthday to them on his harmonica. His daughter Rosaline made a recording of his musical gift and plays it for family members still. Traditions are strong in the Zdep family.
In 2000 Rosaline Anderson travelled to Europe and she had a photo of her father standing in the backyard of the Morrison's home in Aberdeen, Scotland. In the photo Zdep was wearing Joanne's kilt. Fifty year's later Anderson stood in the exact spot holding the photograph of Zdep. "I can hardly describe how I felt. It was just so eerie. I was overwhelmed. It was surreal to be standing there fifty years later, thinking about my dad and how he must have been feeling then. He was so very young and so very brave."
Zdep never returned to Europe. However, until his death he remained in contact with members of the Morrison family. While visiting Aberdeen in 2000 Anderson had the opportunity to stay with Jean. Zdep described his visits with the Morrisons to be the best part of the war.