Family Seeks Soldier's Lost First World War Memorial Plaque
Samuel Daniel Watts was one of the first people to break into the country-western music scene in the early 1900s.
He was also among the few black people allowed to serve Canada in the First World War.
And now, more than 100 years after he was killed, Private Watts' great-great-grandaughter is on a mission to locate his memorial plaque and return it to her family.
"As a family, the only piece of Samuel we have are a few pictures. Our hope is that we can someday be reunited with his memorial plaque where it will be displayed as a reminder of his sacrifice, and to live our lives with grace, determination and courage, just as he did," said Stephanie Watts, Samuel Daniel Watts' great-great-grandaughter.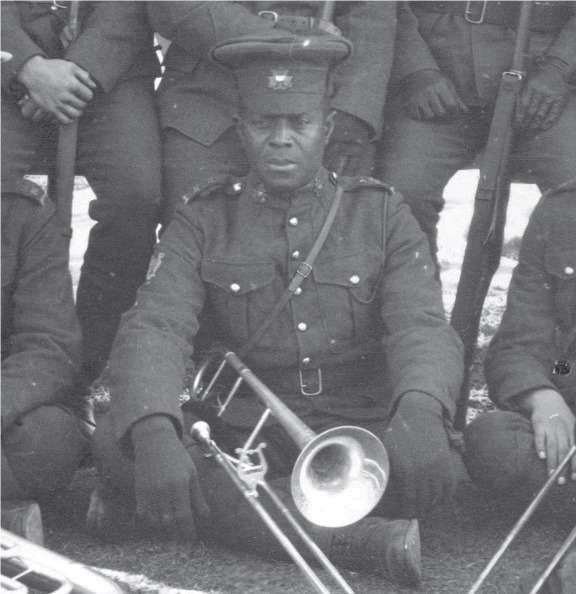 Uncovering Private Watts' History
Stephanie recalls growing up, she didn't know much about Samuel. But this all changed when she had her own son and decided to learn about her ancestors to pass on their history.
"In 2019, I started a journey to uncover Samuel's story so our family could honour him and his sacrifice," said Watts.
After googling his name, Watts uncovered an image of his Memorial Plaque, and so the search for this last memento of Private Watts began.
From her research, Watts' uncovered that in 1968 her great-great-grandmother was killed in a house fire, which the family believes led the plaque to be buried in the backyard or rubble. It is believed that then the dirt, along with the medal, sat for ten years before it was shipped to as a soil delivery to a family out in Red Deer, AB. The medal was uncovered, encased in a mound of dirt, and the family kept the medal for several decades.
"From there, the Humbke family sold it to a collector in Ontario. I spoke with this collector. However, he had already traded it to a collector in Alberta. This is as far as we have been able to trace it," noted Watts.
As Watts traced the journey of the medal, she also had the opportunity to uncover Private Watts' history and life, growing closer to learning who her great-great-grandfather was.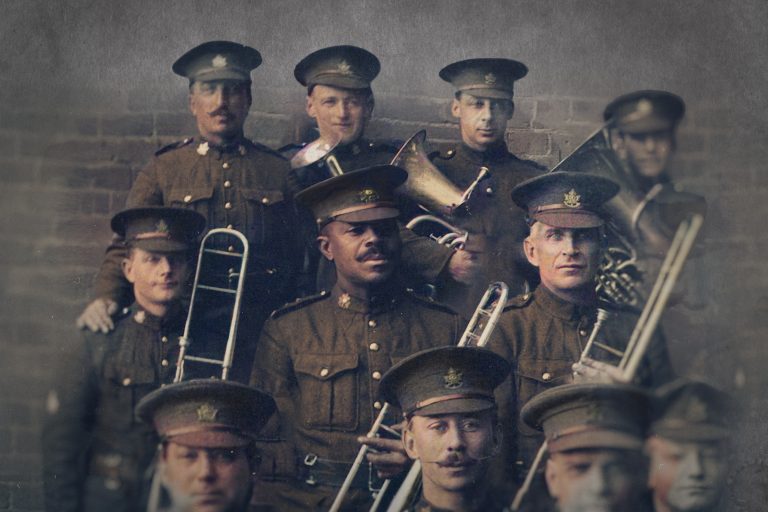 Desire to Serve
It is believed that Private Watts immigrated to Canada in 1903 or 1904. In 1907, he married Margaret Foreshaw, and they had three sons together: Eric, Percy and Roy.
Samuel was not only known for his musical talents but was also a patented inventor with several successful inventions.
However, when the First World War broke out, he put all his talents on pause to join the war effort and enlisted in the 187th CEF Band.
The 187th trained at Sarcee Camp in Calgary, AB, before making their way overseas on the R.M.S Olympic (sister ship to the Titanic) in Dec. 1916.
Samuel spent time in England training, and on Feb. 20, 1917, the 187th was absorbed by the 21st reserve battalion. In April 1917, they transferred to the 50th battalion after suffering heavy losses at Vimy.
In June 1917, Samuel, who was now fully flighting on the front lines, participated in the Battle of Hill 70. On the morning of Aug. 21, Private Watts was fatally wounded while gallantly fighting during a night raid.
At the time he was wounded, he was fighting in the place of a young boy who had been chosen for the raid but was too terrified to fight.

"Sam took the place of a scared young boy, giving him the chance to survive the war. Samuel died a hero, and his act of bravery stayed with Lyle the rest of his life," said Watts.
Samuel's heroism was not limited to the battle itself. He also fiercely combated the racism he faced.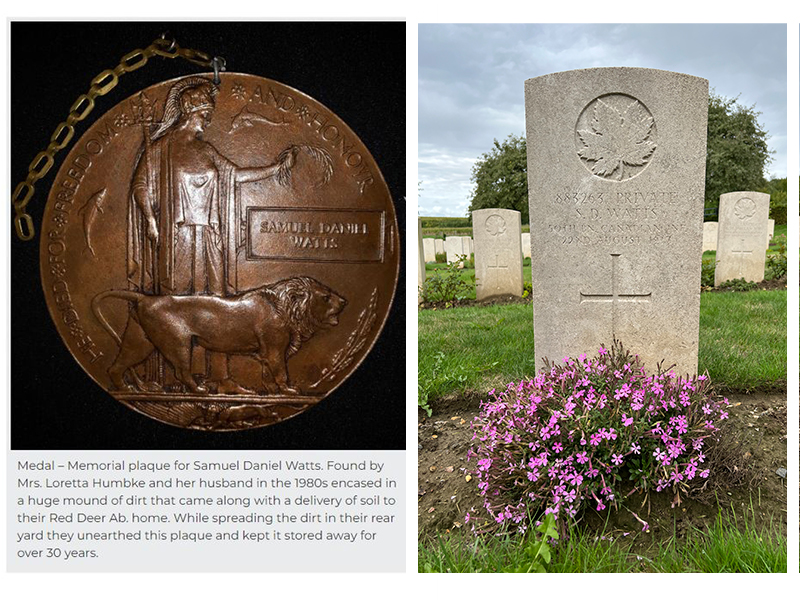 Fighting Racism
Watts recalls that once, as an eleven-year-old, her father showed her a picture of a military band.
"He asked us who we thought our great-great-grandfather was. We went through every single man in the picture until there was only one man left, the only Black man in the picture," remembered Watts.
Watts admits that no one in the family knew anything about Samuel because of the immense racism his sons faced growing up.
"This led to no one passing down Samuel's life and military story," noted Watts.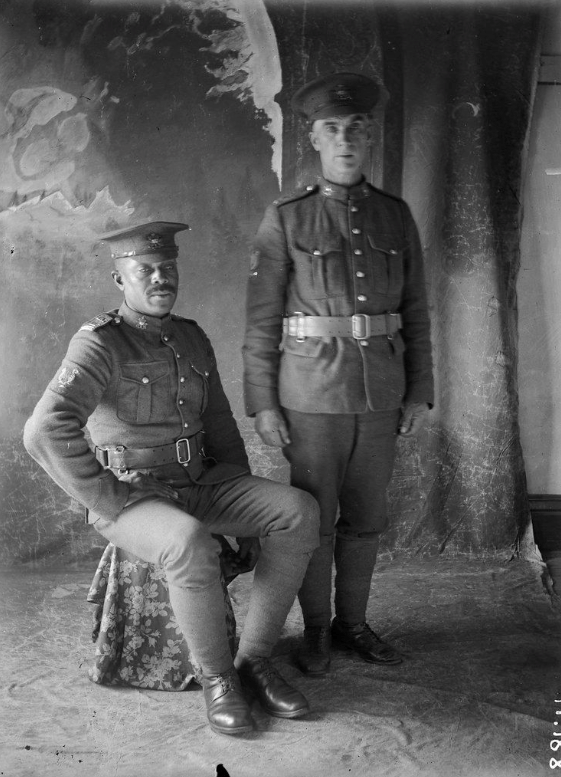 The Search Continues
In September, Watts and her father travelled to France and visited the cemetery where Samuel is buried. They also toured the area of Battle Hill 70.
"It was a very humbling experience," noted Watts.
Indeed, Private Watts faced multitudes of racism in his own lifetime. When he first decided to enlist, he was initially denied enlistment. It is believed that it was only because of his musical talents that he was allowed to join the 187th CEF band.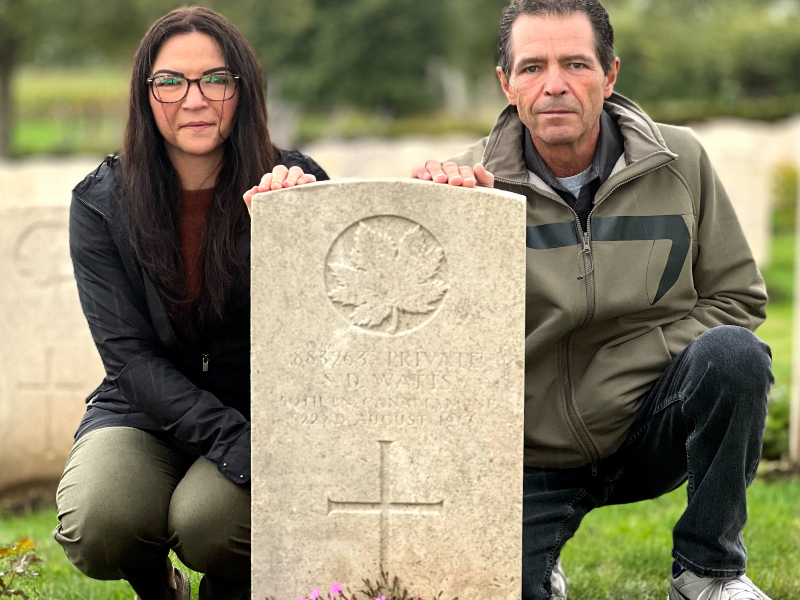 As far as the plaque is concerned, Watts remains hopeful that it will one day be discovered and returned to her family as a constant reminder of the service and sacrifice of her great-great-grandfather.
"Samuel's memory will live on in our family, and we will continue to honour his sacrifice," said Watts.
However, he did persevere and it is believed he was the first Black Canadian from central Alberta to enlist.
"As his great-great-granddaughter, I am extremely proud of him and who he was. He never gave up, and after making something of himself in Canada, he went overseas to fight for King, Country, and future generations. Samuel's story has remained untold for over 100 years, and I am privileged to share it now," said Watts.