Family and Friends gather at Ottawa Airport to receive Bombardier Labrie remains
A dignified transfer of remains ceremony for Bombardier Patrick Labrie took place at MacDonald-Cartier International Airport in Ottawa, Ontario, as our fallen soldier arrived home on Saturday evening.
 Bombardier Labrie died as a result of injuries sustained during parachute training as part of Exercise SWIFT RESPONSE 19 in Cheshnegirovo, Bulgaria on June 17, 2019.
Bombardier Labrie from Buckingham, Quebec, enrolled in the Canadian Armed Forces in August 2013, as an artillery soldier and served the majority of his service with the 2nd Regiment, Royal Canadian Horse Artillery based in Petawawa, Ontario.
"Today is a hard day for the 2nd Regiment, Royal Canadian Horse Artillery (2 RCHA). We are grieving the sudden loss of one of our own – Bombardier Patrick Labrie – who was tragically killed while participating in Exercise SWIFT RESPONSE 19. Our thoughts are with Patrick's family and friends who are no doubt struggling with the loss of such a fine young soldier.  2 RCHA is a family and as a family, we mourn together," Lieutenant-Colonel Dan Matheson, Commanding Officer of 2nd Regiment, Royal Canadian Horse Artillery.
Family members of Bombardier Patrick Labrie, along with his brothers and sisters in arms were present to pay their respects during a dignified and honourable ceremony in Ottawa. 

During this difficult time, the Canadian Armed Forces' priority is caring for the bereaved family and respecting their needs and wishes.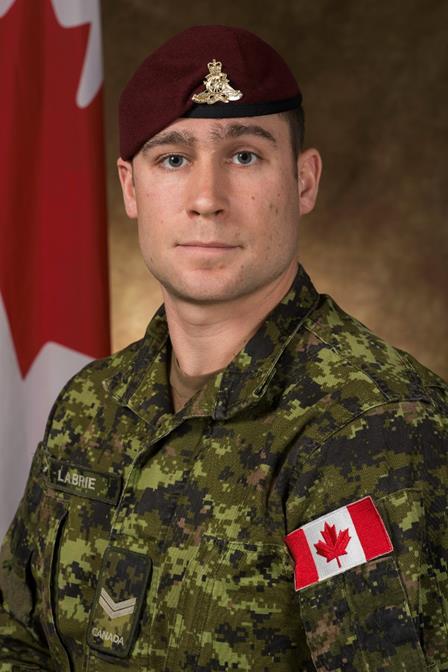 "On behalf of my spouse Jean, Patrick's father, his sister Véronique and his spouse Jessica, whom our son loved with all his heart, we would like to thank all the people who expressed their sympathies and gave us love, to help us through this heartbreaking tragedy," said Julie Rivard, mother of Labrie. "We sincerely hope the investigation will be thorough in order to ensure this situation does not happen to another young soldier."
 Funeral arrangements for Bombardier Patrick Labrie have not yet been confirmed and will be communicated at a later date.