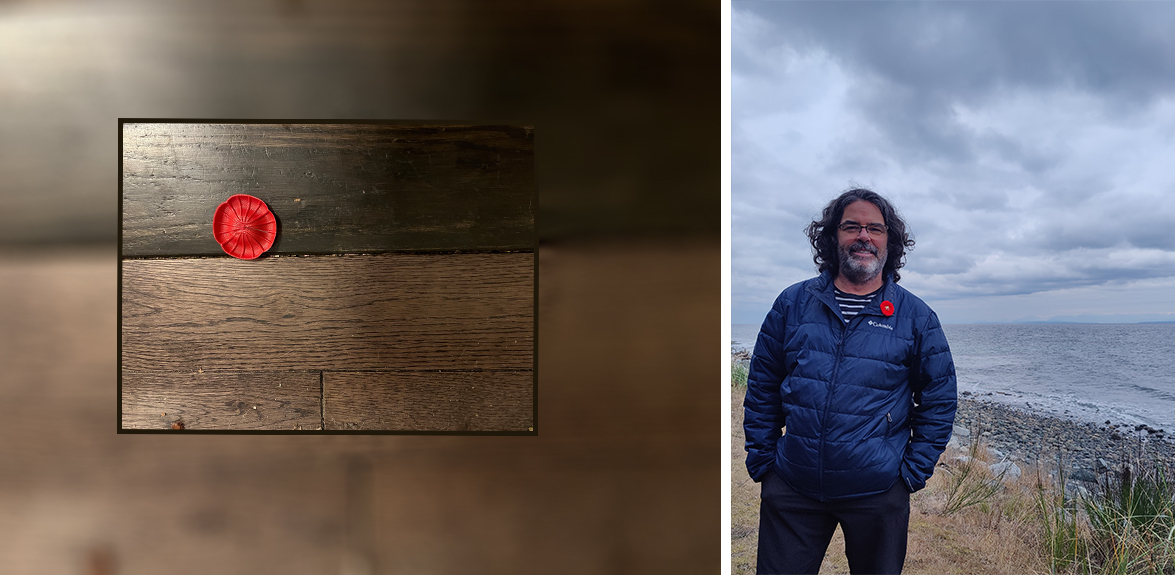 By Heather Cowley
What's the meaning behind the red flower? What does it symbolize for you?
Brave soldiers marching?
In Flanders Field's poem?
Wartime historic missions of long ago?
A family member or friend?
Battlefields full of death and destruction?
A life dedicated to service?
Blood and loss?
Flags flying proudly in the wind?
Peace and victory?
War museums, books, movies?
Your freedom?
Support for our Canadian Armed Forces?
Hope?
A Heartfelt Story
For some, this red poppy means the above and significantly more, yet for others, perhaps it represents just a change of season. Believing we all need a heartfelt story from time to time, below is a story of a Remembrance Day poppy's perspective from one Canadian Armed Forces family.
My veteran military husband, Rick and I were out for dinner one early November evening at a local establishment, watching a ballgame on the big screen.
Arriving in from the cold, three friends sat at a table in front of us. As one of the group members removed her warm coat, her red poppy dislodged and fell to the ground. We saw it land, face down under her seat on the dusty floor. My veteran husband of 36 years, seeing this poignant poppy displaced, felt the value and significance immediately.
To Wear Proudly
This red poppy, intended to be worn proudly, could not be left homeless and abandoned on a cold floor to be crushed, ruined, or damaged. Dutifully compelled, he was motivated to protect and return this meaningful emblem to its rightful owner.
He could not wait any longer. Silently, he rose from the comfort of his chair. He walked over, bent down, retrieving the precious fallen red poppy. He then dusted it off, gently and quickly placing it face up beside its owner. He was utterly unnoticed in the busy, noisy establishment by anyone except me.
I was humbled, though not surprised, by this small act of thoughtful kindness from my retired veteran husband. Forever and always a soldier's heart.
Wanting desperately to tell the customer of my husband's retrieval of her fallen poppy, Rick instantly said, "No, say nothing, please." His humility is always first and foremost. Not only in this instance but his many acts of instinctive generosity, done without acknowledgement, often unnoticed.
He astounds me. His civility and kindness, performed without expecting praise, exudes from his big heart, much bigger than mine can comprehend. He sincerely, and without a doubt, is my hero.

Fallen Red Poppy
I sat teary-eyed, fully aware of the importance a simple fallen red poppy meant to him. Being a military spouse, I only partially understood, witnessing many joys and heartaches living the life as a member of the Canadian Armed Forces. The countless times away from family and loved ones, never having a home for long, the numerous moves, the dangerous overseas tours, fears, and loneliness. Military life is full of ups and downs, with tireless dedication to all else, his country and Queen (rest her soul).
A career well done with many achievements, though hand in hand with endless sacrifices.
So, as it came time for the three friends to dress for the outside and leave, I again said to Rick, "I have to tell them what you did!" and again, his response, "No, leave it alone. I did what was important. There's no need to draw attention, please sit."
Stories Need to Be Shared
Yet, sometimes, a story is so very deserving and needs to be heard. I could not be silent. So, as I watched the three friends leave, everything inside me said, "Go share this!"
I ran outside and introduced myself to the lady whose poppy had fallen. I explained how my retired military husband had noticed it fall to the ground. He couldn't let it rest alone on the cold floor. He had to protect and return it to you!
She explained she'd later noticed it sitting on the table beside her and had wondered how it got there but thought nothing more. Yet now, all she wanted to do was to meet Rick. Her respect was evident. Her face expressed warmth and humility. All three friends were visibly moved by his simple performance to reunite one red poppy, quietly and unobserved. "Please, I'd like to meet him and thank him!" she said.
Gratitude For Service
As the four of us returned to Rick's table, he gave me a "look" yet shyly said hello and shook hands with each of the three ladies. He graciously accepted the thankyou's and listened to why they each displayed a poppy. We were all briefly united, very grateful to express our sentiment for that fallen poppy, now a positive outcome story to tell. They thanked him for what he'd done that evening and for his many selfless years of dedicated service to our country.
My heart was proud and bursting as we all had a moment of thankfulness shared among strangers. As they said goodbye and turned to walk away, I overheard them say, "Well now, wasn't that so very special!" "Indeed, it certainly was!"
You never know who's watching and listening. You never know what a small act of kindness can mean to someone else. I'm glad this was shared. We each need uplifting, inspiring news and to know there are people out there doing the right thing, no matter how small.