100th anniversary of the Battle of Moreuil Wood commemorated in France
On March 30 and 31, 2018, the Soldiers of Lord Strathcona's Horse (Royal Canadians) were in France to commemorate the Battle of Moreuil Wood's 100th anniversary.
Dressed in First World War cavalry uniforms, a mounted contingent of about 20 Strathconas galloped with their swords drawn, alongside members of the Regimental Society of Moreuil, France, to participate in the re-enactment of the Cavalry Squadron's famous charge that occurred a century ago at the Battle of Moreuil Wood.
Pierre Boulanger, the Mayor of Morieul, presented Lord Strathcona's Horse with Freedom of the City to show their gratitude for the heroic actions taken in France during the First World War. This ceremony represents the affirmation of the bond between the Regiment and citizens of Moreuil.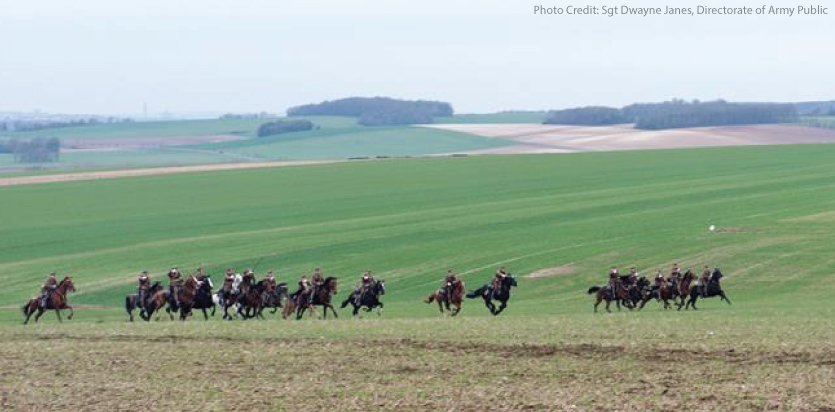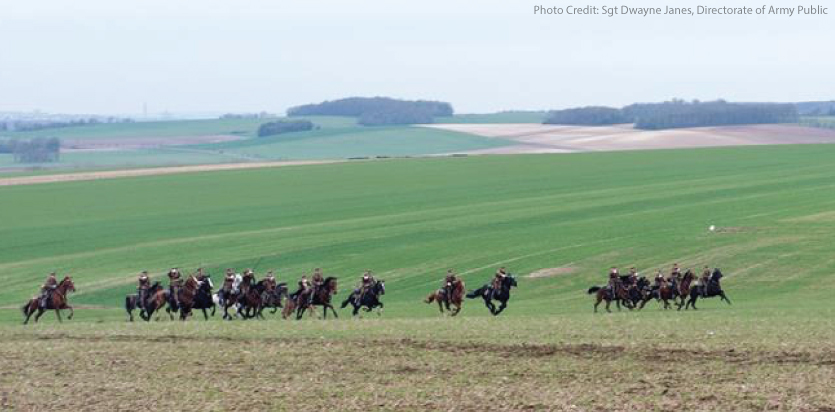 "It is extremely important that we reflect on and commemorate this important milestone in the history of the Strathconas. Those young troopers summoned tremendous courage as metal clashed and they confronted their enemy in hand-to-hand combat," said Brigadier-General Trevor Cadieu, Commander 3rd Canadian Division, Senior Serving Strathcona. "Their valour continues to inspire us today as we enhance the resilience and warrior ethos of our soldiers, and as we prepare for operations in other theatres."

The Battle of Moreuil occurred on March 30, 1918, and considered to have been a key event in the First World War. The battle took place on the banks of the Arve River in France and saw the Cavalry Brigade, headed by Lieutenant Gordon Muriel Flowerdew, and forced the withdrawal of the 23rd German Division from Moreuil Wood. With the victory came the ultimate price. Lieutenant Flowerdew was wounded and lost 24 of his troops. He later succumbed to his injuries and was posthumously awarded the Victoria Cross. 
The Strathconas commemorate the Battle of Moreuil Wood as a tribute to their fallen comrades and a symbol of regimental pride. In addition to the centennial commemorations held in France, other commemoration events also took place in Edmonton and Ottawa.