10 Tips to keep your Poppy
For eleven days every November, the Poppy appears on lapels everywhere as a sign of remembrance and respect.
According to the Royal Canadian Legion, Poppies were first made in Canada in 1922 by disabled veterans under the sponsorship of the Department of Soldiers Civil Re-establishment.
Until 1996, Poppy material was made at the "Vetcraft" sheltered workshops run by Veterans Affairs Canada in Montreal and Toronto. The work provided a small source of income for disabled ex-service persons and their dependents, allowing them to take an active part in maintaining the tradition of Remembrance.
The Legion volunteered to take on the responsibility of continuing the production of Poppies after it no longer was practical for Veterans Affairs Canada to continue the "Vetcraft" operations.
The Poppy not only serves as a visual reminder to honour those who made the ultimate sacrifice for Canada, but it also raises thousands of dollars in support of veterans across the country.
However, for many of us, it can be tricky to figure out just how to keep your Poppy in place on our coats and jackets.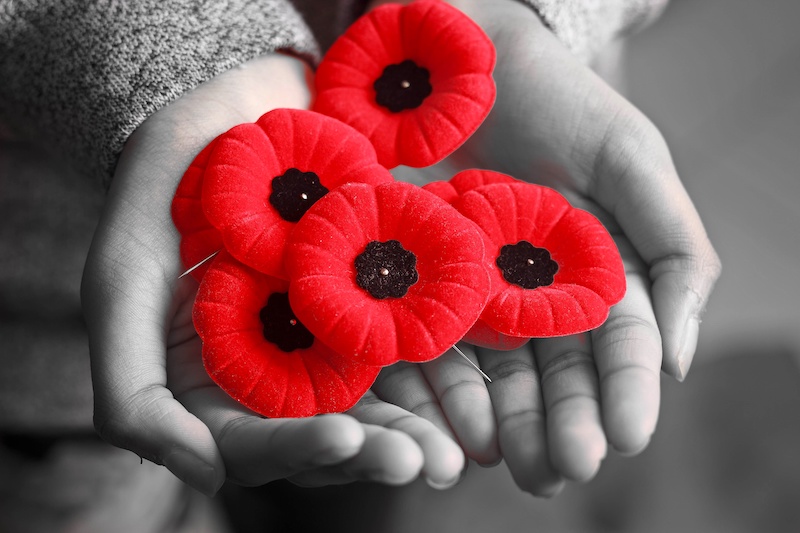 10 tips on how to keep your Poppy in place:
Remove the pin needle and put a Canadian Flag or Veterans Poppy pin or Support Our Troops mini pin through the centre
Remove the eraser from a pencil and place it on the tip of the pin. This holds it in place as well as ensures you won't get pricked
Use an earring back to the pin to secure it and prevent getting pricked
Use a safety pin through the back to secure it to your clothing
Bend the pin so that the pin faces out and you don't get pricked
Weave the pin through your clothing.
Some MFRC's have carried black pins shaped like the centre of the poppy. See if you can get your hands on one.
Add sticky tac to the back of the pin
Push it back up through the petal
If you are able, stitch it on to your coat.
If your Poppy still doesn't seem to stay in place, be proactive and purchase a few extras to replace your Poppy when you lose it. At the end of the day, you will just be donating more money to a good cause.
Alternately you can purchase a digital poppy.