Operation Santa Claus aims to bring holiday cheer to deployed CAF personnel
Established in 1991, Operation Santa Claus' mission is to bring holiday cheer to members of the CAF stationed around the world through a box of goodies and messages of gratitude. This year, the Canadian Forces Morale and Wellness Services (CFMWS) is taking this holiday cheer virtual by inviting families and civilians to send in video messages for deployed troops.
Care packages put together by Operation Santa Claus traditionally contained messages from local organizations and schools. This year those messages will be in video format to be posted on CFMWS' Facebook page for members deployed around the world. In a minute or less, families and the general public alike can send warm wishes for the holidays and messages of thanks to brighten the Christmas of CAF members away from home during the holiday season.
Along with the video messages, troops will be receiving care packages. This year 1,700 boxes were sent out to 23 missions worldwide to locations like Iraq, Syria, Ukraine and Cyprus.
The boxes contain items that bring a little piece of home to troops.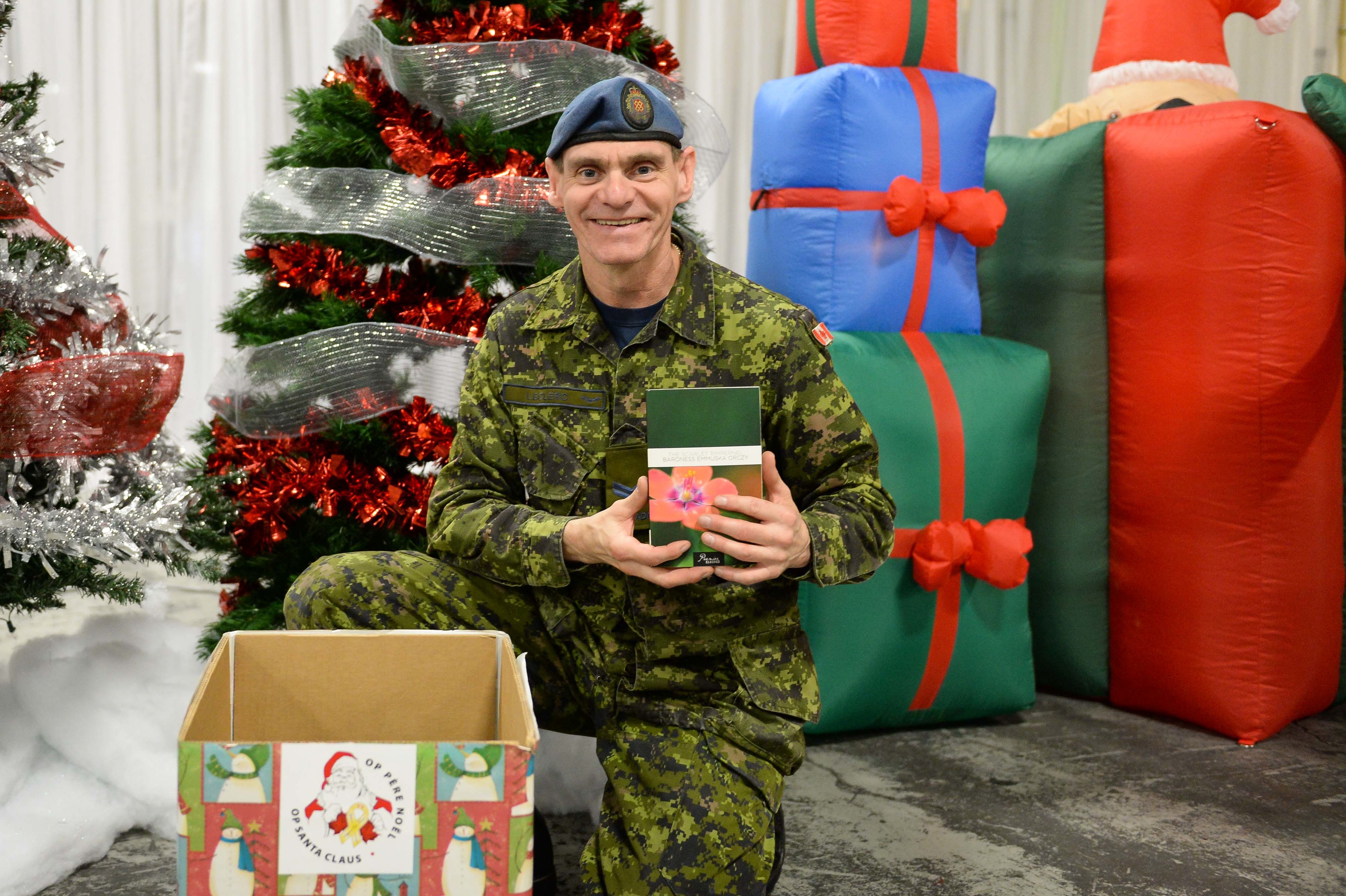 "Traditionally the boxes include Canadiana items. So, a little slice of home for members who are missing their Tim Horton's coffee or their maple syrup or their favourite team, they can have some of that stuff while they're away," said Nancy Branco Strategic Outreach Manager for CFMWS and organizer of Operation Santa Claus.
Many of the items in the gift boxes this year were purchased by Giant Tiger with funds collected through the sales of "thank you" icons sold at Giant Tiger stores in July and on Parliament Hill on Canada Day. Each of the icons, included in the packages, contain personalized messages from the purchaser.
"As the 2015 holiday season draws near, I would like to thank our sponsors and donors for their support and extend my best wishes to all the soldiers, sailors, air personnel who are away from home during this season. The packages that our troops will receive as part of the Operation Santa Claus program demonstrate how Canadians, now more than ever, are voicing and demonstrating their encouragement and pride in the work that our troops are doing on their behalf," said Commodore Mark Watson, Director General Morale Welfare Services.
The packages help create a festive holiday spirit to all CAF members stationed around the world.

"The Op Santa Claus program is often the catalyst for troops to organize holiday parties in theatre. Over the last 24 years, we have received great stories and even pictures depicting how imaginative our troops can be in using local resources to dress up as Santa Claus. Programs like Op Santa Claus help to lighten the mood if only for a few moments while in theatre and allows military members share family stories, swap goodies and remember traditional holiday rituals." said Branco.
Operation Santa Claus has been spreading cheer to troops for 24 years. Started by a group of spouse in Montreal wanting to share the holidays with their deployed partners, the program has sent over 50,000 packages worldwide. It is one of six programs within Support Our Troops programs that ensures every CAF member deployed over Christmas receives a traditional holiday gift.
Send your holiday message for the troops to [email protected] by Dec. 11.
As a follow up to our Operation Santa update, here is the final Christmas video.