Task Force Latvia Commander shares an update on the deployment
Above image: Left, see cutline below. Right, Task Force Latvia Commander Colonel (Col) Eric Laforest.
In December we had the opportunity to speak with Task Force Latvia Commander Colonel (Col) Eric Laforest regarding the Task's Forces efforts towards Operation REASSURANCE. Currently, there are 540 deployed soldiers in Latvia. In addition, the Canadian Armed Forces (CAF) has posted 45 soldiers and their families to Latvia as part of the National Command Element (NCE).
Task Force Latvia, the organization the National Command Element leads, has over 700 people under its umbrella. Those deployed to Latvia will be there for six months, but it could be two to three years for military members posted to Latvia. 
Residing in Latvia itself, the Task Force is part of Operation REASSURANCE. The Task Force's mandate is to provide reassurance to Canada's allies, so if need be, NATO as a whole will support Latvia. 
Mission-Focused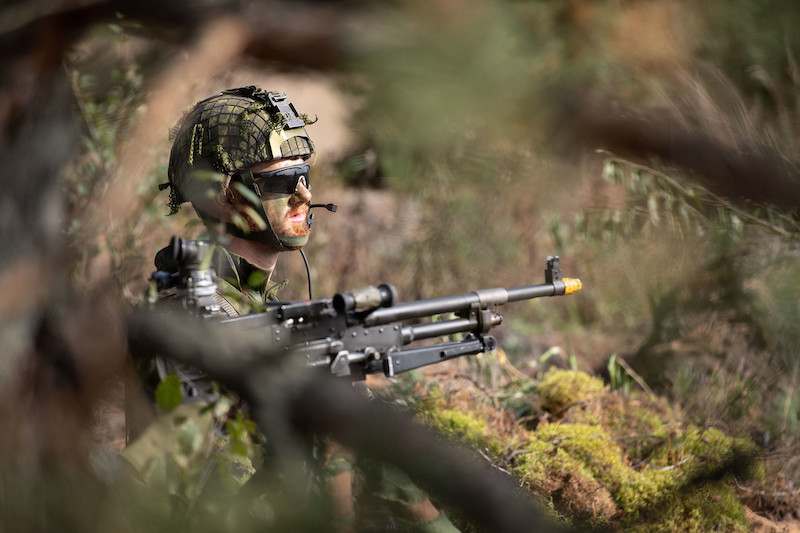 "Our mission is one of deterrence, and if necessary, defence. So what we do with the folks that we have in Latvia is show a capable, committed, and cohesive Battle Group to our adversary so that they know NATO has Latvia's back," says Task Force Latvia Commander Colonel (Col) Eric Laforest.
Canada is the leader of the ten nations coalition. Task Force Latvia co-ordinates all the sending nations: Albania, the Czech Republic, Iceland, Italy, Montenegro, Poland, Slovakia, Slovenia, and Spain. 
Task Force Latvia, encompassing the Battle Group, National Support Element and the Signal Squadron, manages the rotations, which take about four to six weeks to organize.
Daily Life
When it comes to daily life, the soldiers of the Battle Group do a lot of training, just like they do back home. The key difference with the troops in Latvia is they do it alongside eight other nations stationed at Camp Adazi, where approximately 1,500 multinational military members are located.
A Canadian National Support Element and Canadian Signal Squadron support the Battle Group. There's also a Task Force Latvia Headquarters, which is mainly staffed with people who are posted to Latvia with their families. 
They also work with the Latvian authorities to ensure that the Battle Group and the international forces at Camp Adazi are ready to fight if needed.
Deployments: Same Pattern
"One of the reasons why we did an update half tour is [that] most of the troops assigned to Latvia come here on a six-month deployment. What's interesting with those six months is that they always follow the same pattern," explained Col Laforest.
He explained that the first two months are always where the international team gets together to ensure that they are a cohesive fighting force. As you can imagine, having nine nations working together in a unit like a Battle Group can be challenging. They spend a lot of time training so they can be well integrated.
After two months, the Battle Group and the forces are validated through what they call an integrated capstone exercise. That exercise lasts about two to three weeks. Then NATO will put its stamp of approval onto that Battle Group, saying the troops are ready to fight together. 
After that, for close to two months, the Battle Group will continue to exercise to maintain a high level of readiness. Then after four months, they begin preparing for the new battle group that will replace them. 
Mid-Deployment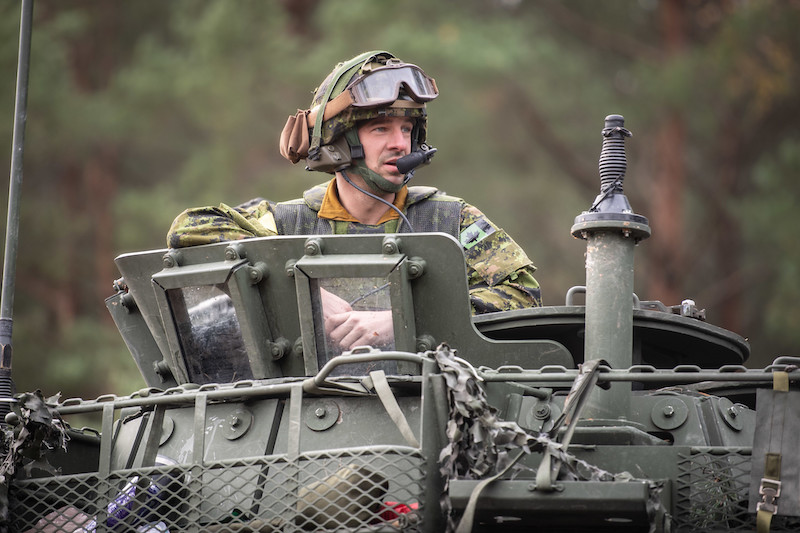 Col Laforest commented that at mid-deployment, the troops are doing great. 
"They've been doing a fantastic job, they arrived in the midst of a pandemic, and they did all the right things to ensure their safety and the safety of the people of Latvia."

In about three or four weeks, Laforest says they will start a process again where the Battle Group, the National Support Element, and the Signal Squadron will be busy managing and co-ordinating the sending nation rotation operations. 
"In about two weeks' time, the first national contingent will rotate. We're going to then cycle all the troops, and then in mid-January, we restart that cycle again. That is where we are right now," says Laforest.
First Half of Deployment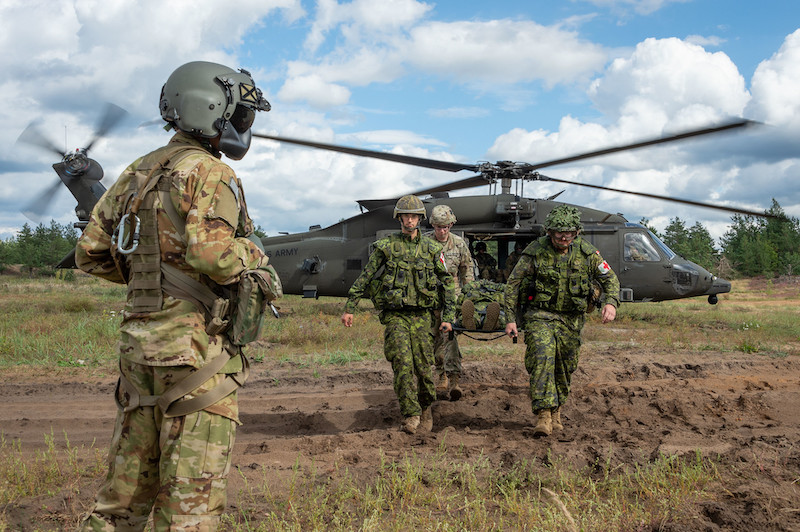 Laforest highlighted some events that occurred during the first half of the deployment. They include:
The National Support Element organized the Baltic Warrior competition; 

The Battle Group has been highly successful in completing all the requirements asked of them by NATO. They also completed the integrated capstone exercise four weeks ago and exceeded all expectations. They are now fully accredited by NATO to conduct war operations;

The Signals Squadron has been a key factor in making sure that everyone can communicate. During Ex NOBLE SKYWAVE, 2 Canadian teams participated in Latvia. Both teams included members from the Battle Group and the Signal Squadron. Team Savages won 1st overall, and Team Sigs Beast won 60th overall.
COVID-19
All of this is happening amidst a pandemic, and Col Laforest addressed three things that they keep in mind when it comes down to the pandemic. 
"What we do to ensure that we are hardening ourselves, not only for the health and safety of our own or that of Latvians, is making sure international soldiers and Canadians will always isolate for a period of two weeks in their home country before being deployed to Latvia," he says.
After isolation, the troops get on a service flight to Adazi and are confined to the camp for a period of close to four months.
"Obviously, if there are operations outside of Camp Adazi, we'll go out, but all in all, the Camp is confined. Also, to make sure that we protect ourselves from Covid, every two hours, 10 per cent of the force is tasked in cleaning and disinfecting all surfaces," Laforest added.
The CAF has some members deployed on Operation REASSURANCE in Latvia who have tested positive for COVID-19. For operational security reasons, specific numbers of affected members will not be released.
Following a positive diagnosis, they are placed in medical under the supervision of on-site clinicians until they recover. Contact tracing is also conducted. This helps identify potential cases to help limit the spread of infection.
The affected members are currently in isolation or quarantine. Isolation is for members who either test positive or display symptoms of COVID-19, and quarantine is a preventive measure for members who were in contact with people suspected or confirmed to have contracted the disease but do not show symptoms themselves.
Mandate till 2023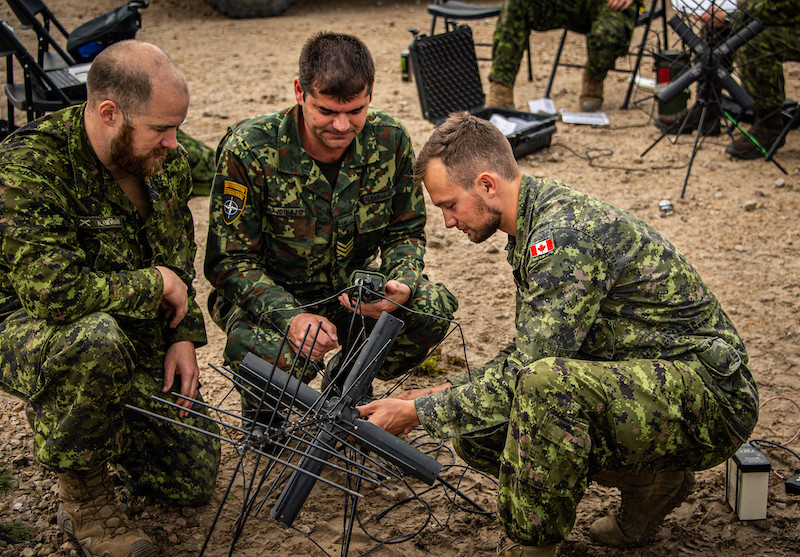 The current mandate of this deployment goes until 2023. Laforest mentioned that one of the big things they've been doing so far is having the Canadian Engineers build the Multinational Headquarters, a permanent structure. 
"We needed to build a headquarters that was commensurate with our aspiration to be a framework nation here and to be the leader of the coalition," Laforest mentioned. 
Despite the pandemic, Task Force Latvia has continued the exercise. Laforest says they've pushed the envelope in a sense that they've become even better than anyone else. 
"The beauty of having cyclical deployments is that we can always build on the successes of the previous deployment, and these troops have been no different by pushing the envelope a little bit further, just like we expected them to do."