RCAF Enhances Air Mobility Operations in Europe
Above image: Members of the Canadian Armed Forces load lethal military equipment onto a CC-177 Globemaster aircraft at Canadian Forces Base, 8 Wing Trenton, on February 21, 2022 which will be provided to the Ukrainian security forces in order to help them defend against threats. Image courtesy of Canadian Armed Forces.
In the wake of continued Russian aggression, and its desire to annex parts of Ukraine, Canada continues to support Ukraine and send aid in various forms.
Just a few weeks ago, the Royal Canadian Air Force enhanced its air mobility operations based in Europe. Canada added a third CC-130J Hercules aircraft to the detachment and added additional personnel to its base in Prestwick, Scotland.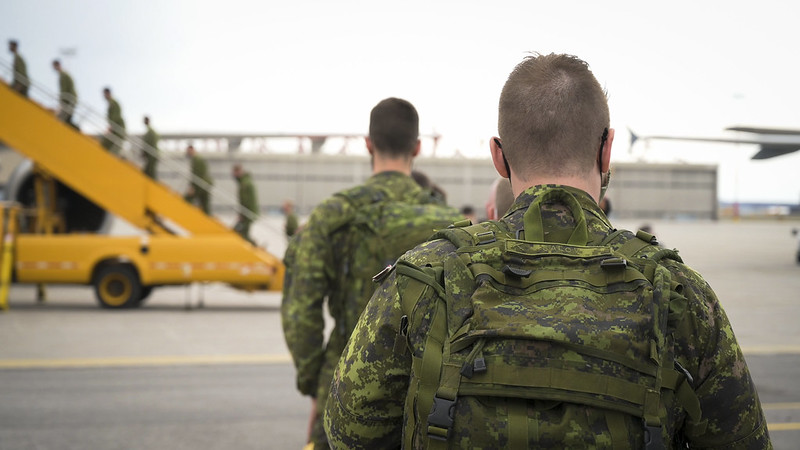 "By delivering Ukraine-bound military aid donated by Canada, Allies, and partners, Canada is making a valuable contribution to Ukraine's defence. Indeed, during meetings with counterparts, I have consistently found immense gratitude for this important work. Today's announcement will enable Canada to deliver even more military aid bound for Ukraine – and as Ukraine continues to defend its sovereignty and territorial integrity, this task remains crucial," said Minister of National Defence Anita Anand when she made the announcement on Sept. 26.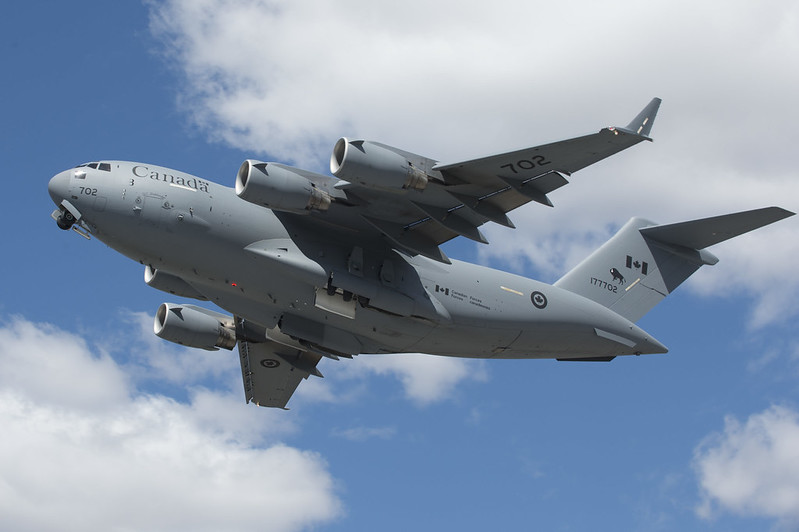 The Air Mobility Detachment
The now-dubbed Air Mobility Detachment will now house approximately 55 Canadian Armed Forces (CAF) members. According to a Department of National Defence (DND) press release, when necessary, "CC-177 Globemaster crews will continue to utilize the hub's resources to increase mission efficiency and flexibility."
Since March, RCAF has been operating out of its Prestwick location, albeit in a smaller capacity. In addition, RCAF members have been operating two CC-130J Hercules since spring. Despite only having two aircraft, the CAF has delivered 4 million pounds of cargo, mainly military aid to Ukraine.

The hope is that this newly bolstered Detachment will be able to support Canada's missions not only in Ukraine or Europe but also missions in the Middle East and Africa.

"Hub and Spoke" Model
According to the DND press release, the Air Mobility Detachment in Prestwick will use a "Hub and Spoke" concept, which the RCAF has been employing in recent years both at home and abroad. This method of operation, according to DND, allows consolidation of support personnel while also allowing flexibility for air operations.
For instance, Trans-Atlantic CC-177 Globemaster and CC-150 Polaris flights come in and out of the Prestwick Hub, while CC-130J Hercules conducts cargo transportation on to Europe.
"The increased RCAF presence in Prestwick using this 'Hub and Spoke' model will allow greater flexibility and efficiency when it comes to delivering airpower to our fellow Canadian Armed Forces members and our NATO Allies. This concept will also enhance our proven ability to provide aid flights in support of Ukraine. RCAF crews in Europe have been doing a tremendous job since March and their motto of 'Can't Stop, Won't Stop' will be well supported with these new measures," said Major-General Iain Huddleston, Commander Joint Force Air Component.
The Hub and Spoke concept was notably used recently during Operation VECTOR 2021, while the RCAF supported the roll-out of COVID-19 vaccines in remote parts of Manitoba.