Major-General Jennie Carignan assumes command of NATO Mission Iraq
Major-General (MGen) Jennie Carignan officially assumed command of the NATO Mission Iraq (NMI) on 26 November 2019. 
A Transfer of Authority Ceremony was held at the Forward Operating Base Union III, Baghdad, Iraq, where she assumed leadership from MGen Dany Fortin.
The ceremony was presided by Admiral James Foggo, Commander Allied Joint Force Command, based to Naples, Italy, in the presence of special guests and mission members.
"It is an honour to be here today as we recognize the accomplishments of NATO Mission Iraq, the hallmark of NATO's enduring commitment to Iraq's peace, security, and stability. We have achieved significant progress with our Iraqi colleagues and partner nations over this past year, improving the capabilities and capacity of Iraq's security forces to prevent the re-emergence of the Daesh terrorist threat," said Admiral Foggo.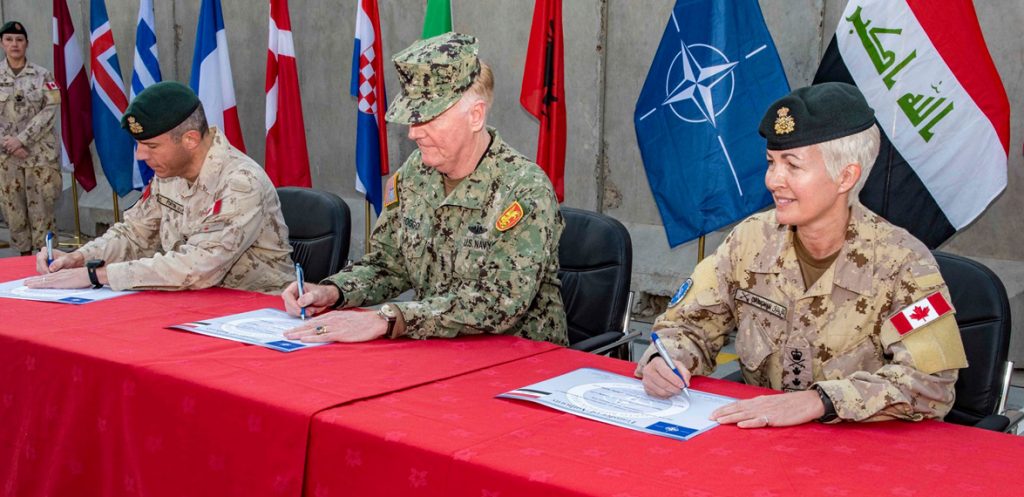 "Much has been accomplished, and as we meet today's milestone, as Major-General Fortin hands over to Major-General Carignan, we can look back with pride and forward with renewed commitment to this critical mission," he added. 
The transition in leadership coincides with the rotation of civilian and military personnel involved in the mission, after having been deployed anywhere from 6 to 12 months.

At the ceremony, the new commander, Major-General Carignan said, "I would like to highlight the accomplishments of Major-General Fortin and his team since the inception of the NATO Mission in Iraq. They worked relentlessly in this non-combat training and advisory mission in support of Iraq with NATO and partner nations." 
Canada has been leading the advisory and training mission over the first year of existence. The Government of Canada announced the extension of the Canadian Armed Forces (CAF) command of NMI until November 2020 in June earlier this year.
Up to 250 CAF personnel will continue to contribute to this mission, which is now going into its second year.
This includes the mission commander, advisors, trainers, and headquarters staff, as well as other key personnel.